The Chicago Bulls weren't that good before Michael Jordan, they then won six titles with him and since he retired haven't been that good since.
Richmond was a basketcase, but drafted Dustin Martin (amongst others), kept him, and have won three premierships since.
Wayne Rooney joined Everton at the age of nine and clearly was going to become a generational talent. The Toffees should have built a team around him and contended in the EPL for a number of years.
Yet, because its a right of passage for any really good English players, he left for Manchester United at 18 and spent the next decade winning titles for them, not Everton.
Sure, Rooney wanted to leave, but how many English players want to see out their careers at the clubs they started at, or is there always a lure to go to a big club and win stuff with them?
Everton will never win the league again. They've won the league nine times. That's more than Man City and Tottenham combined. But they'll never do it again. And whoever the next Rooney is, he'll probably end up at City or Spurs as well. Or just watch Jack Grealish in the coming off-season, no way he stays at Villa next year. Where though? There's only two or three possibilities, am I right?
Is it right that this is just accepted? Is it ok that even though Nottingham Forrest has twice the football pedigree of Manchester City but because the later is bankrolled by Abu Dhabi they can go from second division fodder to world-class, title contenders and Forrest is essentially redundant? They too, despite their historical importance, will never win the league again. But City will, because they have money.
So money is more important than competitive integrity and legitimising everyone's chances of success? How many teams can win the EPL each year? Right now, aside from another Leicester miracle, its probably four – Man City, Man Utd, Liverpool and Chelsea. But going forward, you suggest its within Arsenal's reach to challenge again, and whilst a longer shot, Spurs could do it. But that's it. Will West Ham ever win a title if nothing changes? Nope.
Spain's worse. Real Madrid, Barcelona and Atletico Madrid are the only ones who can be champions of Spain. What's Villareal's purpose? There are two great clubs in Seville, a great city in itself. They're never winning anything again, maybe another Europa, but that is blight in itself.
Real Madrid has so much money, they literally have the charter to assemble an All-Star team without constraint or consideration, and its just accepted. But its Real Madrid, its their rightful place. But why? Why should they be top 3 in Spain and perennial Champions League semi-finalists every year. How sporting is that?
They've outgrown Spain. They just have. They play Barca twice, Atleti in the derby twice, and the rest is just manure to them. For a second they almost outgrew Europe, they've won the European Cup 13 times, way more than anyone else, and won it four out of five years there and it was looking precarious as.
Germany's got a 50+1 model, so the fans own half the club and that negates so much billionaire-backing and financial interference right? Rubbish. Half of Bayern's cheques are written by Audi, Allianz or Adidas, and tell me exactly how Leipzig went from shit to very good, off the back of Red Bull money, but still snuck through the 50+1 rule?
Any good German, or any good Bundesliga player, will just end up at Bayern. Wolfsburg develop a rock solid no.9, yep, he is off to Munich, just a matter of when. And this is fine? They got Lewandowski off the second biggest club in Germany, for free, and no-one expected it not to happen. And now he is one of the reasons why they've won how many leagues in a row, how many in the last 10, and are kings of Europe.
And Italy's worse. Sure, Milan, Inter, big clubs, but even after periods of poor performance they're the only threat to Juventus, ever. Napoli and Roma are cute and get close, but they're not up for it, and its never sustainable.
As for Juve themselves, they got done for corruption, copped a big whack, relegated, but earned their promotions back up and what, at the first real go won the league again, and have won how many Scudetti in a row since? There's only three ways you stop Juve: Inter wins, Milan wins, or you do them for corruption. Lazio are a nice club, but they're playing for nothing.
Let alone that PSG is already bored of Ligue 1 and that Lyon and Marseille, once big clubs in their own right, are now just pedestrian bystanders to Qatar money just locking away Ligue 1 forever and a day, unless something gives.
Then for everyone else, no-one cares. Portugal is an interesting league, Benfica and Porto are big clubs, but no-one gives a shit about it. Ajax were sexy as in the 90s, now they're just an academy for Barcelona, Juventus and others to pick off. Anything east of Berlin is so sub-par don't even offend us with what they're doing. And don't start me on Scotland.
Celtic was going to win 10 in a row, but a club that was bankrupt, had to start from scratch, won this year to win their 55th league title and pause Celtic at 51 titles. Next best in Scotland has won four. Hearts, Hibs, Dundee, they'll never win again.
Every league is a boat race. What would be the odds Bayern wins the 2021-22 Bundesliga? Like $1.10. Every year. Why bother. Even the Champions League, sure, you get the occasional Lyon or someone that goes a bit further, but how many clubs can win that? Maybe 10? Red Star Belgrade will never win a European title again, nor will Ajax. We've had our Porto moment 17 years ago, that was an outlier. its not happening again.
So as long as the guy who moved the St Louis Rams to Los Angeles and doubled his money in doing so can continue to own Arsenal and pump in as much money as he wants, as long as its ok that Chelsea and Man City bought success because without new, rich ownership there's no way they were any better than Aston Villa or Leeds really, then this will continue.
It doesn't need to become the NFL or NBA. Its football, its European, it shouldn't just follow the US model because they're big and intimidating and well-followed globally.
But do one of two things – acknowledge that Europe's leagues, and its Champions League, are closed competitions unofficially anyway and then let the ones 'out of reach' go and do their own thing, whether its greedy, grubby or otherwise. Or reform the sport in such a way that suits football, so that you know what, if Everton does develop another Rooney, he might stay and the Toffees could be a threat for once in a while.
Promotion and relegation should be held sacred, but why is relegation applicable to all 20 clubs in the EPL, but for the very rich it will never enter their psyche ever again? It's just not relevant. So the model doesn't work. Jeopardy is important, but the big clubs will never feel it. So its rules for some, and rules for others.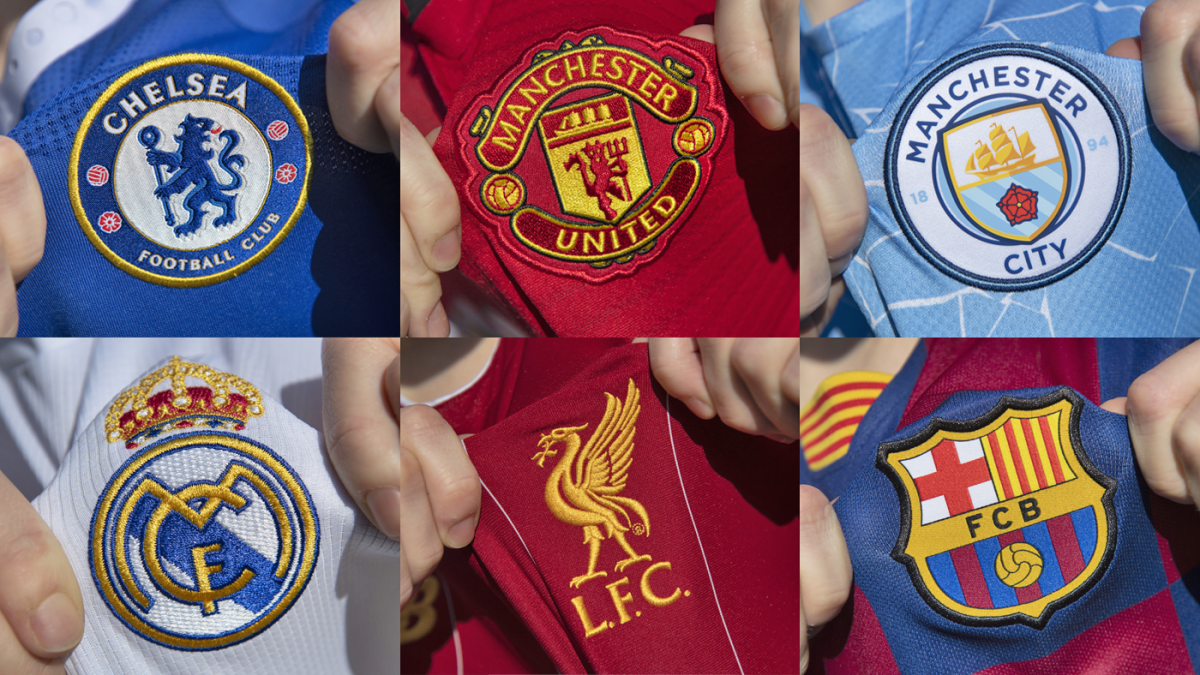 Why should a club finish fourth in the league, but qualify for the Champions League the next year and be allowed to win it? No-one blinked an eye at that. Man City won the EPL that prior year, but a team that finished fourth usurped them on the continental stage. But fourth place in Portugal couldn't do that, why, they don't get as many spots. Why? Wouldn't that be fairer? Rules for some, rules for others.
So if we think a compromised world is ok as is, fine, what's more compromise then? Or is this so distasteful then its this that crosses the line? Perhaps though this is the sign that the Super League idea wasn't only just a bad idea, but it recognises that the status quo isn't much better in itself.
Lets find a way for leagues to be actual leagues again. Not invoke radical socialism so everyone's equal, I'm not suggesting drafts and salary caps and basically stealing the NBA's homework and simply copying it.
But if its ok that PSG might win the Champions League next month because an Arab sovereignty was allowed to buy the club, overinvest and make a mockery of whatever wet-lettuce financial rules were in place, to grab Neymar and Mbappe because the money was too good and that's all that matters, when we all know that as recent as ten years ago Paris weren't even the best club in France and hardly won anything – then go for it.
Or we take the Super League near miss as chance to get better. However, I suspect its too far gone.
You won't bring Man Utd back to the pack. Liverpool will always be big, and huge, and have a global following, and Everton will always be behind them. A world can never exist where you give Granada and Getafe hope at the Camp Nou.
Benfica can find a way to overpay to keep its really good, local talent and maybe threaten the Champions League once in a blue moon. But it'll be a one-year thing and they'd probably go broke trying the poor bastards.
So if its too far gone, then at least have the balls to make official what we've created. Let the big clubs sod off and restore normality to the Everton's of the world who have never done a thing wrong and deserve so much more.
Alternatively, if that makes you bitter, then be equally as passionate about making the game better.