Richmond wins it third flag in four years, Melbourne Storm wins its fourth premiership, the Melbourne Vixens won the Super Netball and Victoria defeated the second wave to the envy of all the lockdowned muppets all over the Northern Hemisphere. To quote the great philosopher Cameron Smith, "Victoria, this one's for you, you beauty!"
1.       Said three flags in four years would be a task too hard. That's just how good the Richmond Footy Club is, mighty impressive season, and hugely envious of that performance Saturday night. That second half was next level. This column doubted them and in hindsight, "what for?"
2.       Geelong, well, what can you say, had the game on their terms in the first half and showed that their plans were working and they were up for it. But then bottled it in the third term, and ultimately showed over four quarters they were second-best. But when both teams put forward their Plan A to start the game, Geelong had it. Richmond deserved the win, but the Cats will rue the opportunity presented.
3.       Hate to say it, because he is a superstar of our game, but Patrick Dangerfield was grossly disappointing. Sure, there's flack for how Chris Scott may have used him, and I think fairly so, but even at that I think Danger's game, particularly his second half, for someone of his talents and standing was massively underwhelming. Where the Norm Smith winner, mixing forward and midfield, was able to enact supreme influence on the game, Dangerfield's game was the complete inverse, ineffectual and given the margins were so fine for such a long time, a big reason why Richmond won their 13th flag and he remains stuck without one.
4.       Gotta give Gary Ablett a shout out. Long had a reputation for being brilliant yet outside, the best player on the park but not tough enough at times. He totally broke his wing on the weekend, early, yet pushed on through. Tell you what, if you asked me who went harder, he or his teammate in #35, I'd have to go for the bald bloke with one arm.
5.       So we now say goodbye to the little master. 357 games, 445 goals, eight All-Australians, which is equal best, two Brownlows at two different clubs, six best and fairests and three times a club leading goal kicker. Oh, and two flags. Remarkable career, the fact the debate exists whether he is better than his Dad is testament in itself, no matter where that debate rests. An all-time great and that Richmond was so quick to proactively interrupt their celebrations to ensure the guard of honour for Geelong's favourite son took precedent, classy.
6.       Night Grand Final? Not sold. To be fair, that spectacle at the MCG would have been a notch up, but it didn't grab me. I don't doubt that big primetime events aren't terrific , I've been to many a 90,000+ crowd for Friday night Prelim finals and they are immense. But Grand Final Day is for 2:30 bounces, its for breakfasts into barbeque lunches into game time. It's a first world problem but getting through to a 7:30 bounce doesn't seem to fit. So I won't protest any further inevitable night Grand Finals, but despite the ratings I think Grand Finals, in our code, for at least a little while longer should be 2:30 bounces. Twilight though? Yeah maybe that's the compromise.
7.       Dusty, three Norms, its some record now. But let's be fair, one of those, the 2017 one, should have been Bachar Houli's, and then last year, game was over midway thru the second, and hand on heart was he best on at half time? Sure. So I think three flatters him, but geez, he was a cut above on the weekend, so no doubting his big game credentials. All four of his shots were hard, especially the last one. Mind you, whose tackle did he easily break kicking the fourth? Righto.
8.       And as for the best big time player of all time, please, we forget the past so easily, but even more recent history, anyone think Luke Hodge was a mug? Martin's up there no doubt, but I'll take the boy out Colac head to head in big finals thank you. Then again, imagine if Martin did take up the Giants offer way back when, or then in 2017 signed with North. What could have not been.
9.       Who was the fuckwit handing out mid-strength beers in the Richmond rooms post-game? So, you've lasted four months in hotels, you've just won a massive Grand Final, but here you go, here's a Great Northern Super Crisp in case you're gonna go for a drive later. Ridiculous. Someone should be sacked for that.
10.   Ratings were huge, so 3.8m for the AFL Saturday night, up 30% on last year, the NRL Grand Final the night after, just the 2.9m, so not even close. And yeah, weather wasn't great but even with Amy Shark, didn't find the spectacle on Sunday that alluring either. Well done AFL.
11.   And on that NRL Grand Final, how about the Storm? Despite Gus Gould's first half commentary to the contrary, that was a smacking. Sure, it got messy towards the end, the last five minutes became properly dicey. But in hindsight never in doubt. This team was one of only two teams in Hubs, had spent five months in hotels whilst Penrith have slept in their own beds all season; this was an almighty season by the Storm. Dominated the finals series, exerted both brilliance and guts in the decider, Bellamy and Smith, that combo is as elite as it comes.
12.   Cameron Smith will move on from the Storm now; will he retire as Melbourne's greatest ever athlete? Captained five Grand Final-winning teams, won two Dally M's, it's a fair case. Sure, Leigh Matthews and others have remarkable careers, but has this town ever had a better athlete represent it? Possibly not.
13.   North Melbourne. Shit. Rhyce Shaw officially moves on, he can get himself right away from football now and that's a good thing. But who comes in? The notion of Mick Malthouse from David King is laughable.
I'm going to experienced guys – even someone as far back as Mick Malthouse. Someone who can settle the ship
I get we might not want a green, young coach taking that on, but ask any Carlton fan how they think Mick went last time he was at the helm. Definitely would be an appointment for the moment right, David? Some times I wonder for Kingy's state of mind, fair dinkum. If Mick's the best option at North then the Kangas have bigger problems. Honestly, Michael Voss makes sense, but even if you go back to Matty Knights, whose tenure at Geelong now probably makes him worthwhile after the failures at Essendon – find the next Brett Ratten, someone who can coach but now has that tonne of successful assistant experience. Every coach since the Hawks three in a row whose won flag was formerly a Clarkson assistant. They've essentially run out, so now find the long-tenured assistants to Chris Scott and Damien Hardwick. Knights, or go to Adam Kingsley who was 2IC to Dimma this year. I like Voss but I dunno if he'd do it.
14.   Tell you who's got his hands all over most of the bad decisions at Arden St the last little while, Glenn Archer. I keep hearing he is excellent in business, an asset off the field, but the track record says otherwise and sure, maybe he has been terrific at contributing capital to a business, but show me where he has got an ounce of the acumen of Benny Gale or Brian Cook who are legitimately ace at leading clubs from out of the dumps? Happy to be proven wrong in five years' time if North bounce back, but every decision Glenn has led the last few years has been shit awful. Good luck though seeing a weak club move on the Shinboner of the Century, but tell me his position, and power, doesn't stink.
15.   I think there's hope for the Giants next year. Still plenty of talent there, and remember, the Cats lost Gary Ablett, won a flag the year after, Hawthorn lost Bud, the next year saluted, so the Giants losing Jeremy Cameron, there's precedent. Finlayson, Riccardi and Himmelberg is hardly a mug forward line.
16.   Geelong I think will be competitive still in 2021, the team's a bit old but two things, Jeremy Cameron is a fair add and then this is a team that does its list management so, so well that they're always in the conversation. Since winning the flag in 2007 they've missed the finals once. So sure, they're due for an off year, but the pattern of behaviour suggests they just get it done. 5th-8th next year? Sounds good to me.
17.   Jesse Hogan. Reckon he is worth a go somewhere. Ok, foot injury, but he got fit and played Freo's last four games, kicked five goals in the last two particularly. Off field, yeah I reckon the right club can look after that. Hawthorn don't need him, but there's a club as one example who'd be able to right that ship, nor does Geelong but they would too. Plus, he is at worst, fully fit, a 40-goal a year forward and turning 26 in February next year, certainly young enough to invest in. But the main reason clubs should do it, unlike others on the market, won't cost you anything in a trade or for his salary. Low risk. Do it.
18.   Brad Crouch and St Kilda – I like it. Contract may be a bit shit, but you do pay overs to get a free agent so that is what it is. But another good, better than average midfielder in there is terrific, he will win the ball almost better than anyone else in that team and I think Ratten will get the best out of him. Saints top four finish next year, bank it.
19.   Cameron Green. This column first told you about him in February just gone that he is a cricket superstar in waiting. Tall, elegant all-rounder who could be picked as a middle-order batsman or second-drop quick bowler, but happens to excel at both. First two Shield games this summer, lovely 50 in the first match but in the second hitout an awesome 197 against NSW, he looked sublime. His first-class numbers now, at age 21, batting average over 52 with four tons already, and a bowling average of 21 with two Michelle Pfeiffer's as well. Kid's a gun.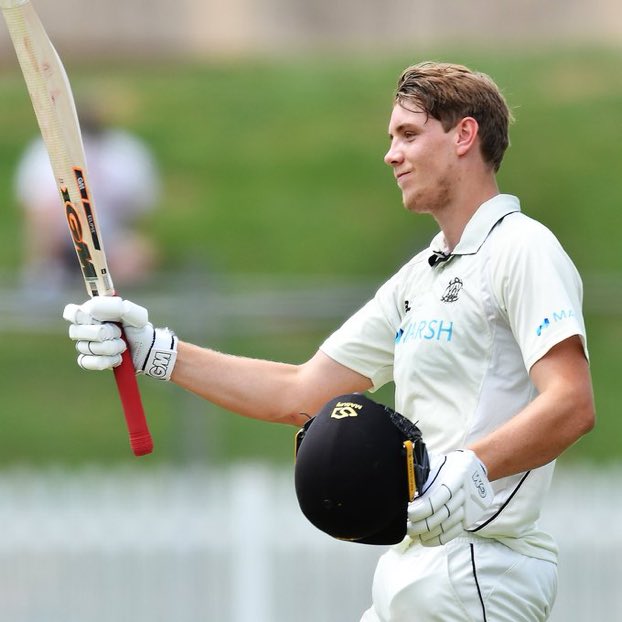 20. And we end today on a sad note. Who the fuck allowed something as beautiful and historic and culturally important as Festival Hall to be sold to Hillsong? Next they'll sell the CUB Brewery to Teetotalism or Nando's to vegans. Fuck me.