Week one was fantastic. Week two, not so much. But the best four teams of 2020 remain for the ideal Preliminary Finals viewing.
1.       Weekend's footy first, and Saturday night was far from expected. Take Geelong coach Chris Scott's plan, "oh, Dangerfield in the forwardline was a masterstroke". Let's look at the last two times the two teams met, Danger was dominant in the middle but the Pies defense crunched them. The Cats are by far the better 2020 team, but left to its own devices that so easily could have been last year's Qualifying Final on Name A Game. If Scott didn't roll the dice and change things up, it could've been more of the same. So looking forward to this week Scott can go back to what he knows over what he needs.
2.       As for Pies, that was it. Whether the week before was indeed their 'Grand Final' or whether that was the natural expiration date on their ability to front up and be competitive in the Hub environment, either way, that was that. I think the Brodie Grundy example was telling, here's a guy, in normal non-covid circumstances who is the best ruckman in the comp. But as Nathan Buckley revealed, when his routine is out, when he can't escape from footy midweek so that he can be elite on weekends, he is off, 10, 15, even 20%. Maybe he had a few mates on the weekend who until now have been ok with it, but that one extra week was seeminghly the proverbial straw, camel's back.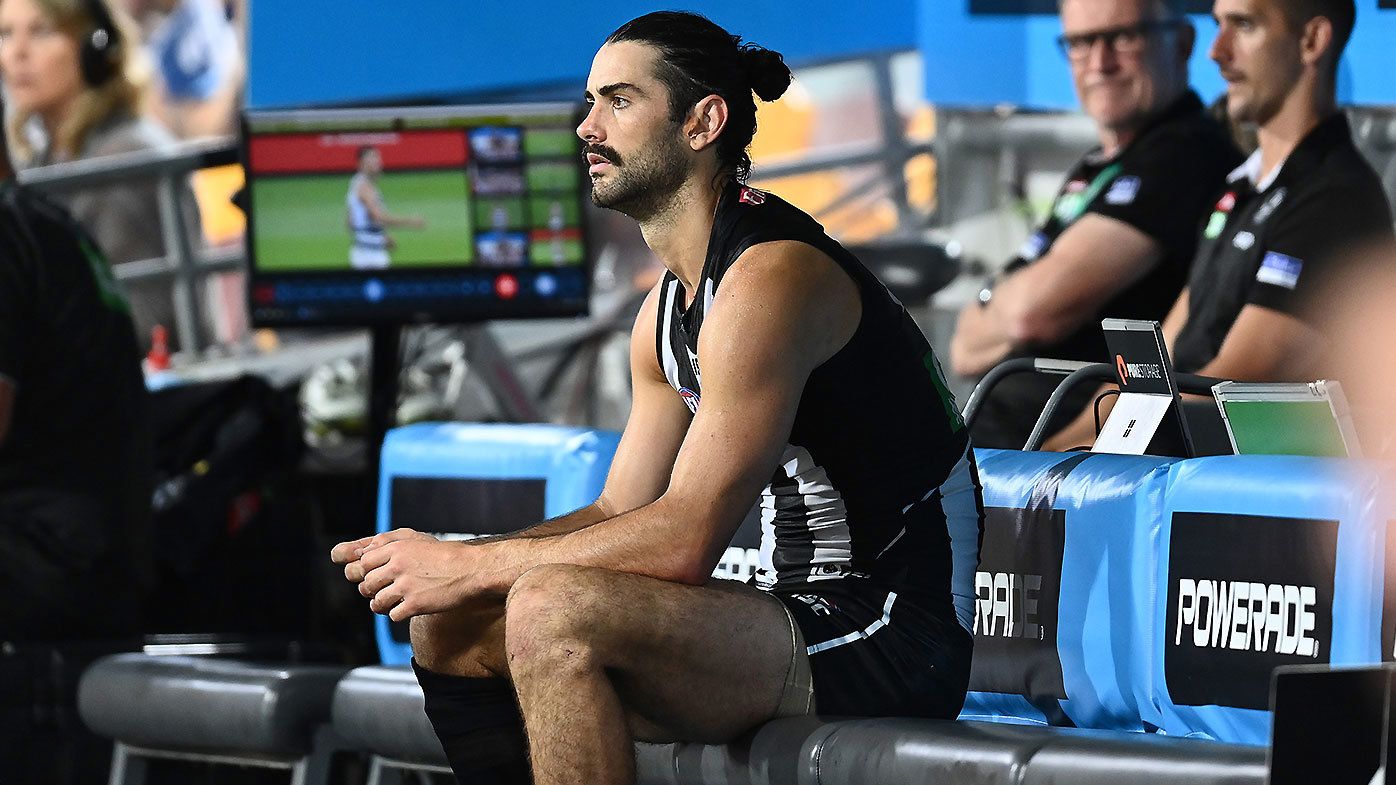 3.       Geelong were meek week one and then had essentially a bye week two. And don't use the whole 'yeah but how about the confidence out of such a big win thing', how'd that work for Collingwood after their win over the Eagles? Sure, Geelong have some weapons, they looked real shiny last Saturday, but Brisbane, at home, week off, after a very impressive week one victory, should be able to salute. Nothing against Geelong, but the Lions are just far better placed.
4.       Richmond played a team who was almost up for the challenge, almost ready to tackle the big boys and swim in the Prelim finals pool, but not just yet, and Geelong essentially had a match simulation on Saturday night, a totally non-competitive hitout just to get some runs in the leg. Formlines from both are scratchy at best, if anything non consequential.
5.       The Saints are cherry ripe to launch into the top four next year from this. Win a final one year, then make a prelim final the next, that's a proven and often travelled path. I see no reason why they don't leapfrog a few next year. In racing parlance they'll be much better for the run.
6.       Richmond does possess some swagger but. The way they were clinical in that first half, with St Kilda offering some resistance, that would make Port a little nervous. Thought Shai Bolton continues to go unheralded and the way every single Tigers' onballer was able to get back, defend, and transition out of D-50 as a unit, there's a team whose won Grand Finals. Whereas Port, Brisbane haven't and how long ago was 2011 for Geelong?
7.       But if you're Port are you worried? Shouldn't be. A more 'finals-seasoned' team would have really troubled Richmond last Friday, geez, chuck in Carlisle and Ryder and it's probably still a Richmond win, but a lot closer. Another week in the hubs, another flight from Coolangatta to Adelaide, a home ground advantage, this is still Port's final to lose. No doubting Richmond's credentials, in fact I would be far from shocked if the Tigers get up, but if so it'll be because Port stuffed it.
8.       So we expect a Port-Brisbane Grand Final, but hey, this is 2020, who's to say we don't end up with a Richmond-Geelong matchup and lets just keep a year of total whacky randomness going. 
9.       Speaking of Port-Brisbane, if that eventuates, Port are the home team, so will wear their all black home jumper, black shorts. It'll mean that Brisbane, at the Gabba, will be the nominal away team, and have to wear their Fitzroy-coloured away jumper and white shorts. So for those Melburnians yearning for a team to follow, at least it'll look like the Roys come Grand Final day it seems.
10.   Onto trades, Essendon quickly. We got Daniher wrong, he will get to Brisbane, and given it was Sydney last year, he just wanted out, doesn't really care where. Now, is that the club per se, is that just a fresh start, is that looking to get away from his surname, dunno.
11.   So, Sydney last year offered two first rounders, one package looked at last year's first along with this year's first. So the Bombers knocked back pick 9 last year and pick 3 this year, for what, pending the free agency comp, maybe an end of first rounder this year? Yikes. They really thought they could keep him where in reality they never stood a chance it seems in hindsight.
12.   Adam Saad moved to Essendon, has had three years and come 4th, 3rd and 3rd in their B&F. That stings, someone that's not only of a high quality but was clearly connecting with the game plan and the footy strategy.
However, as Dan Richardson put it:
If there is a cultural problem at the club it's around the standards Ben (Rutten) is trying to set.. if that ruffles a few feathers so be it
Righto, feels a little bit Collingwood 2016, 2017, or even a little Richmond 2015. Get yourself a properly clean slate with a group of guys who'll be in this together and you rid yourself of any cobwebs or dickheads that might stop a pretty good team converting into a team who does pretty good things. Who knows if Truck can coach, all we know is he did take over from a guy who first foremost had to coach a team full of ring-in's whilst half the list was suspended for a year. It may have taken a year or two later than ideal but giving the club its final rinse from that saga might be the final piece to the puzzle.
13.   The De Goey thing is interesting. Talk of Carlton seems nonsensical, especially as what originated as a convo on SEN Breakfast, a program that has less listeners than this column has readers mind you, where it was speculated Carlton would like De Goey, conceded up front they couldn't get the trade done so its off before it was ever on. I still sense, without total confidence, that the Pies re-sign him, it's just about getting the money right in what's a weird situation – the difficulty in assessing his value given the inconsistency of performance, through the lens of the current covid climate.
14.   But the Pies predicament is interesting, I believe the cap space isn't such a problem with really not too many other big names on $750k plus, Treloar, Pendlebury, thats all, Dayne Beams coming off the books too. They'd like to get a gun forward in, probably going to be via trade, Jack Gunston seems Plan A. But if the forward's any good it will involve a first rounder. However, this year the Pies have an academy selection who is going to get a bid inside pick 15, and then next season have a father-son selection who is destined to go first pick overall. The Pies then need to ensure they have the points in picks to match those bids whilst securing said trade target all the same time. Good luck.
15.   Key forwards watch. Essendon will need one, Collingwood's in the market and Geelong's hellbent. I sense Jeremy Cameron is gettable, no lock to return to Victoria but as a free agent that wouldn't cost a club any players or picks in trade, its all about the money. Sense the Pies couldn't, Geelong's my best guess even though Essendon might be able to offer more money. Ben Brown, dunno, Melbourne seemingly, but how do they ship off Tom McDonald? Chuck in a gettable Jesse Hogan perhaps and then the wildcard Paddy McCartin, should be a flurry of key forward activity Melbourne Cup week.
16.   Quick couple outside footy to finish, firstly the NRL is in prelim final mode this week too. But here's the catch, unlike the AFL who saw the defeated qualifying finalists rebound into week three, the converse happened in League where both went out in straight sets. Now this column is mad keen on the Storm saluting, but even though Penrith the minor premiers have now won 16 games in a row, Melbourne are amazing and Canberra made last year's Grand Final, the sixth-placed Rabbitohs are my tip, the $7.50 outsider on the Premiership market. Why? Their last three games, smashed the reigning premier Roosters 60-8, backed up and tonked the Knights 46-20, then did one on the third-placed Eels 38-24. This week, Panthers-Rabbits, all the pressure on the home team, now knowing there's every chance they'll need 30+ points minimum themselves to outscore the Bunnies. I know defence wins championships, but the Coachwood and Myrtle are nuts right now.
17.   And then the Wallabies, drew with the All Blacks yesterday, 16-all, pretty impressive performance although both teams haven't played an international in such a long time. But, new coach, slightly new game plan, and this feels like the the best crop of talent in the local game I've seen for some time. Backline looks good, O'Connor at flyhalf still world-class, I really like Koroibete and Daugunu in 11 and 14, Hunter Paisami is a star in midfield, and then in the forwards, it kept up with a very good All-Blacks pack. Early days in the Rennie-era, but lots to like.
18.   In fact, so encouraged by the Wallabies, I reckon for the first time in 18 years, the Bledisloe is coming home. There's a test at Eden Park this Sunday before the final two matches in Sydney and Brisbane to come, I reckon Wallabies win the series 2-1. Big call but we're about the spicy takes in this column. Read it here first.
19.   And lastly on the rugby, how good is this – tense, first-class rugby for 80+ minutes between bitter rivals, yet the All Blacks invite their opponent into the sheds for a post-game beer and general camaraderie to acknowledge Wallabies' skipper Michael Hooper's 100th cap. That's rugby. That's the Bledisloe Cup. Love it.
20. Finally, we end this week with another error by this column; we said post Australian Open that Novak Djokovic, winning his 17th Grand Slam, would hunt down Rafa Nadal on 19, and then Roger Federer on 20, easily, and end up the best of the lot. Well, we didn't get Wimbledon this year, Novak stuffed the US Open and then last night got reamed by the Spainard who won his 13th French Open and now levelled Roger for most all-time, increasing the gap to Nole. We are no lock to see Roger again, I think the Tokyo Olympics next year might be him, so safe bet Federer's in the clubhouse on 20. Give Nadal one more at least, does Djokovic now have four more in him to tie? Gee, maybe not. So advantage Nadal on this one again for mine.