Always important to hit your forehand over the net, not at a line judge, important to get your kebabs and then head to the Uber, not the angry bloke giving you a death stare over there, and if you wanna get rich playing sport overseas, don't forget baseball.
1.       US Open first. Jesus Christ. It was already a mess of a tournemant with flimsy corona ideas and muppets testing positive and no-one any good turning up in the first place. And then old mate, Novak "let me tell you a joke – me" Djokovic, the man who thought he'd steer into the skid at the peak of covid and hold a socially close tennis tournemant and infected every moron there, decides to find the only way to lose the unlosable Grand Slam with no Nadal or Federer. Sure, he didn't rip the forehand at her, but it was hardly "hey, ready, catch!" and he has form as the journo who pressed him on years ago proves. And then the cocksmack goes and skips the presser like a precious toolbag. If you're an aethiest, today's disqualification proves there is a God. That whole US Open has had hairs on it from the get go, promise you.
2.       But, if we're going to have a bob each way, how about our young man whose made the last 16 and is now a sneaky chance to get close to the final weekend. Alex De Minaur, took down the world number 11 on the weekend just past, he is a gun, he brings gusto and sure, the tournemant's a bong but when it comes to our boy the Demon, no no no, it's a seriously good serious tennis thing and we wish him well.
3.       Speaking of Demons, geez haven't Melbourne got some. The draw hasn't helped, granted, have played at a new venue every week, compared to Brisbane who literally have set up beds at the Gabba since Easter. But whether they're playing Cairns, Alice Springs, Overnewton College oval no.3, they're turning their toes up at the end of the season when they had a finals spot in the bag. Beat Sydney and Freo, as they should, oh, looking at 7th worse. Now, they're in trouble. I want them to prove me wrong, I sense at times they will, and then nup. Telling ya, decent list, poo coach, Goodwin needs to read less Harvard textbooks and get on with it.
4.       So, finals picture, where are we at. Firstly, Dogs are home. 10 wins gets you in, for sure, and the Dogs, on eight wins with Hawthorn and Freo to come, they're in, so two spots lefts. You sense the Giants make it, and then one of St Kilda or Collingwood, probably the Saints but its hard to call. The Giants have the Saints and the Dees to come, those two matches will define it.
5.       As for the Pies, yeah, well, if the Dees won tonight I'd say they were done. Surprisingly the bookies and football media had them as probably safe, not assured. Until this evening it was quite the opposite, off the back of the Dogs win over West Coast. They're only salvation was a Dees fuck up, or somehow beating Port last round. Well, thank you Freo. Now the Pies can make it with 9 ½ wins unless the Saints beat West Coast but lose to GWS last round.
6.       Then again, the Pies, quick one on them, they'll get De Goey back asap, and Howe and Treloar aren't far behind. So you sense if they make finals you'd want to avoid them. But Sidebottom, firstly, his missus hasn't had the kid, so that needs to happen. But even so, once its all done and everyone's happy and healthy, unless he gets extra special dispensation, there's no more trips to Brisbane. I don't know whether Collingwood knows this and is keeping it mum, or they're hoping for a hail mary exemption to get him north, but for mine there'll be a fit and available Sidebottom marooned at home unable to play for the rest of the season.
7.       Speaking of the hubs, lets address old mates Sydney and Callum. Firstly, not a bad night it sounds like, boys be living. But, seriously, they were dumb, but Richmond, who already had the Brook Cotchin mani pedi episode, set the lads up to fail a bit. Found themselves with a bye so thought why not, couple lads have had birthdays, lets celebrate. Like giving a couple kids loaded water pistols and telling them not to shoot one another. The boys took up the offer and just pushed outside off stump too much, and here we are.
8.       But secondly, what if the two lads didn't get in a fight? Would we ever know about it? Would the club have copped the $100k? Doubt it. And even then, it seems the only actual breach breach, was admitting they stepped into Hollywoods. In theory, if they were out late, 3:30am, got kebabs, technically I don't think that's outside the protocols. So on one hand incredibly stupid, ten weeks each sure, why not, but on the other hand there's a lot of grey here if mid-morning kebabs after a few tinnies at the resort would be actually play on.
9.       Last one on the hubs, remember when the AFLPA was plotting to burn down the league because spending months in hubs was seen as barbaric and just unseemly. It was actually popular opinion at the time; it was that unreasonable. Well fast forward and we're still 54 days away from the Grand Final and clubs have been in Brisbane now over two months. Nice to know the strong opinions of back then are holding up, sticking with it.
10.   Is Jeremy Cameron playing like a dude out of contract and killing it to maximise money on a new deal, or the opposite, like a Victorian in Sydney knowing he'll be back in Victoria next year? In his ninth year he has never gone this bad for marks and disposals per game, but more so goals per game.  Last two years he has averaged three goals a game, this year barely one and a half. If he isn't injured, in a contract year, has he clocked off working in orange? I reckon if Daniher is staying at Essendon, and a cap squeeze at GWS, might well be done.
11.   So Geelong. I bated them last week, and they went and Stephen Danked the Bombers. It's hard to question their form, arguably they have the least amount of concerns of any of the fancied contestants. But I remind you, last year, they finished first, clear minor premier, and then lost two of three finals. Sure, this is a season without an outstanding favourite, but right now, tell me Port or whoever finishes sixth aren't right in this. If this year was a leg of the quaddie, you'd take the field and back in the value.
12.   Oh, now Adam Simpson. We have called the Eagles spot on, and then the Dogs loss on Sunday was just par for the course. And for proof they haven't the mentality to go any good back in Queensland, here is Simmo post-loss.
"we've done a really good job getting the boys up every week… but there's a tipping point… we're probably not built to play this much football in such a short time".
Has he not learnt from last time in Queensland? Then he said they didn't want to be there, and they played like it. They've come back for Hubs 2.0 and they're not "built" for this. This feels very familiar already.
13.   Love when a politician doesn't stay in their lane. This week, Josh Frydenburg, federal treasurer.
"footy officials can go down to their hotel bar as their so-called quarantine in Queensland.

IT SEEMS DOUBLE STANDARDS ON OUR BORDERS."
Now Joshua. What's that expression about apples and oranges? WA doesn't let anyone in, unless your work the mines. People after successfully quarantining in Queensland can enter restaurants and have meals, unless you are part of the AFL. You've haven't checked the details Joshua. It's that kind of lack of attention to detail that has me worried you might, I don't know, misplace $60 billion?
14.   Brownlow, right, this is on. Port have two games left, Brissy have three. But by my count, I have Lachie Neale only ahead of Trav Boak by two-three votes. Boak's got back to back threes, and Neale might have only one vote in his last eight quarters. After what seemed destined for a procession, might be a Grandstand finish.
Oh, and Brownlow will be Sunday night this year, not the traditional Monday night. So set your VCR accordingly.
15.   This year's draft has had some airtime, but I think its worth outlining just exactly how rooted the system is. So if we take the top 25 kids, seven or eight are already tied to clubs. Call it an outlier year, but we're half pregnant back into old fashioned zones. Take Isaac Quaynor for Collingwood. Good young player. He was an academy pick. Why? Because his Dad is from Ghana and that entitles him to be 'zoned', and his zone happens to be Collingwood's. That's basically it. Tell me that makes sense. Father-son's, leave them as is, academies for NSW and QLD, I could be talked around, maybe. But academy concessions for Victorian clubs? No chance.
16.   How bad are Cricket and Channel Seven? CEO James Warburton came out and smacked the game, which seemed to cause chaos amongst the organisation and sent shockwaves to all corners. But I'm not buying it. Remember when Channel Nine gave the NRL an almighty serve, almost suggesting they'd pull out of any resumption in 2020. Yeah, mad posturing. So unless Seven's any different, play on.
17.   Mind you, they do have a Big Bash problem. Easy fix but. Start it when school holidays starts, end it when school holiday ends. That's the first fix. Don't care how many games or what, but there's your fixture window. And secondly, have your normal Test summer, but as soon as the Sydney test is over, no international cricket, so all Australian players can play Big Bash. If you want meaningless ODIs or T20s, do it in February when schools back. But the IPL works because Indian crowds see the best Indian players, whereas Big Bash, January, we never see Smith, Warner, Cummins. Job done. Next
18.   Quick one on two-time league MVP and new coach of the Brooklyn Nets, Steve Nash, two-time finals MVP and Brooklyn Nets superstar Kevin Durant, and esteemed ESPN commentator Stephen A. Smith. Backstory, the Nets needed a new head coach and hired Nash out of nowhere. Most of the media coverage to the appointment was just the shock of the selection, but Smith went big:
Ladies and gentlemen, there's no way around this. This is white privilege. This does not happen for a Black man.
Hmm, I'm not going to disagree with him per se, firstly, not my place to say, secondly, never could I possibly understand the experience a black man has over a white man, especially in the States. But to question the hire, in this instance, sheesh. Nash is a two-time MVP and future hall of famer. But where I definitely think Smith may have missed the mark, Nash and Durant have hooked up before, at the Golden State Warriors, where Durant got his two finals MVPs, and guess who everyone described as his "Yoda" off the court? Yep, you guessed it, Nash. So call it white privlige, or call it the Nets bringing over their best player's "Yoda". Either way.
19.   Cam Smith, next year, he will live in Brisbane, so his Storm career ends this year. What will he be doing in Brisbane next year though? Media? Coaching? Playing with the Broncos or the Titans? Can't say. But what's apparent is 'residing' in Queensland this year because of covid, with the Storm being based up there for a while now, Smith has reconnected with family in-season for the first time in over a decade, and he'll exercise his choice to make that a regular thing from here on in.
Never fear though, whilst Cam Smith is having a great season, currently second in the Dally M up until the votes went in camera, guess who is leading the count? The West Tigers young gun Harry Grant, who plays the same position as Smith, hooker, and is on loan from the Storm, so next year, 2021, Grant comes back to Melbourne, maybe as the reigning Dally M winner and can replace Smith like for like. Sure, can't replace the experience and leadership, but a talented no.9, Grant's a winner.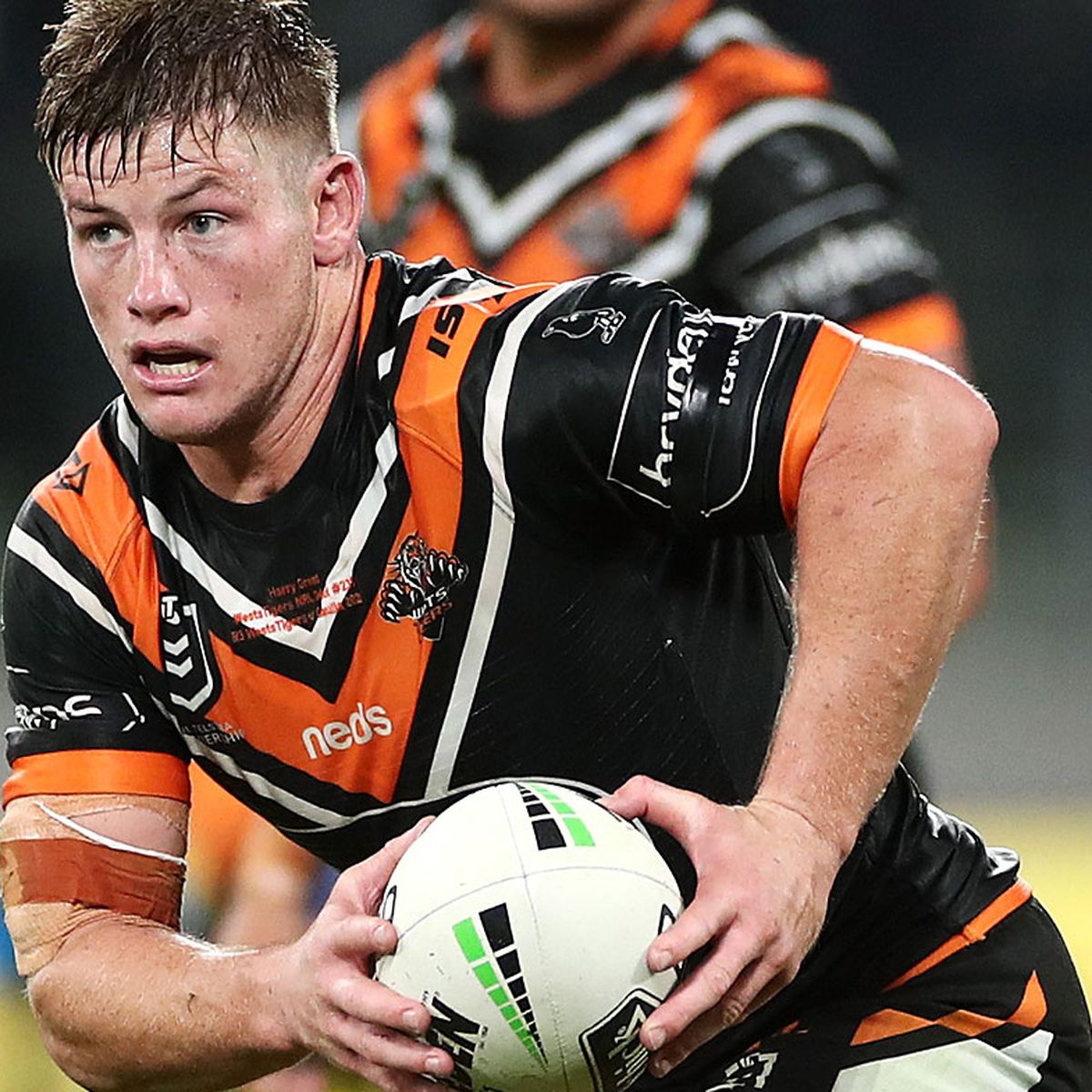 20. And finally, did you know that an Australian teenager last week signed a seven-figure deal with the Pittsburgh Pirates in Major League Baseball? Solomon Maguire from Castle Hill in Sydney. And not just a 'oh yeah, not serious interest but he'll be on an extended list', no no, the Pirates are massive on him and when ready expect him to be a major league regular. Remember the name.