Eddie is a hypocrite, AFL footballers are undeserving elitists, the Rising Star race is back on, the Dees are deeeeplorable again and oh blimey, have we got ourselves 'peak A-League?'
1. We start with the round ball, and stick with. The A-League. Jesus Christ.
So, V'Landys, the main man, recognised the shit Victoria was in, got the Melbourne Storm out well over a week ago, said Sunshine Coast is where you need to be for weeks, your home town's in the shit. Then, the AFL got onto it soon thereafter, got all ten teams out with days to spare. Mind you, these are both comps in season, so its on the run adjustments, not easy.
Meanwhile, the A-League, who still hasn't resumed their season, that started last October mind you – it was almost done when it paused, has three teams stuck in Melbourne. They lacked the foresight or basic brains, firstly, to expedite the three clubs out of the state before things got hot. Then, when they finally realised 'oh shit, we have three clubs in Melbourne, fuck', they then had not one but two botched attempts to fly them out, where the players got to the airport but ultimately got turned around due to the severe incompetence of the clowns running football in this country.
So now the borders' well and truly shut, the ACT won't take them, and barring a miracle where the NSW Govt buckles and makes the almightiest of exceptions, the A-League has out-A-Leagued itself by taking a double barrel shotgun and taking aim square at its right shoe. Benny Hill music right now doesn't come close to illustrating just how awful this mob are at running their sport.
2. Eddie, need to address it. Comparing Eddie's comments on Steele to the comments he made about the Freo boys, the whole "suspend them for a year, $100,000", what do you expect? It's like a man when answering the question who's hotter, his wife or Pauline Hanson, being accused of bias because he chose his missus. I have no issue with Eddie's comments back in April, or separately those on Sidebottom, but I have issue with media commentators taking the difference in his free comment so seriously.
He isn't in charge, he just has a platform. Don't take his opinions to heart, just switch off if you don't like them. Blimey. I mean when the shoes on the other foot, guess what, it's on the other foot.
3. For adults that can understand when Jimmy Bartel passes judgement on say, Essendon, its commentator Jimmy, but if it's on Geelong that would be ex-Cats legend Jimmy, or if on GWS then that's board member Jimmy, we get it. But for the rest of the unintelligent, the only one I respect on this is Tim Lane, because instead of just sooking about it, he didn't like Ed commentating on Collingwood so he stood down from Channel Nine. Unlike Damo and Robbo who just want to talk about it and waste time on it and progress the whole thing nowhere.
4. Susie O'Brien. Who? Good response. She's a columnist who likes to throw shit to the wall and hope it gets clicks, but her latest one is how its inconsiderate elitism for the AFL players to jet off to sunny pastures whilst the rest of us in Melbourne suffer:
Players and club officials packed their surfboards and golf clubs, and flew off to spend five weeks in the sun training, playing and relaxing…Most of us can't fly anywhere, but players winged their way to freedom…How can this be allowed? I'm a footy fan, but in the current climate it is unacceptable.
Now Susan. You're a footy fan? Too funny. Anyway, I was under the impression these men played football for an occupation, and that they're simply flying to work, akin to the wonderful folk who fly in and out of northwest WA heading down the mines. You seem to think they've flown off for holidays like it is schoolies three months early? Don't know what mysterious delirium you live in Susan, but in your state of mind I'm glad you're in lockdown, probably safer for the rest of us.
5. In positive news, amongst the doom and gloom of the last few days, in just eleven days' time, Sunday night primetime, Freo, West Coast, 60,000 at Optus Stadium. Now that will be a good thing, and then some.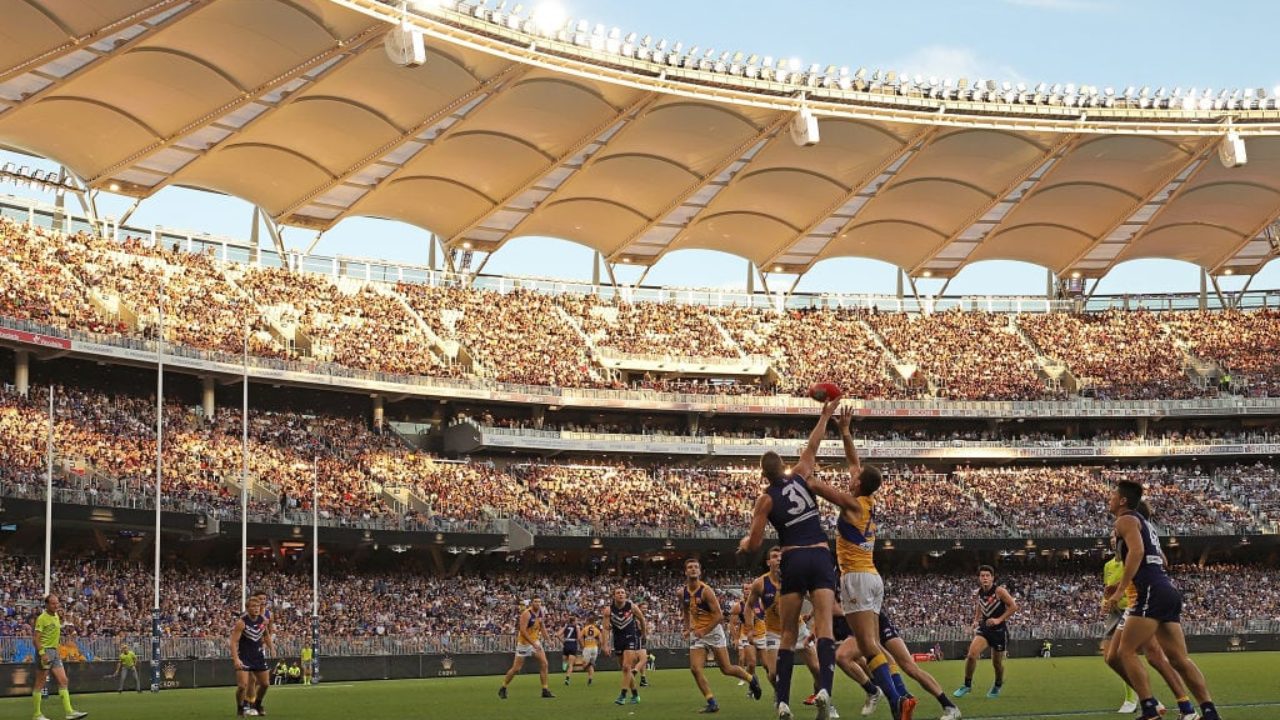 6. Dylan Shiel, often knocked for not being the greatest kick, but not everyone is Darren Jarman. In fact not even sure Darren Jarman is Darren Jarman anymore, coz I've seen him now, and compared to his playing days that can't be the same bloke, good Lord, say no to seconds occasionally Dazzler. But either way, Shiel, quickly become Essendon's best onballer, proficient, effective and wins the hard ball. Number two in the comp for centre clearances and contested possessions, number three disposals per game The kinda midfielder who wins Norm Smiths, just saying.
7. Speaking of Norm Smith midfielders, or ones that could be, Lachie Neale. I still think Brisbane are a tad overrated, but its because of the heavy lifting of young Lachlan that the Lions are doing 'that' well. Best mid in the comp right now, if I did a Top 10 tomorrow, he'd be at #1. Leading the league in disposals, effective disposals and contested possessions. Crazy good.
8. But on Brisbane, so last week was an impressive win, but Port have been up for a bit and I won't knock them having one down week at the Gabba against a team that plays there every second week. Mind you, that's the thing on the Lions, they've played every game since the resumption on their training ground, and until they played Port had played no-one of substance. Playing good footy, granted, but let's see them out of Queensland. Last time that happened, Round One, looked super average losing to Hawthorn. Hold your chips on Brisbane for the flag just yet.
9. Sam Newman and Nicky Winmar. Firstly, if some cash lined the pockets of a worthy Indigenous cause that otherwise wouldn't have, there's a silver lining not to be undersold. But honestly and truly (to quote a Newman-ism), I don't agree with much of what Sam says these days, if at all, but when it comes to podcasting where's the line? The amount of podcasts out there are so numerous it's hardly public domain. Who Magazine can lie each week, blatantly, but slander on one of the world's billion podcasts and it ends up in a civil suit. Don't get that.
10. Jordan De Goey. Shout out to Jessica Halloran, who is actually a bloody good journo, but missed here. She wrote a lengthy bit of prose saying the AFL should follow the NRL and have a 'stand down' framework in place so players, like De Goey, don't play whilst charged, even though under the NRL's current guise De Goey actually wouldn't meet the criteria. But whilst there's no denying the seriousness of such a charge, and that if guilty good riddance, Majak Daw was charged with rape, and through the legal process fairly or fortuitously he was cleared. He would have missed 18 months of football, for nothing. I don't mind Jessica's premise, and there is something there, but on this, it's a miss from her.
11. Washington Redskins. Everyone knows of them. They're shit, sure, but we know of them. The name though, its goneski. And so it should be. Not a political correctness gone wrong thing here, before you pick up your phone to complain about this to Neil Mitchell – the term Redskin is a slur, not even up for debate. But it's always been a problem for White America to find the backbone to change the name of what's now a $1b franchise. But, in 2020, it's gonna change. Not sure how soon, or to what, but massive change and far from a White Australian to cast judgement but, if I may, it's great to see.
12. NBA, the bubble is on, players are lobbing in Orlando, but you just feel the 'rona will get inside it and whooshka, the whole thing crumbles. I hope I'm wrong, but it's one thing setting up a bubble to play safe, but they are dead set in a bubble to be protected from the thousands of infected Floridians living all around them, it's crazy.
13. NHL on the other hand, thought about Las Vegas, thought about Midwest America, and then I think quite wisely considered "where would the virus ain't?" and are taking the remainder of the season to Edmonton, the northern most city in Alberta, western Canada. Better chance of a polar bear biting you on the bed flute out there than getting ye old corona.
14. The Adelaide camps, well, great get by Scoop McClure, but Jesus, sounded like the Crows got on the wrong bus and ended up at some cult come exorcism come concentration camp. More heads need to roll at Adelaide, how that stench still lingers, baffles me. Until they fully move past that, and the residual culture associated with it, they're barely better than the Aberfeldie thirds.
15. West Coast, finally got their second win of the year, Port, had a great start – one small blip to a rampant Brisbane. But come the end of the year, don't be shocked if the Eagles are two wins or so better than the Power. West Coast probably wins three of the next four and come August no-one will remember when they looked shithouse. I think they both make the eight mind you, but remember the order.
16. So the Eagles then probably make the eight after all that Hub malaise, but for mine, now, flag favourites, it's the Giants. Why? There's six teams above them, none of which I'd trust above the GWS in a do or die finals series when everyone's up and running. And then, of the 11 teams below them, I think they're better than the lot.
17. Dermot Brereton on Fox Footy last Sunday nailed the Dees just right:
How long do we go while we let this team off?.. They're talented, they're good – they know it. They play when they feel like it's their turn to go. They are not uncompromising
Telling ya, if Goodwin wasn't on a three gazillion-year contract, in a time when there isn't payout money lying around right now, he'd be 50-50 to last the year for mine.
18. Now, footy ratings. Sydney League junkies are the first to knock the AFL when the slightest KPI looks like its favouring them, but lets put them in their place. The AFL is outperforming the NRL by 38% on Thursday and Friday nights, nationally. And, across NSW and Queensland, League heartland, audiences are up 16%. That's a smacking. Kudos to the NRL, V'Landys is a gun and saved a league from certain nonexistence, but don't kid yourself, Gil's captaining the biggest ship in the fleet.
19. Matt Rowell is done for the year, he won't win the Rising Star. Don't care for those opinions who think its an open and shut case, everyone thought the bushfires were the worst thing to happen in 2020 back on Australia Day. Please. But for mine, one of the King twins will end up with a stellar 2020, or, smokey, my man, who I think debuts this week, Izak Rankine. Don't forget, Rankine is the most talented player on the Suns' list, and we've all seen Matty Rowell and liked him haven't we? Rankine to football is like Susie O'Brien to shit opinions, promise you.
20. Good news for Daniel Ricciardo. He, who I think is as talented as any on the F1 grid, certainly not far off Hamilton for raw talent, is moving to McLaren next season. Well, first Grand Prix back since covid and the McLaren car looked very assured and certainly not far off the frontrunner pace. 2021 is a whole another year, sure, but if you put Danny into that go kart now, he would be chasing podiums most Sundays. Where Renault was a bad move, maybe McLaren might just be a winner.