1. So the Victorian covid numbers are f#$%ed.
Not good. Days of 40+ new cases and then over 70 yesterday. Our fourth highest daily new cases total since the pandemic started, but our worst when you remove returned travellers. Of Australia's 590 new cases this month, 469 have been in Victoria. And of the 100 of those in NSW, all bar 9 were returning travellers. Victoria though, over 380 of theirs were community transmitted.
We can mull over permutations and projections all we like but at the current rate, when, not if, we hit a day of 100+ cases in Victoria this week, you start to strongly contemplate sending all ten teams out of the state and try to 'Hub out' the next month or two. The positive for the comp is that for SA, WA and Queensland it's been weeks since their last new local case, and NSW has only seven active cases right now if you disregard travellers in quarantine. The nation bar Victoria come the end of July is as good as out. Meanwhile this is now a proper second wave for Victoria.
2. Now, state of the game. Clarko went and said there is something wrong with the spectacle. He was specifically looking at the fact his team laid almost 60 tackles but received no holding the ball frees. Further, he cited the Melbourne-Geelong game, two goals each to half time.
Players are rusty, we're just working through one of the most disruptive and chaotic seasons, and the middle to lower rung clubs are playing with self-preservation. No-one has an issue with how Port is playing, no-one thinks the rules need changing in a Brisbane game. For attractive footy, the Suns are getting the most credit and low and behold they're top four. This is coaching or talent, not the rules. Most games are still fine and the last time we had doomsday convo's, we got 6-6-6 and that's done four-fifths of shit all hasn't it?
3. Joel Selwood 300 games this week, Gary Ablett 350, choose your own plaudits and acclamation for 650 pretty shit-hot games, and two of the greatest ever to don the blue and white hoops of one this country's most historic and storied footy clubs. Walk up hall of famers the both of them.
4. If the Pies can get through to the end of their three weeks in the Hub with a decent record they'll be in a really good position. By the time they return from Perth they'll be seen to have played four interstate 'away' games, which is about par for Victorian teams this season. So in their final eight games of the season there'll be at least seven in Melbourne, a great run home. Meanwhile, Richmond, won't have traveled interstate once between now and the end of Round 7, so has four interstate to come in their final ten games, different story.
5. Another one on the Pies, Jeremy Howe, big loss, but a fit Darcy Moore makes a big difference in mitigating the impact, has become the more prevalent intercept mark this season despite Howe's obvious prowess. Even so, a fit Tom Langdon or Matt Scharenburg can go some of the way to replacing that intercept ability. The big loss, Howe is very underrated by foot, accurate and long, so the Pies might lose a little in their distribution out of D-50. Then again, other than Dayne Beams, Howe is the only player not fit for selection at Collingwood, not bad for them at all.
6. And another on Richmond, they're playing ok when they have the ball but that manic, claustrophobic pressure when they don't hasn't been there all season. Round One, Carlton got let back in because the Tigers were inconsistent in their pressure and all the way through to last Saturday where St Kilda was able to score far too easily as well. It's probably a soft kill potentially this week against Melbourne at the 'G; it's hard to flick the switch but it might be a spark not a moment too soon.
7. Looking back, the success rate of those in the top four at the end of Round 4 going on to play finals that year is almost 1:1. So Port, Gold Coast, Brisbane and Hawthorn, might as well lock at least three in for October, if not all of them.
Going one better, in the last three years the teams in the top four at the end of Round 4 usually end up staying in the top four, or at worse end up just outside. Three years ago the top four didn't change from the teams occupying those spots after Round 4, two years ago there was only one change and last year there were two changes but the teams who fell out ended up 5th and 6th in a very even year.
8. So, fair to say, Port Adelaide, Gold Coast, Brisbane and Hawthorn, at least two if not three of those probably end up staying there on recent history. If we had to have a stab, in no order, let's say Port and Brisbane hold on, and we give Collingwood and St Kilda the other two.
9. How many wins gets you into the 8 this year? Looks like 9 will be the magic number, 8 and a strong percentage, maybe, if the bottom four clubs barely get above 4 wins. Otherwise its 9, and maybe even 10, so take West Coast, would need to go at least 8-5 from here. Whereas Gold Coast probably needs to win only 6 of their last 13.
10. Port's form line is interesting, on one hand they've already played the likely 17th and 18th-placed teams this season in Freo and Adelaide, plus trounced the Suns before they got going and then this weekend dismantled a disinterested West Coast, so it could appear false form. But their method and game style is too compelling and even as they face stiffer competition their start, despite their opponents, probably has them really well set up to keep going.
Plus, their run home will be interesting; of their final ten it'll be five games Adelaide, four in Melbourne and then one in Sydney against the Swans. Maybe six further games in Adelaide, tops. But despite some weeks in the Hub they won't end up with a total run of home games at Adelaide Oval as they've already played there once and most teams will probably get seven or so home games this year at most.
11. Need to give Carlton a pump up. They were two years younger per player than Geelong two weeks back yet looked, isolating that game anyway, the better 2020 team. Then Saturday just gone, very similar age profile to Essendon who have had an encouraging season to date and many predict as a finals bolter with a new style, and the Blues again looking at just that one-game sample looked the better 2020 team. What does it all mean? If Teague can find some consistency in effort there's no reason they can't win half their remaining games and return to the finals way ahead of expectation.
12. Super good story this year not getting enough media – Sam Docherty back for Carlton. Missed two years of footy so forgotten by most of the football world, but has come back and shown why in my view he is currently the premier half-back in the game. First in the league for metres gained, rebound 50's and second for total effective disposals and total intercepts. All-Australian lock and a huge reason why that team looks a million miles better than previous years.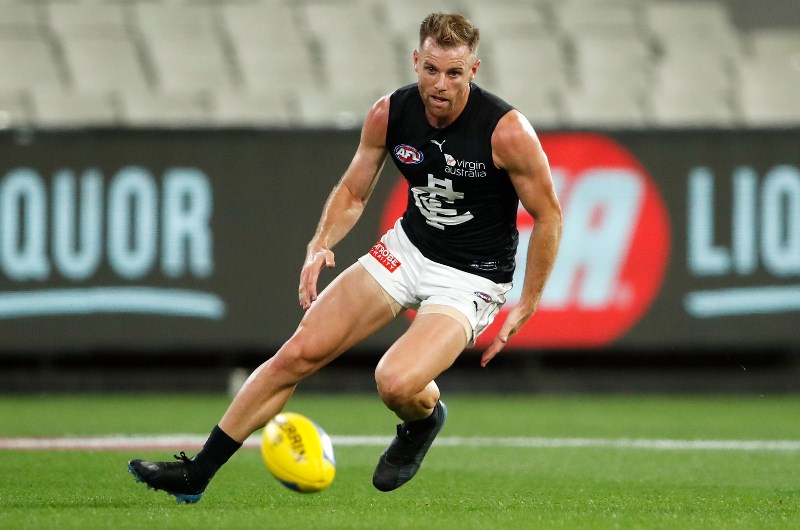 13. And we also need to pump up St Kilda. Since resuming their season they've shown a game style that holds up. They made the Dogs and the Tigers on the weekend just gone look second rate, and that's what teams with top-four aspirations do. They don't appear to have a weakness, have quality talls and a very decent mosquito fleet, and other than been shown up by the current flag-favourite, it's hard to see St Kilda not at least hosting a final or receiving a double chance – they are legit this year the Sainters.
14. Mick Malthouse on Nat Fyfe:
"The word champion is not him. No. He's certainly not in my top quality players that are playing league football."
Now Mick. Two Brownlows and two AFL MVPs, across three separate seasons. Three All-Australians and three best and fairests, across four separate seasons. All of this before he turned 28. Mick might be my team's last premiership coach, but he needs to be in a home.
15. Long way to go but geez, the Get Seriouser Coleman tip back in March, Charlie Dixon, looking a treat. No longer value but for those who got on and invested their entire mortgage in the big Queenslander at terrific odds off this column's advice, well done to you.
16. Those teams who wear ISC, almost half the league as it happens, will most likely need to find new sponsors next year as the company is in big strife. This column believes Collingwood are already deep in talks with either Nike or Puma from 2021, Port are looking likely to team up with Macron, who sponsor Lazio amongst others, and West Coast might return to Puma also.
17. Brief touch on the world game there, quick one on some news out of the broadcast booth, Simon Hill, voice of the game in this country, has left Fox Sports. The game's either in big trouble, or best case has endured a rocky last year or so, but this feels like another savage blow and who knows how many more the code can cop. Almost feels like we should go back to the NSL days and just revel and embrace in the nuance.
18. Few away from footy to finish, firstly Avery Bradley. Reasonably important member of the LA Lakers championship tilt, who enter the resumption of the league season top of the pile out West, yet the guard is not bothering with the risk or compromise of the NBA Orlando-bubble and will sit out the rest of the season. A few others have followed but it speaks to the state of play not only in American sports desperate to find a way back, but also the country itself amongst the pandemic and societal issues running rampant.
19. The NRL is going to expand, for mine within five years, but it being a second team in Brisbane is a lock. So whilst the AFL went on the offensive in placing expansion teams in Rugby League heartland, the NRL's response, of sorts, is to solidify their current footprint over seeking new territory. What it means for the AFL is the strength of the Brisbane Lions in what will become a difficult winter-code season becomes pivotal. The Lions do well in a market that's flooded by the Broncos, but to combat two big city NRL teams won't be easy. The strategy therefore for the Lions, and the Suns as well for that matter, will be key.
20. How's the Poms voting for Colombia over Australia/New Zealand for the 2023 Women's World Cup. I mean good Lord, what a shocking bunch of insert your insult of preference here. If it's not sending our troops to the wrong Turkish beach, its thumbing their nose at our clearly superior bid because of who knows what, envy, jealousy, your guess is as good as mine. It didn't matter in the end and we won the hosting rights, but we won't forget the dog move made by the English and quite frankly its not surprising, wouldn't expect anything less from a nation with such low standards. And lets be clear, this is about England, not Britain, because shit, those Scottish and Welsh folks wouldn't have voted for Colombia, no way.