1.       Plan released this afternoon, we're back on June 11, clubs resume sort of training on Monday, full-contact a week later, we're away. Fixture not ready yet though (thanks Adelaide). But whilst it's a bit of a mess now, I suspect in two-three weeks time some of the mess can be cleaned up and if its not in time for June 11, by the start of July a replacement, very normal looking fixture will be drawn up instead.
2.       Righto, one of the things we missed during the week was Mick Malthouse on China, then David Koch on Mick Malthouse. Nothing I like more than two very rich, white men with a combined age of 130 getting into a squabble. Firstly, Mick said:
I'd be very, very reluctant to go back to China… I'm not anti-Chinese. Am I anti-Chinese government? Yes, I am.
Kochie hit back.
Mick Malthouse doesn't know what he's talking about. With comments like that, if it was up to Mick Malthouse he'd bring back a White Australia policy.
Yeah ok, Mick was starting to stray towards politics, stick to football Mick, mind you, 'White Australia policy', nice one David, zinger! But the response from everyone making Kochie out to have committed treason, spare me. Damien Barrett almost wept last Sunday insisting Kochie formally apologise. Seriously? If you reckon this was that bad you must still believe in monsters under the bed, fair dinkum.
3.       Mind you, the best part of this bitchfight was the Mick return serve, that conveniently none of the Malthouse apologists picked up:
I've never made any issues about the Chinese…
But, go on Mick, say what you mean Mick…
…The fact is the virus has come from China.

there's no denying… the way it has tried to be hidden by a communist regime.
Boom, there it is, atta boy Mick!
4.       Speaking of having a complete whinge. Kane Cornes had a go at Jezza's mark, now I half agreed with him but lets be honest it's a non-story, its not important, its essentially a view from after work drinks on a Friday making it to television. Enter Jezza's daughter Kate, who musn't be doing well in iso:
I am absolutely furious that Kane Cornes would come out and say Dad's mark was overrated..
It is disgraceful, it's disgusting, he's bagging a legend of the game and I am absolutely disgusted.
Firstly, there's tonnes more she said but in the interest of ink I'll cut it there. Secondly, LOLZ. I mean I get a proud daughter sticking up for her Dad, but since when was Jezza two cups Bambi, four tablespoons Jesus with a pinch of Santa? I mean it was an innocent opinion on 'a mark'. Not his career. Or his values or his family – it was one piece of play. Yet according to young Kate, Cornes has basically suggested Jezza would not just bring back the White Australia policy but that that Hitler was misunderstood and that Pol Pot actually did a lot of good things. You'll be right Kate, restrictions will be lifted soon, sit tight.
5.       Now, the Crows. And then the SA Government. Sure, in some detail what the Crows did was largely very, very dumb and probably not that significant. But in a game of small margins and when it comes down to things like exemptions on restrictions, I think it had some significance in Adelaide and Port being able to resume the season like the eastern states or having to bunk in on the Gold Coast like the Western Australians. So if I'm Port I'm livid at me cross-town mates, because simply put we bag the NRL for its 'pub-league' style mishaps from time to time but the stupid, innocent Barossa crap has likely cost the league millions. Clumsy doesn't always stay clumsy.
6.       So in hindsight a bigger whack necessary? Absolutely, because the other thing that contributed to the SA Government going down that path, the weak response from the league. The AFL comes down harder, maybe South Australia goes "well alright then, well run ship". Tom Browne had mail, that went wrong, that the Crows were going to cop a big fine and lose some draft picks. Never eventuated, egg on Tom's face. But I tell ya what, we probably wish he was right, that might have made a difference.
7.       Some stuff on the whole "oh, would you be happy playing a home game against West Coast on the Gold Coast then?". What? Morons. Why would Essendon play its home game against the Eagles on the Gold Coast? Football can't be played in Perth at the moment, but free-willing Western Australians, based in Queensland, can do as they please. So the Eagles can be based on the Gold Coast, but then kick off by a series of 'away games' until such a time that the games at Optus would work. I'd be looking at the Eagles playing both the Lions and Suns, away, then both the Giants and Swans, away, and push comes to shove sure, come down to Victoria and play two away games there. If by then, they aren't able to play home games, sure, you're going to have 'home games' on the Gold Coast, otherwise they get a heavy 'home-game' end of their fixture and by the end of the season home and away balance is restored.
8.       A month ago, so mid April, I'm not even sure Hubs had taken launch yet, we were probably amidst the "oooh, what about playing the Grand Final on Boxing Day, or New Years?" Point is, we had no idea back then. This thing moves quicker than Mick Malthouse on Chinese politics. But to suggest the Eagles, Dockers, Crows and Power are essentially rooted and not going to get a fair run of this by the end of the season, honestly? I'd be fairly confident that before the next bounce of the ball that at least one of the two states will be open for fly in, fly out, therefore making Gold Coast hubs for those clubs redundant. Plan for a Plan B, but realise Plan A is often doable in the fullness of time. You want proof, look at what V'Landys is pulling off. Dip your hat to him, he is going to make it.
9.       Mind you, he is still 'winging' this like an absolute beast, this was him this week on why they have had delays getting the fixture released with matches only 13 days away now:
We will issue the draw for the first two rounds, The problem we have is the broadcasters. We are caught in the middle of it.
10.   Oh, the Joel Selwood Tik Tok. F#$k me. Firstly, it was probably her idea, you reckon the Cats skipper plays the leading role in organising social media content in that household? Secondly, nothing in that came across as anything less than two people in a loving relationship just taking the piss. But no, clearly Joel Selwood is not only a domestic violence perpetrator but would also too bring back the White Australia policy.
11.   Something on Tassie – we said a couple weeks back that whatever momentum they had towards getting a team got shat on because of coronavirus, you 'don't turn on a wave' was the metaphor. Now I still maintain that's the right call for now, but in due course based on the final report just released that was hardly covered in the press, was that at some point, in my view, the AFL will have to strongly consider them regardless. In essence the Tasmanian Legislative Council found that it would be their strong recommendation the State push for an AFL team. Three things were of note; their findings suggested it would cost $45m upfront to establish and then ongoing support of $8m a year from the state Government however this would be offset by a benefit of $110m per annum to the state's economy. Secondly they predict a membership base over 64,000 if done properly, which would be significant. But thirdly, the timing:
The suggested optimal time for Tasmania to establish an AFL team is 2025 in line with negotiations for new television broadcasting right.
12.   So do we, and how? Firstly, I think we have to. The strength of the competition is the collective strength of the clubs. The clubs grow the game, the clubs can be self-sufficient or require AFL funding, it's all a massive bit of accounting really. But if there's a prospect of a Tassie club that would immediately put itself mid-table as far as economics is concerned, it should therefore be pursued pending 'how'. You either replace a club, go to 19, or go to 20. You go to 20 to make it ten games a round, yet I don't see a 20th club anywhere so scrap that. So you either move a Melbourne team or the Suns, or you insert a 19th team. The latter doesn't really move the revenue needle much but as we enter a new era where every dollar counts, tough calls are being made on staff and list sizes and cap spends and all manner of things, do you turn down any increased revenue? Probably not. So aim for 2025, firstly because of their business case, but two not because there's so much a compelling case for their entry but more so because there is no case compelling enough to ignore them, given the rocky times ahead.
13.   Mind you, there is one club that's totally f#$%ed apparently that might be open up a spot for Tassie. I kid, we wont be replacing Carlton anytime soon, but supposedly their books are in as good a shape as Clive Palmer's cholesterol, and can you think of a worse time to be in that sort of financial position? Nope, nor me. So financial health for the Blues might be a long time away, and if you're a Fitzroy fan you'll be ropeable that your former next-door neighbour will survive when you fell over for being probably not as bad.
14.   Does the VFL come back? SANFL and WAFL, sure, the NEAFL is just an AFL construct and could disband easily tomorrow, but the VFL, already lost Preston, clubs reliant on AFL alignment are doomed and the AFL needs to exert real agility going forward with things like 'reserves'. If I'm Port Melbourne and Willy I'm doing the work to see how joining the WRFL might be sustainable, sadly.
15.   Channel Nine has two Footy Classifieds going a week, and have pretty much pulled it off, plus have the Sunday Footy Show going, yet Seven gives us nothing at all. Seven is the home of footy, but gee you wonder if Nine would be a better partner, it did look real good for that five-year stint best part of 20 years ago.
16.   Away from Footy, Daniel Ricciardo off to McLaren. Good move, that car is on the up, and with Mercedes engines he should be pushing for the top four in most races. Carlos Sainz was good in a McLaren, coming sixth in the drivers championship last year, but I think Ricciardo can top that in the same seat and challenge Sainz as he moves to Ferrari. Wasted 18 months at Renault but this is not a bad spot to be in, 2021 will be finally an interesting F1 season for once.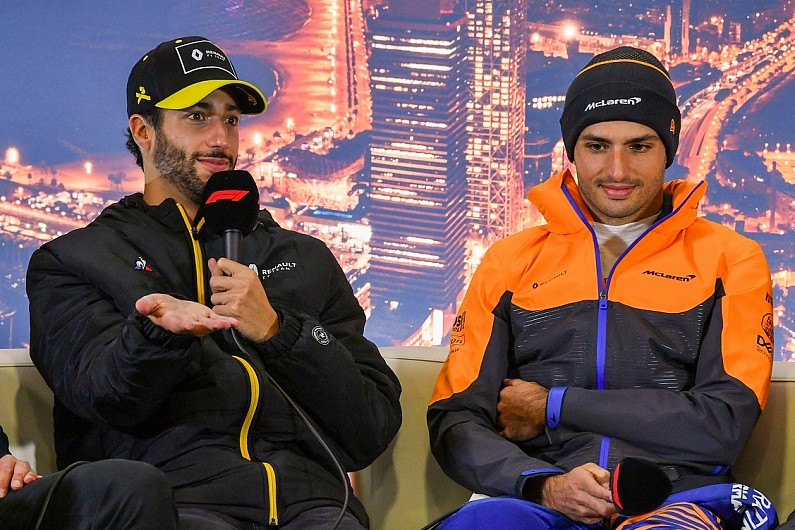 17.   NBA has resumption potential, if they avoid New York (2 teams), Pennsylvania (1 team) and California (4 teams). They have such an amazing opportunity to turn the remainder of the season into a Summer League style setup in one or a select amount of approved, safe cities and just get it done. Gone from a no chance to almost certainty. Same with the NHL, helped by the fact they can do a lot of this in safer Canada.
18.   Bryce Cartwright. NRL players in Queensland need flu shots to get on the park, and he is refusing on an anti-vaxing stance. I could absolutely tee off on this but this column is already too long. But are we allowed to deport Australians for un-Australian-ism, and if so where should they go? Antarctica? Chernobyl? A weekend with Carole Baskin?
19.   European football update. Bundesliga is back this weekend. Bless them. How's their coronavirus gone, well had 123 deaths yesterday, cases are still coming down but in the multiple hundreds each day. Even Italy is eyeing off 13 June for a return. They were the epicentre a little while back, now, 195 deaths yesterday, their daily new cases are just starting to get under 1000 each day from five times as much at their worst. So two countries on different paths getting aggressive with football resumption based on heavily improving situations. Still not great stats, but banking on their curve's trajectory.
20. England? Not so fast. Let alone their more complicated league structure which doesn't help, they had almost 500 deaths yesterday and still average over 3000 new cases a day. They would still seem weeks away, and they haven't got weeks to play with. Consider me now on the side of 'maybe not', than 'maybe'.