WE started on a Thursday night in April, Carlton kicked the first five goals of the season and they've barley kicked once since.
From there the Tigers took over and have waltzed the season in like the All Blacks in open space with gold jerseys long in tow.
We've had two Prime Ministers this season yet no coach has copped the sack, Tasmanian football is in the dumpster yet the Coleman ended up a two-horse race between Taswegians, yet we all should be showing no interest until the rule-changes next year get us all back onside.
Apart from Carlton's season and Dance Boss on our telly's, it's been a good year. But it's about get to get better.
1. The All-Australian side is named tonight, but we had the squad of 40 named Monday. Righto. Why do we name the squad? Is that so 18 players for 48 hours feel like they were part of something before they miss out and are subsequently forgotten for all of time? Why not name an 80-man squad in July then to really get this whole thing spicy? Come out in Round Three and tell us 20 players who definitely won't make it. Yeah, not sure.
I've done a team, of course I have, why worry about the team that's officially presented when this is just, naturally, going to be better. Couple controversial selections, particularly down back.
FB Stratton – Astbury – Stewart
HB Yeo – Grimes – Whitfield
C Macrae – Cripps – Sidebottom
HF Caddy – Brown – Edwards
FF Breust – Hawkins – Riewoldt
Foll Gawn – Oliver – Mitchell
Inter Grundy – Beams – Higgins – Smith
Honourable mentions: M.Crouch, Fyfe, Laird, Dangerfield, Sicily
I think Alex Rance is the most talented backman we've seen in a long time, moreso than Matty Scarlett, but I think Astbury and Grimes have had better years. Challenge me on that. I also think Dustin Martin is a freak, but I haven't noticed him anywhere near as much as Cripps or Higgins or Beams.
2. We announce the All-Australian team tonight, it's a week full of awards with Rising Star and MVPs and what not, but again, for mine, even if you don't play the actual games (and this column has long championed a pre-season format that works) we should be naming the State of Origin teams too. The All-Australian team doesn't physically play, so why can't we honour the 22 best Victorians of 2018, that's a worthy accolade. Sure, Patrick Cripps might end up a five-time All Australian for example, but what if he was also recognised for being a nine-time Western Australian state representative? Mind you, the annual players survey, to the question "Should the AFL re-introduce State of Origin?", the response was 79% 'yes'.
3.    Now, the finals fixture. I know esteemed AFL.com.au journalist Damien Barrett, he who can critique the governing body in columns on their own website, reckons the fuss about the week one schedule is unfounded. Sorry? Let me refer to Gerard Whateley who nailed it when he said Monday that "there is one team travelling for the weekend, and they are scheduled to play last… I don't think they got it right." Gerard. I think you are right. Madness. Eagles-Pies needed to have been Thursday.
4. So the Pies are travelling, first week, can they channel 2002? Port Adelaide were easily minor premier that year yet the plucky Pies went over, who were not seen to be anywhere near the standard of the Power or Lions, got up by 13 points and four weeks later were an incorrect Anthony Rocca behind away from pinching the flag.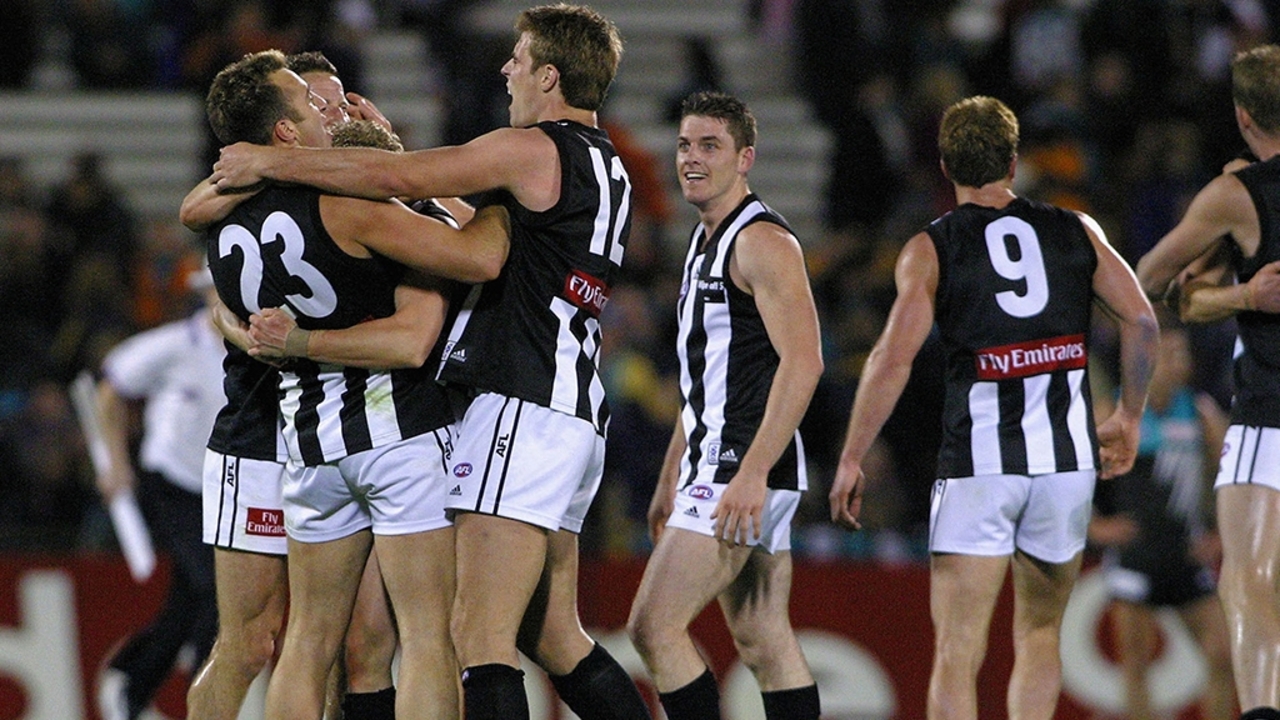 5. This column has long said since the early season 'sighter' of Round Three that Clarko would love to plot a second crack at the all-conquering Tigers in September should he be fortunate. Well, first up, the four-time premiership genius gets his wish. Nothing short of Richmond's best will suffice, that's how good a coach Clarko is in plotting an opponent's demise. Throw in too the eight names from nowhere that are now playing important roles: Worpel, Mirra, Morrison, Nash, Burton, Hardwick, Howe and Miles. Only one first rounder in that, a couple off the rookie list but three third rounders and two second rounders. Getting a lot of value from very little the Hawks, the Suns could take note. But take into account Clarko's tactical genius, the Hawks are a massive show. Just imagine if Cyril wanted back in, technically he is still on their list.
6. Richmond and Hawthorn will play their first final, ever, staggering given both were strong in the 70s especially, crazy stat. The other I like this week is that Hawthorn was 10th after Round 17 and have lost to 15th twice.
7. Three of the top four clubs have either Alastair Clarkson as coach or one his former assistants. Five of the top eight too. Clarko has been there since 2005 but Damien Hardwick was his assistant 2005-2009, Leon Cameron 2010-2012 and Adam Simpson 2010-2013. Remarkable. Either you persist with Brendan Bolton at Carlton then or he might be the exception to prove the rule, but it's also why Brett Ratten deserves to get the next open spot, Hawthorn just develops successful senior coaches.
8. Richmond's obviously the heavy flag favourite, from there five or six others are seen as worthy challengers, yet there's one club most pundits are happy to swat away as done and dusted – the Giants. However, whilst their last fortnight was trying with two losses, their previous few months have been as good as any, a win over Richmond itself only just last month. Yes, they have been riddled with injury, but the best 22 they will be able to field in the finals won't be too far off that team that defeated Richmond, no Heath Shaw or Dawson Simpson, but Jeremey Cameron didn't play against the Tigers, so write off the Orange Tsunami at your peril. Kelly, Shiel, Ward, Coniglio, Whitfield, Davis, Cameron, Greene, Lobb, Hopper, Tomlinson, Himmelberg, that's just a dozen bangers there, this has 2014 written all over it.
9. Had Buddy and Parker played last Saturday the Swans get fourth spot. Don't mind the injury risk being avoided but in resting them they have now paid a big price. But we now get a Sydney Derby final though, which will be fantastic, a full SCG to show the locals what a ripper final looks like, not a flimsy NRL-like attendance which attracts similar numbers to a book recital.
10. Melbourne v Geelong, destined to be the best final in a weekend where every game is awesome. Let's not forget, Round One, Maxy Gawn essentially had a shot to win just before the siren, then Zac Tuohy after the siren in the rematch – it will be a belter and the Dees are due. Angus Brayshaw, who is the most inform midfielder in the comp, with Jack Viney back who is built for finals, with Clayton Oliver and Nathan Jones there as well, looks gravy. Best midfield in the league, and the Dees are the highest scorers – the world is their oyster.
11. Port Adelaide. Spent 18 of the 23 rounds in the top eight, even had five weeks in the top four. Fell out. Started 11 wins from 15 and only won one more for the year. Yes, a little stiff with some close losses, but in the balance they shouldn't have run it so close for those to cost them.
12. So the Dogs reckon Luke Dahlhaus is gone, and as an unrestricted free agent he'll walk to Geelong no worries. If that's the case, the Cats' offer must be based off Tim Kelly more likely than not heading back home to Perth, most probably West Coast. And the Eagles securing Kelly might well mean that North Melbourne will nab Andrew Gaff as a free agent. You might find the compensation West Coast get for Gaff will be the pick they send Geelong for Kelly.
13. So Mitch McGovern wants out. Firstly, he is one of the players who was totally rattled by the preseason camp ran by Collective Mind (half a dozen were just annihilated at the camp, Tex approached the club in response, club said 'fair enough', but then backflipped, got Collective Mind back in before the players revolted and we then had the public sacking mid-season). Ironically though a very positive video testimonial of McGovern talking about his experience is still on their website. But where does he go?
Firstly, he wouldn't request a trade and then expect the Crows to find him a club, he would have already had suitors, and would be keen on at least one or two of them. For mine, its Carlton, Freo or the Gold Coast. Adelaide want Jack Lukosius, the next Nick Riewoldt from Woodville-West Torrens, as much the Spice Girls wanted to 'zigazig ah'. Gold Coast have the picks and need talent with Lynch going, and Freo, well he is a Perth boy and would look good up forward. Whatever the trade, Adelaide wants the McGovern move to facilitate getting pick 1 or 2, from Carlton or Gold Coast, so that they can land Lukosius, whether sending McGovern to a club direct or making it a pseudo three-club trade.
14. Putting the Collingwood cap on, I'm curious on Tom Lynch and Richmond. The noise about the Tigers as his destination is deafening, despite the mail I've received, which was categoric and through very few hands. So the media's convinced it is Richmond, is that because they have better mail, or that my mail is actually wrong? Or because the media is indulging in 'educated guessing', much like Buddy being destined to the GWS when a year earlier he'd already committed to the Swans and the Giants were never in it at all? We shall see.
15. Dan Hannebery to St Kilda? Looked banged up against Hawthorn but his previous month looked solid. But you know what, whilst he isn't Luke Hodge, to be a senior figure for the Saints might be a solid move. He is only 27 too so it's not backflipping on the Roo and Joey decisions. The Saints had a shocker year but had been 9th and 11th the last two years, not massively off the pace you'd suggest.
16. Alan Richardson, we've canned his win-loss record, but one could suggest that perhaps this was an off year given the last two yielded near-finals finishes. But expect Brett Ratten to join as his senior assistant for 2019, a move which should the club decide to move on from Richardson next year say, Ratten as his natural successor is already the club. Ironically when Ratten was the Blues' senior coach Richardson was his senior assistant.
17. Billy Hartung and Nathan Freeman are stiff. Reckon Hartung was in the Roos' best 22 when fit, and they were a 12-win side in the end, whilst Freeman, he is far too young and talented to be given up on. Many clubs who pondered the option of pursuing Jaeger O'Meara passed due to his knees yet the Hawks saw the potential and are reaping the dividends now. So if Freeman's hamstrings are what's caused the delisting at St Kilda, surely a club, the Dogs or North for example, could do a lot worse than giving him another chance and take the punt.
But really, St Kilda and North, for Hartung and Freeman, and for Hugh Goddard too, unless they know for sure that 17 other clubs have zero interest in these guys, why wouldn't you hang on and try your hand at the trade table? For example, if you'd go to say, I don't know, a Gold Coast, and said let's give you both Goddard and Freeman for a third round pick, I don't think the Suns say no, and that's an extra draft pick you otherwise wouldn't have. But nup, it's either properly incompetent list management or these three are so injury riddled its Port Melbourne at best for them next year.
18. Many canned the Taylor Adams-Heath Shaw trade at the end of 2013, a premiership star for another one of the GWS many talented but unproven kids. If you believe that Shaw wouldn't have made the difference the last four years between where the Pies inevitably finished and finals, Adams is looking like a core piece and then some in the guts for Collingwood, averaging 27, 28, 30 and 26 disposals in each the last four years, but this year has probably been his best.
19. Stephen Gilham is a lucky man. Firstly, anyone able to play over 100 games of AFL, play in a premiership too most notably, must consider themselves blessed, but then to win $55 million in Powerball, oh blimey. Strong word is that the mystery winner from January who eventually claimed the prize at the very last moment last month was indeed the former Hawk.
20. The 2007 and 2009 NRL premierships were stripped because of salary cap breaches, and we may be facing a third within 10 years if the Cronulla Sharks are found guilty for their 2016 accounting. How can a city where it's impossible to get drunk have so many intoxicated bean counters trying to get clubs under the cap, or is it such a mickey mouse comp that clubs don't care for the rules and regulations and take a mountain of piss, it must be one of the two, either way – trash.