TOUGH week of football.
Where the week before we celebrated the return of a few who had been cruelled by injury and the warm glow that gave us, one of those we saluted suffered the unthinkable and it just flattened us all.
Alex Johnson, who had gone the best part of six years on the sidelines with five knee recos, in his second game back does the good knee for the first time and its back to the grind of surgery and endless rehab.
Bloody unfair sometimes isn't it.
Could be worse. Could get paid a shirtload to become Australia's new Bachelor before discovering that one of the 25 contestants prying for your eternal love is your stalker ex from the gym who wrote your name in her diary under a list of life goals.
Yikes.
You'd almost take the ACL. Almost.
1. Richmond have had no injuries at all for two years (Dion Prestia, a little bit, and yeah, Reece Conca, but that's it), whereas the Eagles have now got injury and suspension issues, GWS and Collingwood are decimated, Sydney's lost half its backline in one week, Melbourne's lost their CHF and Port Adelaide lost its spine in a half of football.
Hawthorn's the only reasonably fit team left, that's going to be mega important. Continuity is key, its why Richmond won last year, its why Hawthorn has snuck into the top four and rebuilt on the run gelling beautifully; when they were looking at an uphill battle to make the eight only a couple months ago, now they are such a live chance.
2. Yes, the Dees have not beaten anyone in the top nine, but Max Gawn had a shot to win in Round One, they were actually in front when the siren went in the rematch down Geelong, got within 9 points of Sydney and 10 points of Port. Bit of luck they win two of those four and it's a moot point.
3. Someone really key to Melbourne's fortunes who should be back this week, Jake Melksham. Usually the realm of Shane Edwards and then daylight, the Dee is leading the league in goal assists, one ahead of the Tiger. The Dees are the highest scoring team in the comp and should they make September and do anything, whilst defence usually prevails their gung ho ballistic style is their best shot of making waves, and the former Bomber is critical in that.
4. How much do the Roos miss Ben Jacobs? He plays they win on Sunday. The Dogs get up by 7 points with Hunter, Macrae both getting 40, Bont getting 35. Jacobs curtails one of those somewhat and it's probably worth a couple kicks. The Roos will be ok, Polec is far from Michael Long but he isn't Jared Oakley-Nicholls, Tarryn Thomas as an Academy player looks really good and Luke Davies-Uniacke will be better again next year. The Roos are ok.
5. Its my understanding that Tom Lynch has chosen Collingwood. It appears that when Lynch was down in Melbourne recently and met with the Pies on a number of occasions, one of those meetings was with the vice-president Alex Waislitz. Waislitz is a billionaire investor and heavy hitter around town. Lynch's catch up with the Pies vice-president was to talk about third party employment opportunities and life after football. The word though is that the significance of said meeting with Waislitz is that it was not as part of the sell or pitch to entice the Suns captain to Collingwood, but because Wasilitz would only then get involved once there's been a commitment made. So, on that basis, if that's the only reason why a meeting with Waislitz takes place, and it did indeed happen, we're adding one with one and getting two.
However, as in the Murdoch press this week, there are still rumblings out there that Richmond thinks they have him across the line (they did also have the same feeling about Adam Treloar), Mark Williams who was a part of the club for a number of years is 100% confident Lynch will be a Tiger. Then this week that perhaps Nathan Buckley's comments on Footy Classified confirming and publicising private meetings may have disgruntled Lynch. Maybe there will be a final twist, maybe he was over the line with the Pies and now perhaps its back to an open race?
6. Whoever does land Lynch I don't believe will have to endure the same thing Geelong did with Dangerfield. Both Lynch now and Danger then were restricted free agents, which, unlike unrestricted, allows their current clubs the right to match the contract and retain the player. For example, when Carlton signed Dale Thomas, Collingwood had the right to match the terms and then retain him, but they waived that right and Thomas moved in free agency. With Dangerfield, the Cats signed him but the Crows, to be difficult but to extract a better compensation, matched the contract despite the player clearly keen to get home and forced both clubs to the trade table where a trade was then worked out and transacted. Where this differs for Lynch and the Gold Coast I believe is that the way they have moved on from their former co-captain suggests they in no way want to run the risk of matching a contract to then not be able to do the trade, or even do a trade better than the free agency compensation they'd receive for not matching anyway (a first round pick after their current selection, so pick 2 and then pick 3 as compensation). So, the winning club for Lynch, who we believe is the Pies, should get the All-Australian for nothing.
7. Gary Ablett got all the best on votes from the media in their loss to Hawthorn last Saturday. But whilst 32 touches and three goals looks great on paper, was he really that influential? The Coaches votes tell an interesting story, both coaches gave Danger best on, James Worpel got six, Burgoyne four, Smith and O'Meara three. Ablett? A two from one coach, a one from the other. Telling.
Ablett should not be playing majority midfield. Selwood is statistically matching last year but with the likes of Menegola and Kelly having good years he is getting lost in the rotations. Dangerfield won a Brownlow in the midfield with Selwood next to him, Ablett is getting plenty of pill, but as we saw with Richmond late in the game he stuffed it. He would be one of the greatest forwards in the game if he was primarily inside 50. But onball, he is nowhere near as amazing as he once was, Selwood is feeling the squeeze and the Cats are underperforming.
8. So Tom Mitchell and that Brownlow. He had six best on grounds last year according to the umpires, and in those games he had one 50 disposal game, a 44, 39, 37, 36 and 35. Well, this year, two games of 50 or more, then another nine of 40 plus. Even if gets three votes in six of those, two votes in the other five, that's 28 votes and probably unassailable. Under $1.50 with most reputable bookmakers, his only competition based on the odds is Patrick Cripps who will poll well but is in a two-win team, nowhere near enough to win, or if one of Clayton Oliver or Max Gawn take most of the Melbourne votes somehow and don't split it pretty evenly as most think might happen.
9. Michael Voss coached 109 games for a 39.4% winning percentage. Gerard Neesham, 88 games coaching Freo, 36.4%. Tony Shaw too coached 88 games, he was 34.1%. Alan Richardson? 108 games, one less than Voss, winning percentage of 34.3%, on par with Shaw.
10. Josh Kelly might be the best midfielder in the game. Not averaging Tom Mitchell numbers, but we know this column doesn't subscribe to more must always mean better. Does it all, right foot, left foot, supreme skills, by hand, inside, outside, everything. Number one in the league for inside 50s and metres gained per game whilst being fourth in goal assists per game, all the while averaging 28 touches and six tackles. As long as the Giants can have him, Coniglio, Ward, Shiel and then Whitfield off half back, they can do enough damage to Richmond in a final with the calibre of those blokes getting their hands on the footy.
11. Have always though Gaff stays at West Coast, but with McGovern's new contract I reckon he could get tipped out, with a number of suitors in Melbourne after him, the Demons and Kangaroos up there. Tell you what, don't discount the Hawks, they always are surprising and successful when it comes to new acquisitions. Given Gaff's a free agent it wouldn't shock me if the Hawks saw Gaff as one of the final pieces to their newly built midfield starring Mitchell and O'Meara.
12. On O'Meara, how is that knee hanging on? Great work by the Hawks medicos to take the punt on the former Sun and then to get continuity in his football so he can start to flourish once more, but gee, first Shaun Burgoyne, now O'Meara, working miracles down at Waverley.
13. Greg Denham suggests Aaron Sandilands is a smoky to head to West Coast next year because Nic Naitanui is out for the majority of 2019. Now Greg. The Eagles have the option to somehow keep Scott Lycett around first and foremost, or, look to get further backup in and run with Nathan Vardy and then perhaps a Jordan Roughead or similar, but Sandilands? Please. Not sure if Greg's making stuff up because he is upset that Fairfax is now Nine and to some people that really makes a difference (um, The Age will still be called The Age, not the Channel Nine Gazette all of a sudden) or maybe hayfever has hit him early and he can't see the dribble his ageing fingertips are striking on his home office keyboard. Time for a spell Greg.
14. Not often this column whacks a Collingwood premiership player, but its needed. Dale Thomas. Having his best year for average disposals since moving to Royal Parade, 22 a game, his best return since the 2011 Grand Final year in fact. But he averages less than two tackles a game, last weekend against Freo he might have got 30 touches but did not lay one tackle. Only laid three tackles in the last five weeks. For someone who averaged well over three for most of his career at the Holden Centre, to have made one tackle or less in almost half his games this season is poor, a severe lack of leadership and one of the reasons the Blues are rooted to the bottom.
Mind you, to be fair to Dale, he isn't the only jet from the 2010 Grand Finals who ain't making the tackles. Brendon Goddard. Has always averaged over three a game throughout his career, this season though, same as Thomas, under two, only four tackles in the last six games. Eight games this year without any. Trash.
Oh, they are older players though, you say, and perhaps a bit outside? Yeah, ok, so let's look at someone who, I don't know, turns 36 in October and such is his outside prowess he got the nickname 'Silk', Shaun Burgoyne. He had 13 tackles on the weekend alone – it took Dale Thomas until Round 8 to make his 13th tackle this season – and is averaging over four a game and has had only one tackle-free game all year in the bruise-free dismantling of the Suns in June.
15. You've enjoyed the footy of late? Seems like from late July onwards the games have been epic, a lot on the line, lots to play for, you name the cliché applies. Well, it might put a fork in the hope that the 17-5 proposal could solve the fixture imbalances. That model denotes the top six is locked in pretty much at the end of Round 17, teams seven through twelve are playing off for two finals spots and the bottom six please themselves. One example amongst many is that the Geelong-Hawthorn game on Saturday with 17-5 would probably not have happened, but it definitely would not have been anywhere as high stakes as it was though… so scrap that then.
16. Shout out to the Woodville-West Torrens footy club. This weekend in the SANFL is Retro Round, so clubs are dialling back the clocks to wear jumpers from yesteryear. Now the merger of the Warriors and Eagles happened 25 years ago, so in choosing their guernsey they've thought outside the box, in what I'd call a "hard tacos, soft tacos, why can't we have both" solution. They have designed a 1980s inspired Woodville guernsey, traditional green and gold, but then if you reverse it inside out, it's a blue with yellow sash West Torrens guernsey from the same period. Two in one! But, it gets better, for the actual game this week against South Adelaide, they will wear the Warriors side for one half, then turn them inside out and wear the Eagles side for the other. Very clever, nicely done.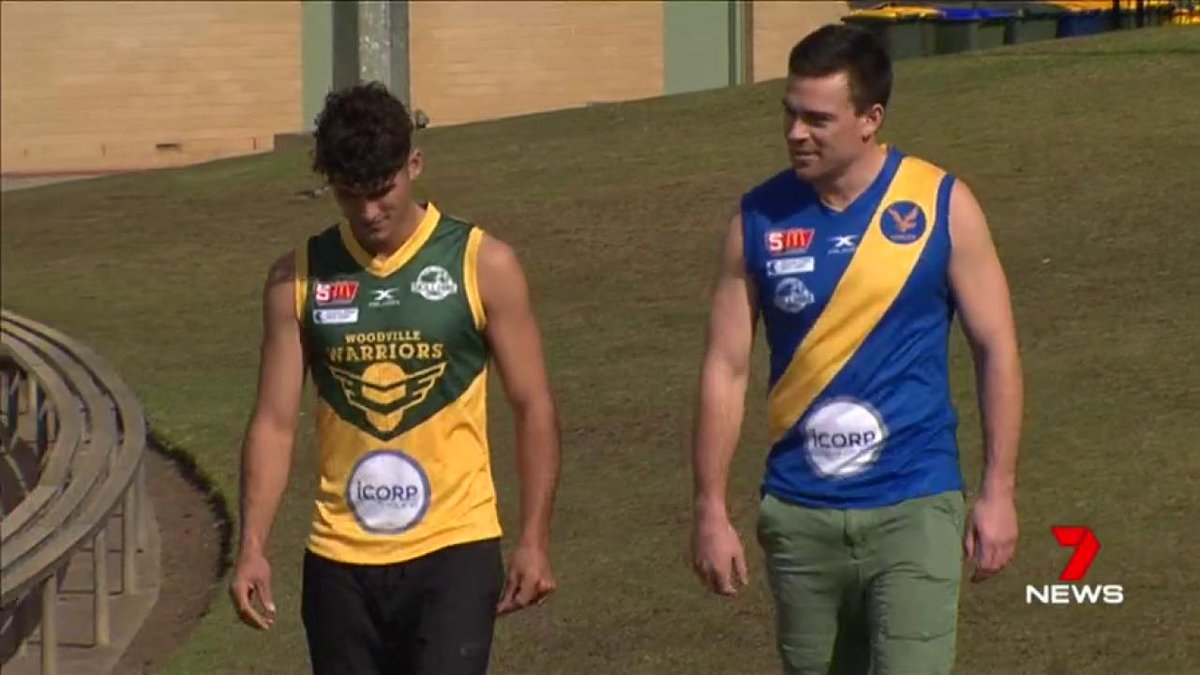 17. A pressure index of sort, the number of clangers made by opponents on average. Richmond number one, no surprise, their opponents average 61 a game, Collingwood second with 61 as well, North and West Coast next with 60 and 59 respectively. Carlton are down at 54, yet Essendon the lowest with 50. So perhaps whilst better of late, that average tells the tale of a lack of pressure early in the season when they gave up too many winnable games.
18. Jordan De Goey is Collingwood's second most important player. Brodie Grundy holds the mantle of most important due to his position as no.1 ruck, but De Goey goes close. Dynamically whether as a leading forward out of the goal square, crumbing, winning a contested ball or swooping on a loose ball, he is becoming money up forward for the Pies. But then, in the middle, he looks as dangerous in winning clearances as Scott Pendlebury, but moves, and moves the ball, as well as Adam Treloar. And he is only 22. Averaging 17 touches, four marks and two goals a game, but in the fifteen games he has played this season, the Pies are 12-3. 12 goals the last three weeks, but had 30 touches as a midfielder in their best win of the year on Queen's Birthday. His recent signature as important for that footy club as any in recent memory.
19. The kid's only played six games but Brayden Sier is not only winning the ball really well inside (four a game, same as Nathan Jones, Josh Kelly, to name but two) but crucially getting it moving forward really well. Only Kelly, Shaun Higgins and Dustin Martin average more inside 50s a game which is pretty decent company. Came into the side as a Treloar replacement but the 21-year-old, who would have taken home the rising star nom this week if it wasn't for Worpel-fever, might be making claims to his own best 22 spot now regardless.
20. If we see the victory over the Swans as an anomaly, then the Suns from Round 9 have kicked 42, 36, 26, 78, 43, 60, 58, 51, 44, 47 and 51, all in losses. In those 11 games that's averaging 49 points for, 104 against, a percentage of 47%. This team has the resurging Lions this weekend in the Q Clash then the Cats in Geelong last round. Their AFL journey so far has yielded 17th (last), 17th, 14th, 12th, 16th, 15th, 17th and this year looks like 17th again. The Giants have made the last two prelims, and are odds on to make that weekend again. They too have kicked over 25,000 members, the Suns are stuck at 12,000. Can't see respite for this club any time soon. Not next year, 2020 at a pinch if it all goes well, maybe, probably not. Yikes.