RATHER important Saturday coming up. Going to be on for young and old in Mayo, Longman, and at Yarra Park as well
It's going to be as big in the Adelaide Hills between Xenophon's mob and the daughter of the country's longest running Foreign Minister as it will be between two suburban tribes at the MCG, the reigning premier against one of the very finite group of contenders.
My tip? I reckon Sharkie gets her seat back.
1. Yep, the Giants are coming. The Cats dropping games to the likes of the Bulldogs, the Power losing to Freo, Hawthorn losing to Brisbane, all these have given the Giants a fast path up the ladder to ominously now be in the race for the top four where a month ago just making the eight seemed a challenge. They sit half a game off fourth, which is held by the Swans, a team they are definitely better than and they'll have the chance to frank that when they host the next local derby in a few weeks' time. The Demons in the last round looks the only real chance for a slip up for the Giants on the way in, so their form into September will be as cherry ripe as any. Big threats.
2. The midfield quintet of Shiel, Ward, Whitfield, Kelly and Conglio is the best group of five mids in the comp by a street. Remember, this is a team that late in the third term on Preliminary Final day last year was only two kicks off the eventual premier, and had lost Dylan Shiel early in the game to concussion. With Jeremy Cameron back in a week, if they keep this all going as planned, the Tigers wouldn't be as thrilled to dance to a deep September tune with the orange tsunami again this time round.
3. Mind you, we've been lucky so far given the danger we were warned of years ago, that the Giants or Suns for that matter haven't saluted on Grand Final day for the scenes post-match would be just weird. No noise from the crowd, no romantic story to fuel emotion, a lap of honour with the cup to a largely empty stadium; yeah let's avoid that if we can for a little while yet please?
4. Melbourne. Round 23 last year, then a number of occasions this year, they are a good footy side without the results to back it up. But geez, they are stiff, if nothing but the Geelong losses in themselves – the Dees would be top four with a bullet, the Cats would be on the slide despite their favourite sun returning. Sliding doors much?
5. Still on the Cats – lucky they are in the eight really. Yes, let's acknowledge the missed opportunity against the Dogs after the siren, but it's not clinical for Geelong in 2018. Saturday night Gaz had 31 but Selwood was squeezed out a little, well held, but it seems he is having less influence on matches because of the presence of Ablett. And for mine, if we isolate duos only, Selwood and Dangerfield in the middle looks better than Ablett and Dangerfield, despite the two-time Brownlow medallist's last term helping get that win no doubt.
6. Big tick to Travis Boak this week, wearing his old number 10 and not 1 as per the tradition for the captain at Port Adelaide. Why? Boak gave the honour of wearing the 1 at Alberton to cancer sufferer Henry Mickan, who was the nominal captain on the day. Great gesture, well done Boak and the Power, just grouse.
7. Rising Star watch, yep, Stephenson kicked three for the Pies whilst Ronke didn't trouble the goalscorers. But Alex Witherden in the narrow loss to the Crows, 31 touches and 12 marks. This form continues and he'll pip them at the post for mine.
8. The Swans have lost their midfield. Yes Kennedy had 33 but looks sore, Parker had 29 and kicked two, nice, but after that, what? Jake Lloyd has been industrious all year in the middle but after that it's mega thin. Heeney has been brilliant but quiet of late, you can't ask too much off Florent, it's all looking a bit dire at Sydney.
9. Their run home too is awful. Of the five games left, right now, you'd have them favourites in maybe two of them, and even those odds would be anything but short. They'll still win their fair share and all will not be completely lost, but they could so easily lose more than they win and their grasp on a top eight spot could go just like that.
10. If there's smoke, there's fire – mega legend of Australian netball, Sharni Layton, retired from the sport this week, only turned 30 this year, looks destined now for a stint in AFLW. She did play football as a junior, that's the key, it wouldn't just be about publicity Usain Bolt Central Coast Mariners-style, but the girl has got the skills and would probably be stellar. Keen to see her have a go if she so wishes.
11. Quick one on rule changes, I don't want to be a broken record on this but bloody hell the footy has been good since the bye rounds, leave it alone would you please? Remember when flooding was ruining the game 15 odd years ago, we didn't legislate the game to eradicate that and who even mentions the word these days? Seriously before the boys got stuck down the cave in Thailand, I hadn't heard flooding mentioned since watching a Terry Wallace-coached Bulldogs all those years ago.
12. Unconvinced on where the Pies stack up compared to not just their rivals but also their ladder position but to defeat a decent side in North by 66 points is one thing, to have the ball more (+29) but then win tackles 83-47, bloody hell that's some discrepancy. As impressive a stat for the Maggies as alarming for the Roos.
13. Ben Cunnington, who is just a truck, and Jed Anderson had 12 tackles between them, so that's 35 tackles made by 20 of their teammates. Five of those 20 didn't register one all day. Whereas the Pies had nine players register five or more.
14. Port Adelaide had a busy offseason, brought in Rockliff as a free agent, traded for Watts and Motlop, got Thomas and Trengove in as mature-aged recruits for the rookie list. Specifically the first three to be fair, as they are senior-listed players, have they made any real difference? Aside from Motlop's winning goal in a Showdown, I'd say non grata.
15. Meanwhile, Essendon, further down the ladder, but all three big recruits are wins for mine. Saad looks great down back, Smith's amongst their most important mids already, and Stringer will look even better next year, win them a few games off his own boot like he did for the Dogs a few years ago down forward. Just the bad losses holding the Dons' progress back, lots to like about them but you can't forget they've handed Carlton their only win for the year.
16. Also, Orazio Fantasia is close to the best small forward in the comp – he plays a full year next year he kicks 50 plus easy.
17. Ryan Schoenmakers. He may be judged really stringently by the Hawks match committee but gee he looks a rock solid CHF for 2018. 14 touches, 8 marks, two goals on the weekend, 27 years old, a great mark, a reliable set shot, those sorts of big blokes are worth their weight in gold. He'll probably stay loyal at year's end if the Hawks don't secure Tom Lynch but for those other clubs who might be in the race for Lynch and miss or just could use a new target up forward one could do a lot worse.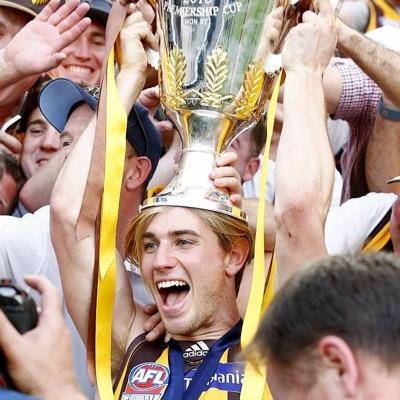 18. Hawks play the Cats in Round 21 and that's probably an early elimination final. Loser will be relying on results and maths whereas the victor is probably safe bar a shocking loss in the final fortnight. Always a big game between those two, this will be another chapter in that story.
19. As for big games, how we have 1st v 3rd on Saturday afternoon at the MCG not on free to air is awful. Did we notice that Channel Seven, who always had four games a round dropped down to three when there's no Thursday night or special game to cover? I know we can't move the game at last minute to prime time, but we are getting the Dogs-Power balltearer from Ballarat Sunday on Seven. Can't we send that game to Fox Footy and get Seven to take the Tigers-Pies instead the day prior, surely that's a better result?
20. And finally this week, Francis Leach. Why? Well its to do with the fact four or five blokes got in a decent shove on the Kardina Park terraces Saturday night. Not good, it is a problem with scuffles in the crowd, not dire but not great, so I'm glad its being picked up and hopefully addressed.
But Francis, heads on to the ABC Sunday morning and cynically said "that'd be a page one, two and three of the Herald Sun for the next three days (if it happened in the A-League), that's not going to be on the front page the next three days".
Firstly, the Herald Sun did make it front page the next day, it's still in the press as of today, and we had fan segregation columns and everything. Sure, not three front pages, it wasn't Thai boys getting stuck down a cave lets be frank. And yes, the Murdoch press has been unkind to the round ball code over the journey no doubt, but who has the tabloid industry missed, often unfairly, over the journey? Ask any African living in Melbourne at the moment, Francis?
But then too stop worrying about appropriate media coverage when the sport you're needlessly comparing too, soccer, is pushing an Olympic sprinter as the saviour for the upcoming domestic season, not because he is a genuine onfield talent but because he is a novelty who might put bums on seats that otherwise are attracting cobwebs. That sounds like the exact recipe for a circus. If Kevin Muscat wears a red wig and face paint on the sidelines this season I call Bingo, Gin and Yahtzee.
The narcissistic, precious soccer society needs to stop worrying about Usain Bolt, stop demanding a Royal Commission for the lack of playing time Tim Cahill got in Russia, and stop critiquing whether an incident in a completely different code has been adequately covered by the media and start worrying about getting the world's most loved sport working in this country again, because right now the way it's going an unfair and undesirable bit of publicity again on a Tracy Grimshaw program would actually be a good result.
Francis. Take the lemon out of your gob and try and smile. To deflect the real issue onto sorrow into soccer looks as good as your haircut.