THE byes are done with and now the real stuff is upon us.
It's like the Saturday at a golf major, the third and fourth sets at a grand slam, around 2pm on Bathurst Sunday.
This column believes certainly nine teams (GWS at a pinch would make ten) can all feature come September, which is unusual as typically the eight is set by now.
And the reigning premier aside (although a loss tonight would go against that), the rest of the top four is yet to be assured, especially if the Eagles stumble in Adelaide this weekend.
Lots to play for, lots of intrigue, if only we can get Liz Ellis to shoosh.
Therefore.
1. Some non-footy out of the way first. Steve Smith. Having a beer at a bar in New York City. Sounds pretty ok to me. Yet, "Disgraced Smith a sad sight in New York" was one headline attached to photos taken of the ex-skipper. Really? "While his former teammates were being embarrassed by the arch-enemy in England, the one man who might have been able to save the Australian cricket team was forlornly nursing a beer in a dingy New York bar". So, it's a 'sad sight' and he was 'forlornly nursing a beer'? Are they having a laugh? Many readers of this column do so tied up to a desk in an office or whilst on a break on a worksite, and the majority in very chilly Melbourne. Very many of us would gladly swap lives with Smudge and enjoy that solo beer over in NYC; no-one's reading that and thinking yes, isn't that embarrassing. The Herald Sun's feel for its readership on this one, that's embarrassing.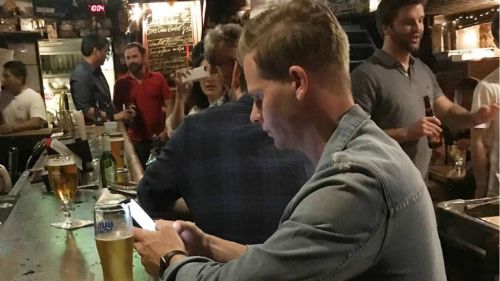 2. I have not represented Australia in any sport yet offer comment on a variety of different disciplines so what is to follow is somewhat hypocritical. But Liz Ellis needs an aspirin or a holiday. The well celebrated former Australian netball captain had a shocker on her Channel Nine slot Sunday morning when she said "there's no ifs or buts about this… the AFL can't be taken seriously as the only football league in Australia that don't have a red card offence for those sorts of things". This was in reference to Jeremy Cameron's elbow that took out Harris Andrews the day before. Now Liz. Very seldom will I launch into analysing the performance of the Melbourne Vixens wing defence and how we should scrutinise stepping and contact more, I suspect that for you when it comes to an AFL conversation, just nod, agree, look off into the distance and wait until the netball topic comes up. You're as correct on this one Liz as making coffee from broccoli and I'm as interested in your views on footy as I am in making, well, coffee from broccoli. Liz. Please?
3. As for Jezza's elbow, look, probably starts as 3-4, but it goes up to 5-6 because this is a guy who has been reported 11 times, most of them for dangerous elbow work. Poor Harris Andrews, who was building as an AA smokey, cops a bleed on the brain so I would have been happy with six, which mind you is a lot of footy, but it ends up at five. It might not have been a thug act so to speak and that Cameron is acknowledged as a good kid, but he has an elbow problem he isn't learning from.
4. Harris Andrews, great courage, ends up with a bleed on the brain. Cameron cops five. If Andrews wasn't concussed at all somehow, or was only midly dazed, does the suspension come down? You betcha. This whole action versus outcome is dangerous, because if Andrews was miraculously ok then Cameron gets a lighter ban for an action that as we've now seen can cause significant damage. We need to penalise on the action, intent and potential for injury, and not revolve around a medical report. The outcome should not come into play so much, otherwise we're susceptible to dangerous acts getting unders because some players might not suffer as much from the contact, might not cop it as badly as young Harris did. This is especially pertinent with sling tackles, an inch either way can mean a concussion or just mild discomfort, which is about a two weeks difference in itself.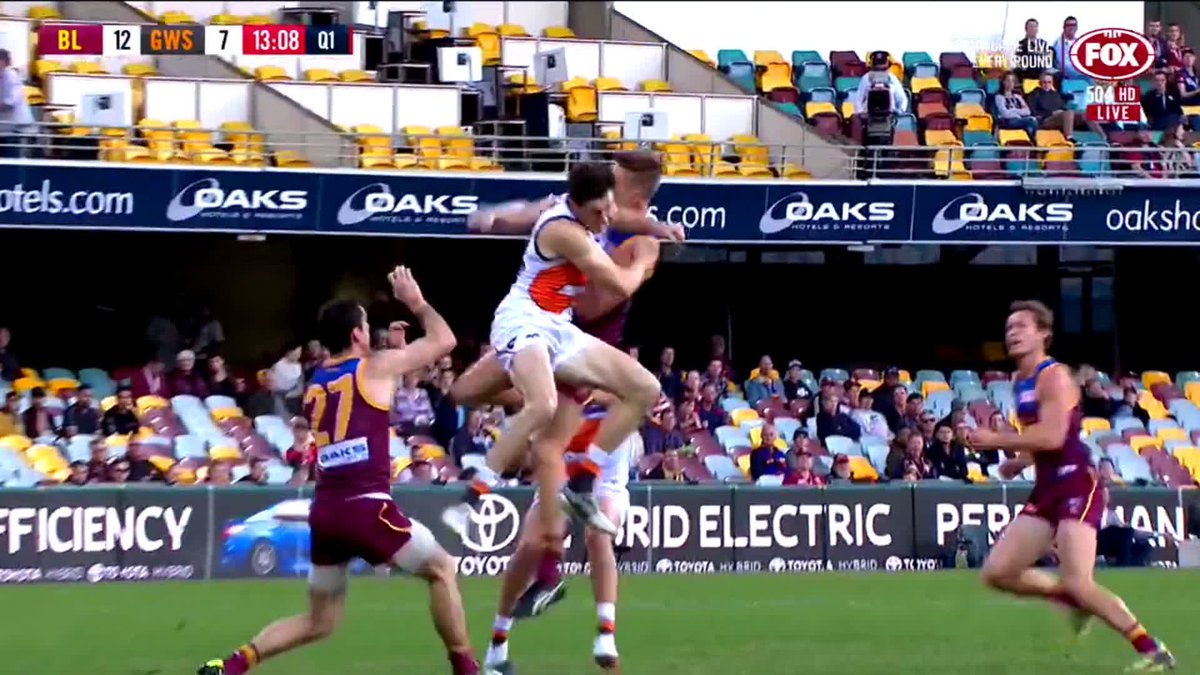 5. Buddy 100th game for Sydney tonight, but let's get a goalkicking update. He sits at 891 goals, signed for another four years after this. He kicks another 30 goals this year, 50 next year, he'd then kick his 1000th goal in 2020 with his 29th goal, he is that close. Or, let's go say he kicks another 35 in the back half of this year perhaps, and kicks 60 next year, then 50, 40, 30 to round out his contract, he exceeds 1100 and goes into fourth place all time. Don't forget Buddy in an era of midfielders, this is phenomenal.
6. Shame tonight's game is at Marvel, you would clear 60,000 easy at the MCG if it was there, but nope, watch it be below 40k on the other side of the city. In a city with 9 and a half teams, do we have home grounds or is it just what better fulfills the requirements of the fixture? Geelong will probably never play Collingwood at home ever again. The Cats had a home final against Richmond last year at Richmond's home ground. Then tonight, it's essentially a neutral game. Carlton has Hawthorn in two weeks at Etihad, they are both MCG tenants, Collingwood played the Bulldogs, as the home team, at Etihad, the Doggies' home ground, back in May. If you're a Victorian side, other than Geelong a half dozen times, you don't have a home ground anymore, lets be honest.
7. Winding back to last week for a second, those Bombers, got to give them some credit, that was awesome. Unsure on the read we get on West Coast, if they kick straighter that game we'll never know. But it's too late for the Dons, they're out of the race, and sorry Gerard Healy, the Crows are too, regardless of whether they win on Saturday. Who knows what Liz Ellis thinks, she's probably giving the Doggies a chance.
8. How'd Melbourne lose that last Friday? Had plenty of the ball, won clearances and inside 50s, all easily, yet stuffed it. Port get away with one, which feathers their nest, but ideally the Dees needed to beat the Pies or Port at worst, yet they walk away two losses. Top four still a chance, but it would have been likely with a win or two there.
9. Shaun Higgins, another best on ground performance you'd say, three votes, he'd be on 13-15 votes at this stage and only Nat Fyfe would be clearly ahead of him. I do hope you got on, and got on large. I know Liz Ellis hasn't.
10. Been critical of Jaeger O'Meara – although we've given him an out, his knees have the structural integrity of rice bubbles – but his last two weeks must say have been very good, probably some Brownlow votes, and if he can keep this going, not only can he influence September but it all bodes well for 2019 onwards; doesn't turn 25 until February next year too.
11. And as for Adam Treloar's hammys – how weird? First it looked awful when he went over, then it mustn't have felt that bad for it to then be misdiagnosed for cramp, low and behold they are working feverishly on two cramped 'strings not knowing one's got a torn tendon the other's severely strained. How that massage didn't feel like losing two-nil to Peru I don't know, what a man.
12. Teams announced later tonight but there's a 21-year old Pie in Dane Swan's old jumper who I believe will debut, Brayden Sier, built like Patrick Cripps with a much quicker first step. Not saying he is the next Brownlow medallist but in a year of great development for the Pies, a year where no-one expects them to actually win the flag despite a finals finish looking likely, Sier playing a few games and showing something at the level will be a major silver ling to come out of such disappointment with Treloar's injury; he was having close to an AA calibre year.
13. Also, we hear the Roos are offering Jordan De Goey $5 mil for 5 years. Unlike the way The Age reported it, Ralphy in the Murdoch press thinks the Pies wouldn't be able to get close enough to keep him because of limited cap space. Mind you, yes, Chris Mayne is on 500k, Daniel Wells is possibly on similar money as well, but other than Pendlebury, Treloar (whose only on 650k, for six years, what a steal) and Sidebottom, who else is getting paid? Re-signing De Goey, should he want to stay of course, won't be a problem. Roos offer 1 mil a year, Pies offer 800k, after tax that gap is halved, about 550k to 450k once Scott Morrison gets his grubby hands in the till. Plus, the Roos would need to satisfy the Pies with a trade as well, in the knowledge they probably need a first round pick to select their academy prospect in Tarryn Thomas too. Ralphy, stop taking calls from Liz Ellis!
14. Back to the Blues, gee, another loss to swallow on the weekend. But they say its ok, Carlton, young side, at a different point of their journey to Collingwood, they say this. Well, the two teams on the weekend, the Pies were only six months older and had eight games more per player in terms of experience. The Bulldogs and Suns were the properly young sides running around on the weekend, the Blues however were middle of the pack. Easy to pluck an obvious narrative sometimes.
15. Couple positives on the Blues though. Their two games before they bye, they took Geelong close, stayed competitive with Sydney, things looked ok. Then, yes, a shocker which caused the footy world to close in on Princes Park. But, whilst the Pies you think always had it, Carlton didn't get blown away at all and defended with effort most of the game, carrying a shorter bench too. You look at their last four games, you'd now see the Freo game as an outlier. Again. Obvious narratives. Stop taking Liz Ellis' calls!
16. And for the record, if I'm awarding Brownlow votes, I'm giving three in that game to Cripps, two votes then to Charlie Curnow. The Blues will get a guaranteed gun in this next draft, further development in Dow, SPS, the return of Docherty, the Blues will be just ok, I assure you.
17. Finally, in this mini Carlton section, Kade Simpson, 300 games this weekend, good on him. Never had more than ten Charlie votes in a season, often goes unheralded, but for consistency over the last dozen seasons or more, hard to go past. A warrior who deserves a win on Saturday, they'd be the sneakiest chance you never know…
18. This weekend is interesting, if the Hawks can take down a Jezza-less Giants on Saturday, look out. North Melbourne is keeping its spot barely at the moment, if you don't believe in the prospect of the Hawks September push have a look at their fixture again, I think they have Frankston next week followed by Old Carey and then the Hammerheads from Channel Seven's tv show The Club after that.
19. Sounds like this Adelaide pre-season camp was beyond weird. Blindfolds on the bus with the Richmond theme song playing, pressing players on private, personal and totally-not-footy-related stories in front of the group to 'build resilience', players doing certain things in the nude as well to take them out of their comfort zone. Seriously, a round of Cards against Humanity, or a little Truth or Dare if you need it, but no wonder they are having a lean year. A Liz Ellis kind of performance.
20. Lots of Melbourne people, especially those powerbrokers and coterie groups, are not at all enthused by Gary Pert's appointment as the CEO elect. There's two versions of Perty, the gun ex-radio boss who was at the helm when the Pies got hot eight years ago, then there's the one who clearly, when you compare to the place now since he left, was one of the main reasons the Pies were in a hole the last couple. The move from Pert to ex-Swimming boss Mark Anderson has been clearly identified as an early win for the Pies, so much so its helped onfield, as we've seen. The Dees just as their rise is taking flight don't need something off-field to counter it. Perhaps a very risky move. Such is the unrest. The snowfields this season will be awash with angry skiers.