JUNE.
This is the guts of the football season, the temperatures drop, the stakes rise; the year becomes aspirational for some and a grind for the rest.
And this works just as well as an analogy for the on field competition or indeed the fights in the bar, it's a long season if you're looking to improve your win-loss record within the Medallion Club middleweight division.
Such an interactive fan experience now when you go to the football. If you want to sit and watch your team, they have ticket options for you, but if you're tempted to throw some cut lunches at a fellow fan within a licensed part of the venue, there's that option available too – it's such an all-inclusive entertainment product the AFL offers, they should be commended really.
1. Want to start with the Fair Work Act. Wonderfully details workplace relations that protect and support employees in a number of areas, but the one we're most familiar with would be leave entitlements. It may differ slightly from workplace to workplace, but paid leave for falling ill, or for caring for an immediate family member, are genuinely invaluable for individuals to keep a regular cash flow in times where you or a loved one can't get to work and need a couple of days off. What it is not for, at all, is for when you decide to let your eyes spend far too much time oogling your media adviser, despite having a loving wife for no less than 24 years, that leads to conception, before the Australian public finds out your new friend with benefits is with child, your child, so you lose any political popularity you had, because you know, you're all about family and love even though you voted No last year, and then, in a bizarre twist to either clear the air or make bread with your Party or the constituency alike, you let Channel Seven give you and your new son's mother $150,000 for an interview the same time everyone's watching Gordon week start on MasterChef. Now you have been granted five weeks personal leave because the fallout to said interview has got you "struggling", despite the thousands of sheets you took up front for doing so. Now if the Fair Work Act doesn't abscond the taxpayer from having to fit the bill for this said paid leave, we need to get our grey leads and erasers out and get re-drafting the Act. Not good enough Barnacle.
2. Daniel Ricciardo and then Will Power. Firstly, the West Aussie who piloted a broken Red Bull around the streets of Monaco for a very famous win. Drove literally the perfect lap, a track record, on the Saturday then backed it up with guts and grit when after his pit stop the Renault engine gave him significantly less power, and where retiring to a DNF was on the cards, he drove the thing so well he scored his well-deserved maiden Monaco win. And then the same day, over at the Brickyard, the Toowoomba native who was the Indy series champion four years ago, notched his first even Indianapolis 500, probably the other world famous motor race. Two Aussies on top of the motorsport world on the same day, bloody grouse.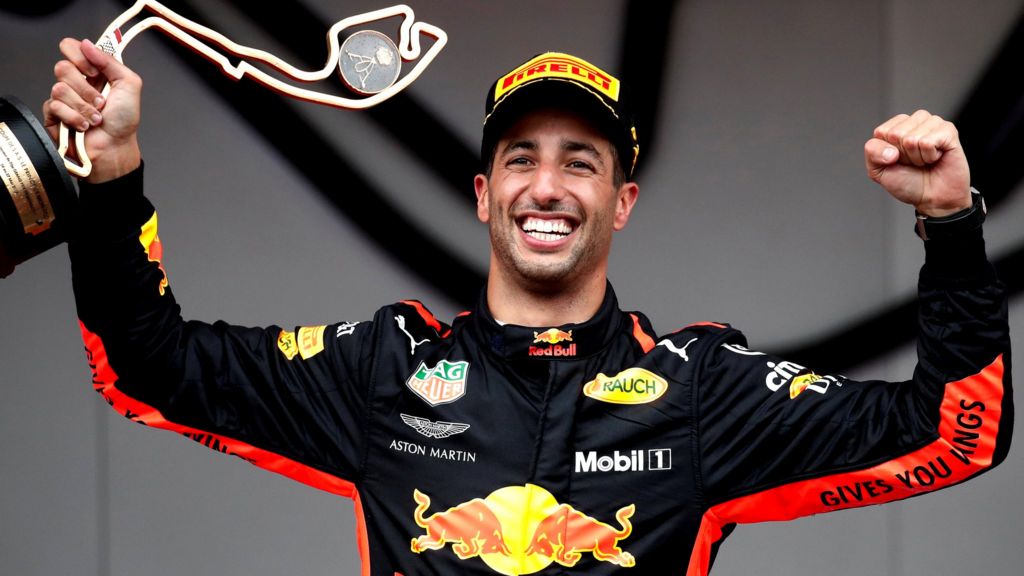 3. Let's get the rest of the non-footy out of the way up front today, onto tennis quickly. Nick Kyrgios, a lot of good happening in his world, maturing, game is improving, but sadly the body is failing him. Against popular opinion but withdrawing from the French was a good call, getting himself 100% fit for a surface (grass) that he can win some serious matches on, as opposed to clay where its pot luck for Australians, that's smart. Let's see him in a few weeks and judge. As for Bernard Tomic, hmm, at least the Australian taxpayer isn't covering his expenses whilst he has all his leave. Ah Bernie..
4. And Cricket, so, we had match-fixing rear its ugly, deformed, oily-skinned head this week. We had two accusations of matches involving Australians. Firstly, that a pitch was doctored to guarantee a result in the Sri Lanka-Australia test in Galle. Absolutely viable, it went two and a half days, world-record pace, so absolutely plausible the pitch and subsequently match was fixed. The other, an India-Australia test the same year in Ranchi. The allegation is something around ensuring a session or block of overs were under a certain run total, an over/under bet. The revelation is that two Aussies were bought and that they went on to carry the crime out. Those two would be Steve Smith and Glen Maxwell in the second session on Day One, but without knowing this accusation on paper it just looks like they batted conservatively after losing four early wickets. I'm not sold.
5. So Kevin Sheedy gets elevated to Legend status, definitely deserves the accolade. 929 games as a player or coach, three flags with Richmond, four flags coaching Essendon. Plus the impact he had as essentially a promoter, a marketer. Phenomenal. Still think Fos Williams should not be too far behind as we've mentioned in an earlier column. 779 games a player or coach, played in a flag at West Adelaide before moving to Port Adelaide to be captain-coach, where he won another six flags, then as coach only of the Magpies steered them to another three. That's Ron Barrassi-esque figures, and he should not be overlooked for too long because they are SANFL, until the late 1980s, VFL, WAFL, SANFL, all comparable to some degree.
6. The Giants hey? Not good. But, oh, injuries. Not really. So yes, Tom Scully will be eight weeks, then there's also Brett Deledio and Toby Greene, and that's it. Phil Davis has a concussion but that's not long term. Aside from that, Zac Williams is a wait and see. 14 players from Saturday night played the Prelim last year. You have Steve Johnson and Nathan Wilson not in the side from the weekend who played in the prelim last year, one did nothing, one they traded to Freo for a 2018 draft pick. But Jeremy Cameron dint play the prelim but played on Saturday. This team isn't really decimated, nor has any excuse.
7. Woosha, its a theory we've spoken about before, but the win on the weekend goes a bit further to validate it, that from coming on board in 2016 it was about rebuilding a broken club, a higher emphasis on job engagement than results. Yet ever since he publicly came across different in the media two weeks ago, tough, uncompromising, intimidating, which is just like how he was as a player, the team is playing like results do matter and that enough is enough. This club is long from being that broken place, it's now about making and winning finals. Huge chance this Saturday against the reigning premier, and then all of a sudden, should they win, look out.
8. Shocker by Adelaide oh my, that was a hell of a stinker. No surprise then to see Don Pyke resort to silent intimidation at the huddle, that's about as awful a performance as any, and I mean any, we've seen all year.
9. So the Dees then. Great scoring, got to give them that. Five weeks in a row over 100 points. As for margins, 109 points last week, then 91 points this week. Great. But the Crows gave no contest, they beat the Bombers before their resurgence, then its wins over Brisbane, St Kilda, Gold Coast and Carlton. Yes, they beat North Melbourne, but equally they were average against Hawthorn. They look good on paper, they'll beat up the Doggies this week, and the draw is soft. It's all very winnable aside from two trips to Adelaide after the bye, Geelong down the highway, Sydney at home but the Eagles in Perth. So they probably end up with a maximum of 8 losses, they makes finals, then good luck to them. It's a very flattering third position right now though.
10. Angus Brayshaw does deserve some love though. 37 touches on the weekend, 5 inside 50s, week before seven inside 50s and 11 tackles, he has become so important. This column is a big fan.
11. North Melbourne, looking very good, and whilst the Dees are heavy on the scoring, credit to the Roos they are number one for scores against, averaging under 70 points a game through ten rounds. That's impressive.
12. Shaun Higgins, massively key to the Roos ascendance. In their wins, aside from the Hawks game, averaging 29 touches, six clearances, six inside 50s, three tackles. All-Australian squad at a minimum to Round 10.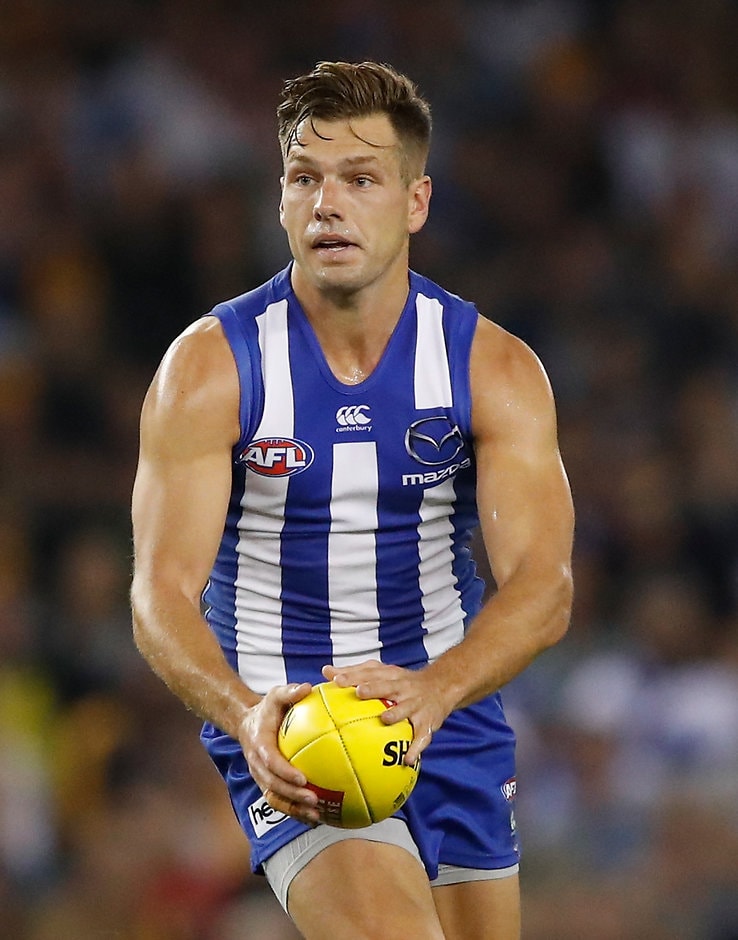 13. Easton Wood. Without Dale Morris looks all at sea and easily-exposed. With Morris in the backline he is an All-Australian third man up, intercept defender. But this season looks easily squandered, and then Friday night did not register a tackle, the fourth time that's happened already this season. Morris might miraculously come back soon but this surely is his last year, he can only be Superman for so long. So Wood is a 28-year-old captain who needs to find a way to be better.
14. The Dogs had ten players who played in the 2016 GF but not on Friday: Boyd, Picken, Liberatore, Morris, Biggs, Dunkley, Smith, Stringer, Hamling and Roberts. Those that didn't play in the flag but played on Friday: Suckling, Richards, Williams, Trengove, Dale, Smith, Gowers, Lipinski, Crozier, Schache. Plus you've got the likes of Wallis, Honeychurch, Jong, Adams, Redpath who played neither. What that says is that whilst they are missing a good bunch of premiership players who could influence results right now, few are either stil at the club or could be making such an influence in the short term, too the replacement players have worked to only some degree at best and some of their more experienced players are so out of form its potentially forcing games into kids who might not yet be ready. Consider the Dogs lost.
15. Dayne Beams. Courageous week, not an easy week personally and then far from an easy opponent with the Swans last Saturday. Came up with a best on ground performance, 38 touches, nine clearances, five inside 50s, four tackles and a sausage. Such a jet.
16. So we have a few punch ups at the footy of late, but this column is glad its getting covered. Sure, the A-League cops it far worse but that's old stereotypes dying hard, images in this country where there's flares or fan separation feeds fear, and fear feeds the news cycle. But the A-League is nowhere near as bad as the image it cops, and the AFL needs to do something about its punch-ups.
17. Tom Mitchell. Started the year with 54 touches in Round One, then 40 in Round Two, two best on grounds, maximum 10 votes in each game from the coaches, he was the superstar that no coach should be dumb enough to let off the chain. Since then, he is still smashing the averages, getting 32 touches a game, but clearly his influence hasn't been such. The Hawks are 3-5 in that time and in half of those games Mitchell hasn't even got a single coaches vote. Three games he got over 40 but did not get a perfect 10. Despite his first two weeks, he is now six votes behind Patrick Cripps who is averaging less than 30 touches a game in team that has four less wins. Tag Cripps. Don't bother with Mitchell.
18. Footy Show, Front Bar, quick one, we're not far from the Front Bar having the permanent wood on the Nine show now we think. We reckon if nothing turns it around by seasons end it gets pulled. Does. Not. Make. Money. Been on our screens since 1994, it will be strange to see it go, but its time.
19. Credit to the Cats' recruiters for their 2016 draft. Let's recap. They did not have a first round pick because the year before traded it to Carlton for Lachie Henderson. Not a great move but they were in good need for some tall timber, so we can understand. But as for their selections for the picks they had, they took Brandan Parfitt and Tom Stewart in the second round, Sav Ratugolea in the third round, then got Jack Henry and Jamaine Jones in the first and third rounds of the rookie draft. Tough to assess Jones after only his debut, but clearly there's at least three or four long-term senior players from one crop, as outstanding a job by the recruiting staff as you'll see.
20. And finally, old mate Damien Barrett wants clubs fined for 'lying about injuries to the consumer' in response to Patrick Dangerfield's article where he said its competitive advantage for clubs to not reveal or always be truthful about play availability, selection, etc. Robbo is sloppy but this is just bizarre. Things aren't good at home Damo? Not enough fibre in your diet. We do hope you can move past this sadness in your life, Damien.