FUNNY that.
The Bulldogs were wooden spoon certainties and in a world of trouble, now we jump off Essendon as quickly, pardoning their victors as we do.
Collingwood wins by four goals against a lowly Carlton and now Buckley is showing something we've never seen before?
West Coast kick six unanswered goals in the final term when their travelling opponents had a smaller bench than an inner-city apartment's kitchenette and they are now on the path to greatness?
Steady on.
1. Cricket first – in a sportthat desperately could use some PR right about now – why haven't we had a female umpire a men's test match? Has it happened and no-one noticed? Or is it a glaring oversite with other men's competitions around the world catching up? Cricket Australia needs me. James Sutherland, you have my number, give me a call.
2. So the Doggies. Had a significant portion of their best line-up out on Sunday and showed a bit, showed us what we think the 2016 premiers should be playing like. Round One was what it was, and yes they had a stinker to follow up, but these Dogs will be just fine, probably not a top four fancy but certainly a long way from the bottom of the ladder come the end of August.
3. As for their opponents, well yes, little excuse. Unlike the winners, Essendon were pretty close to rolling out their best team (Gleeson perhaps the only exception?) and yet were pummelled and lucky to have gotten so close. In that case, on Sunday, that just comes down to a bit of want and desire. Not good. But there's always a next week so not all is lost at Tullamarine.
4. Hasn't the man love come for Nic Naitanui since Sunday night. He is back, there's no-one better in full flight, best on ground and probably a Logie, Nobel Prize and a chance to play for the showcase on Price is Right too. However, and this goes somewhat for Stef Martin who also played a 'blinder' on the weekend, who were they rucking against? Both Geelong and Port Adelaide did not possess a first-choice ruckman, so for Naitanui and Martin to go bananas is bare minimum. That's what separates Max Gawn and Brodie Grundy above the others. Gawn defeated an All-Australian ruckman in Todd Goldstein, Grundy took down a pretty handy colleague in Matty Kreuzer too. So, as mentioned above, when it comes to ruckmen dominating games with no equal – steady on.
5. Geez the Power run it dicey with opponents they should just be taking care of. Credit to the Lions I guess but Port are so lucky. Yet, a win is a win, they didn't stuff it up like last year when this would have gone against them, if they ride their luck and make amends, this is still a very positive platform for Ken Hinkley's men.
6. This column continues to be enamoured with the Freo back six. A solid, in-form and gelling backline is the foundation of good, great sides. The combination of Joel Hamling, premiership player, the assured veteran presence of Michael Johnson and Stephen Hill, the rapidly developing Alex Pearce and Luke Ryan plus one of the recruits of the year in Nathan Wilson, that's a very good core group. Let alone the fact their mids look great especially their captain and their forward line is functioning and dangerous alike, again, it's all set up for success.
7. Friday night, gee the heat came for Jacob Weitering. Liam Jones had a few brain fades but I'm not sure why the sole focus of the attention for Carlton letting a winless team roll through for nine unanswered goals went on the former no.1 pick? How about some attention for the midfield who looked completely absent leaving the Blues' defence with little prospects to do anything to stop the wave? Starts with the captain whose getting away with doing the best part of bugger all so far in 2018.
8. Their opponents, first win for the Pies, they looked alright. Throw Elliott, Fasolo and Moore with what worked Friday inside 50, the back six is improving and confidence with ball movement can grow into the season – they present 'some' chance to be 4-4 after eight rounds where their draw does get easier than the start. Need luck, some they need to create themselves, some the way of good fortune.
9. Different role for Scott Pendlebury, essentially ran with Cripps all night, now Cripps did end up with 26 but wasn't anywhere near as influential as Round One. A big stat: no-one in the competition has tackled more so far this season than the Pies' skipper, not known for the real physical side of the game but leading by example in that way.
10. Gold Coast leads the tackle count after three rounds with 250, they did have 98 in Round One though in the monsoonal conditions against North who had 86 themselves and are second for that team stat as you'd expect. Third though, Collingwood, 212.
11. Interesting, the teams that have had been tackled the most, North and Gold Coast are high because of Round One, but number one? Carlton, averaging 77 a game where the average is 62. They are really struggling to find space. The best, no surprise, Richmond, averaging 50 a game. Dogs just behind in second best, they actually are playing ok.
12. Essendon are the by far the worst team for conceding uncontested possessions so far, a decent margin ahead of second worst Brisbane. That's down to workrate and team discipline as we said before.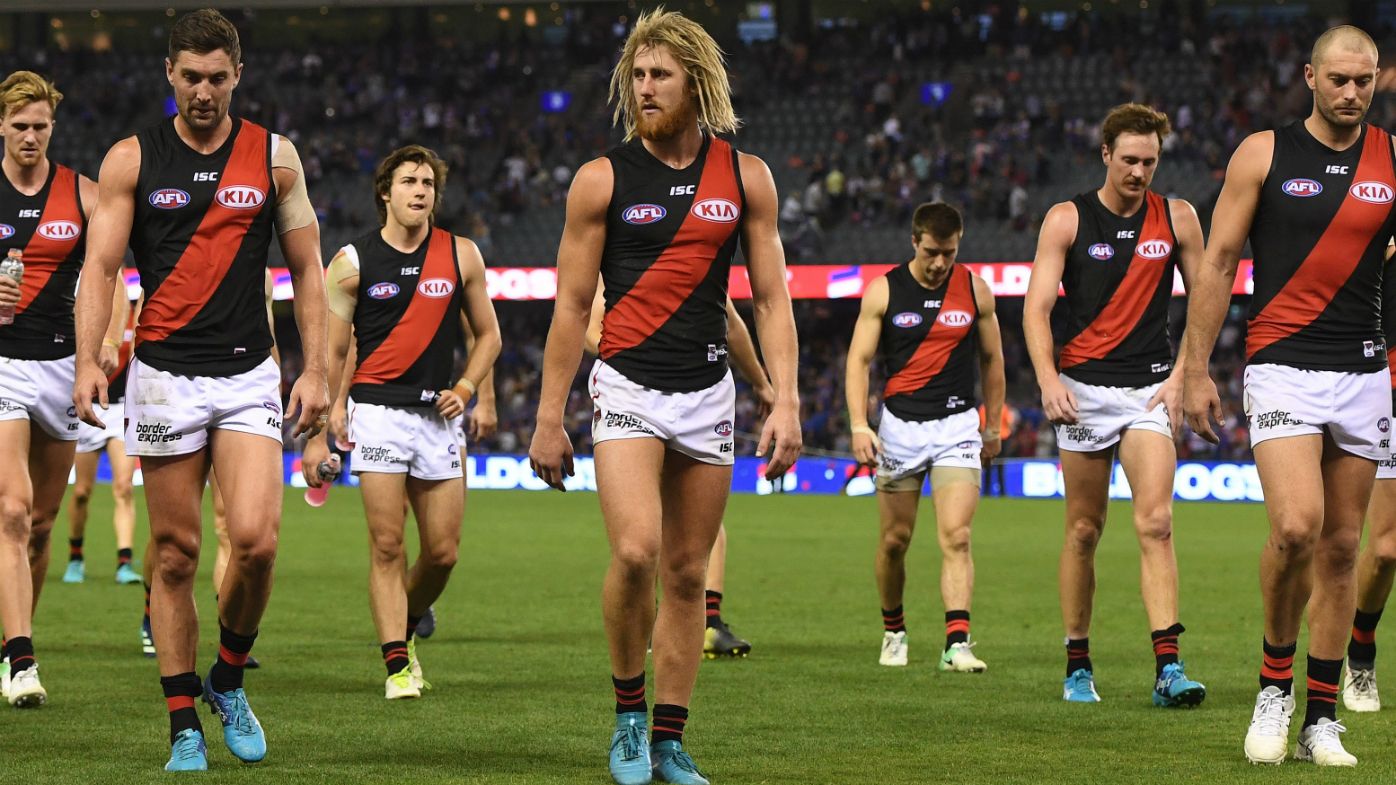 13. Last team stat, inside 50s conceded, the worst, Geelong, ahead of North, Gold Coast and Carlton. Averaging over 60 a game conceded the Cats, so once opposition get the ball, it's too easy to transition, or turn the Cats over and get re-entry. The best, Melbourne, Port and Freo, just over 40 a game, big difference.
14. As for Geelong, Ablett goes down and so did their chances coincidentally. He wasn't the sole factor but once he came off at the start of the fourth the Eagles flicked a switch and ran rampant. Almost immediately he has become their best player and just edges Dangerfield perhaps for their most important. And he ain't no spring chicken, with an increasingly concerning knack for picking up niggles.
15. Sunday saw Clarko almost orchestrate another upset; they will overachieve far too often this year. The Tigers were by far the better outfit but I credit the Hawthorn coaching box and not lady luck for the fact the Hawks were in it almost all the way. Such a genius.
16. So the Saints are looking into Dylan Shiel. Josh Kelly stayed, so there's nothing to suggest that Shiel might do any differently. But given the Saints 'perception' right now, other than monster cash – good luck.
17. Buddy watch, might not get a vote, only got two goals although one was just mega, but was in the best half dozen on the field easily and is on big time in 2018. Please make sure you get on.
18. Want to touch on big Melbourne crowds – six crowds at the 'G so far of approximately 55k and above with some over 80k. Three including Hawthorn, two with Collingwood, two with Richmond. A couple 40k+ at Etihad too, both Essendon games. Hawks-Dees will be good this week, two huge games next week Dees-Tigers and Pies-Dons, with those four clubs reverse the Sunday after too. People are turning up to the footy in droves, the game's going well.
19. Let's have a look at Sydney, their NRL crowds, 19 of the 37 'fixtures' (they've had double headers) so far in the NRL have been in Sydney, a mix of old suburban and big stadium venues. Only two crowds over 30k, averaging 16k, other than Origin or finals not likely to get anything over 40k all year. Yes the money is in TV, but crowds are still a very important revenue source and talks to fan engagement. Yes, the Giants are still too new in a tough environment, the Swans though, two home games, both 34k, the two highest attended football games in town so far in 2018.
20. Conor McGregor throws a hand trolley at a bus. Connor McKenna bites Tory Dickson. If you meet an Irishman, named Connor, with a Scottish surname, back away slowly…