"IT is a collision sport and it takes bravery to play, so players get hurt in all sorts of ways in our game.

"I know we've got to try and legislate to stop things we have control over. I think occasionally in our game people are going to get hurt.
"Maybe we should take tackling out if you want to reduce concussion."
The words of Luke Darcy, an AFL MVP winner, club best and fairest, All-Australian, prominent football media identity and respected analyst of the game.
Those are fairly provocative words by the ex-Bulldog but it's somewhat where we are.
As we'll discuss to kick off this week's column, it's not so much about what you think of the Dangerfield and then Grundy suspensions, but what players are expected to do going forward in those situations, that's the key.
1. So last week we had the Patrick Dangerfield tackle, and two week suspension (down to one with an early plea remember, so deemed worthy of two), this week we have Brodie Grundy done for three. Sure, Ben Brown is concussed, and the head needs protection, but in reality what would a player do differently if they have their time again in that situation, that's the question none of the media heroes are answering when they have a go (you're up soon Robbo).
2. What was he supposed to do differently? Let the player go? He wouldn't then get the free kick. Could he have turned him backwards? The laws of physics says nooo. Let one arm go? Then Brown can handball.This is not about a Pies player been given a lesser suspension, the year is well shot and he could do with a rest probably anyway, this is about going 'ok, what you did earned you three weeks, in order to have avoided a suspension you should have done 'this' instead". What exactly would 'this' be? No idea.
3. Jack Ziebell's tackle in isolation looked worse. But Adam Treloar rubbed his head, got up, got on with it, and Ziebell was not even assessed by the MRP. Brown met the Etihad carpark roof flush on his jaw and as a result, Grundy has a fortnight off. The rules are to suspend actions, but so much of this comes down to outcome. What about a knee into the back of the head in a screamer which leads to a concussion? Grundy didn't intend to injure but his actions caused it. Where's the difference. Oh, so much grey…
4. And finally, our man Mark Robinson, the Donald Trump to the football media this year. His criticism of Collingwood is one thing and I'm not interested in that enough, nor would all of you be, so that aside there was another great line from someone having a shocker of a year. He wrote "it was, said Buckley, the perfect tackle. The fact is it was a perfect tackle until Brown was knocked out." So if Brown didn't get concussed, from the same action, it was perfect Mark? But the outcome totally changed how you perceive the mechanics? C'mon Robbo…
5. Alrighty, how about our poor man Rocket? Delivered a sh#t sandwich apparently, which is everyone's favourite selection off the lunch menu, he nursed the club through a period of little change, good or bad, and he departs with the Suns in essentially the same predicament as before. A waste of time sadly. This club needs fresh blood badly, and Mark Evans has to be entrusted to find the next Luke Beveridge, to fire a cracker up the collective backsides of everyone, the playing group, assistants, the whole club. The Giants are toying with their premiership chances, yet the Suns are so off the radar it's not funny.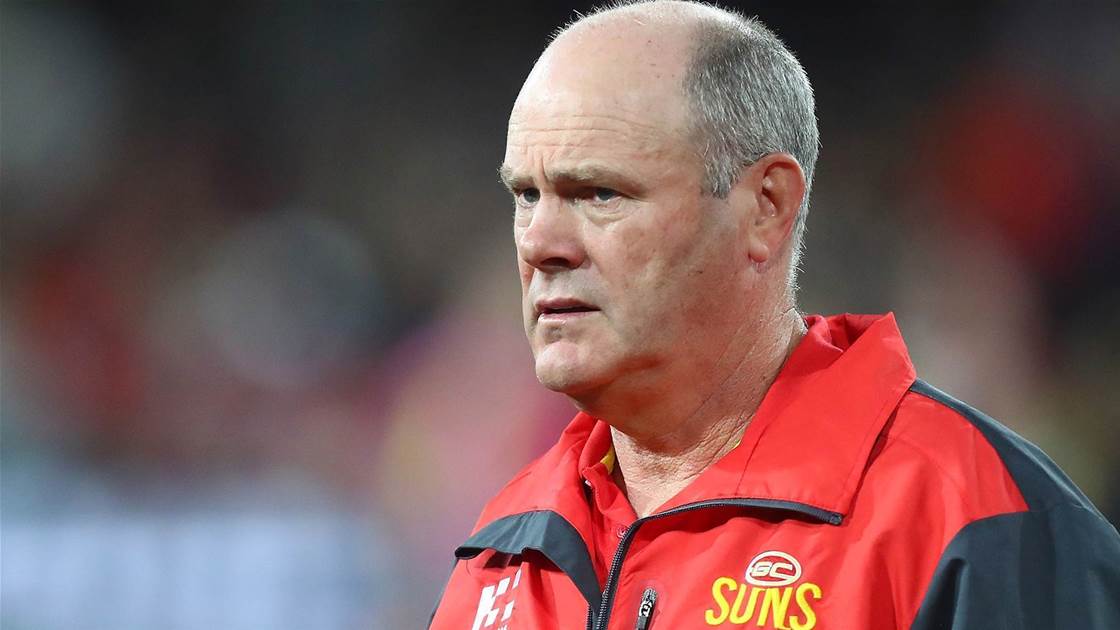 6. The Gold Coast have had a strange 2017. Still a lot of talent but it's been a long time since they smashed the Hawks in Round 3. Since then, yes, they did defeat the Cats at home Round 7 but not much else. When do they make finals? Next year? Couldn't be certain, in fact you'd bet against it. They need something bold, they need relevance.
7. And then there is Tom Lynch, the Suns co-captain. Let's clear something up first about player movement at the top end, the big guns: the idea that a club starts to talk to a prospective target around this time of year is laughable. Sydney basically had Lance Franklin's commitment within weeks of the previous year's Grand Final, Patrick Dangerfield essentially told Geelong he would head home many months out as well. So, with Lynch, a restricted free agent in 14 months' time, a Victorian who is one of the very best key forwards in the game, will attract many, many suitors down in Melbourne. And without a coach locked in for next year as of this week, I would expect many persuasive conversations to be had between clubs and his management, where a pseudo commitment made for a move in 2019 would be no complete surprise. He would be a megastar if he moved to Carlton or Collingwood.
8. Port Adelaide have problems. This column has rated them highly but lately they are turning their narrative into this year's flat track bullies. They are not able to get a decent scalp against their name, and come finals it will difficult to overturn that. Their record against top eight sides gets worse. It was damning on the weekend – the Crows alone have their measure, that's four Showdowns in a row now.
9. The one's to get back on are the Giants. Sure, it's one game against Melbourne in Canberra and this season has taught us to not react to small samples, the ups and downs are crazy, but getting Stephen Coniglio back, going a bit smaller to improve their forward pressure (Rory Lobb or Johno Patton to miss) and a fit Brett Deledio as an x-factor, they can still win this absolutely. If they get on a run now, you could argue they'll be super difficult to stop going all the way.
10. Right, we've done this once before and it resulted in a 14 goals to one halftime result the following weekend. But these Tigers are in this up to their necks, we must concede. And it's because whatever they are doing, it just works. The Dogs on paper didn't work, as a serious flag threat, last year, especially with their injuries, but when it just goes right and you can keep it going, big things happen. The Tigers have got a formula that works and they have momentum. Two bad losses aside it's been a perfect season really. Can Richmond do it, from a top four spot, an easier run than what the Dogs had? Viable.
11. The big tick for Damien Hardwick has been going small. No Ben Griffiths or tall support for Jack Riewoldt. On the weekend, it was super small with the latter's absence. Small blokes up forward in 2017 does the trick. Hawthorn had no run out of defence on Sunday, and that's where the Crows and Giants are great, so Richmond may possess the weapon to stop the two best teams. Are they 'good' good enough though? Interesting to see how the Crows and Tigers fare in September, one going small inside 50, one with three talls.
12. Toughness in the middle is what really wins a flag though. Adelaide has the Crouch brothers (if you don't know Brad and Matt well enough, you will over the coming years, both are absolute 'jets') and Rory Sloane of course, Giants have Cal Ward, Stephen Coniglio, Dylan Shiel plus a bunch of guys prepared to cross the line at times. Richmond? Do they have 'trenches' blokes? Not sure. We will see.
13. Geelong are shot. They are too easy to beat. The fact they only have six losses against their record this year is an achievement in itself. No Joel Selwood the rest of the year, no Tom Hawkins for two weeks, the Tigers 'should' nobble them down the highway, then they are mega vulnerable to the Pies who have beaten them earlier in the year and finally an improving Giants. Trouble.
14. West Coast need more than a list chop, some heat on Adam Simpson is necessary. This isn't a bad list. The knee injury to Nic Naitanui hurts, sure, but the losses to Collingwood and St Kilda shouldn't happen, plain and simple. Don't blame it all on the list. This team should make finals, probably win one, but will miss altogether. If they have even the slightest poor start to next year, watch them spin it into 'the rebuild we need to have', which is such an indictment on the football department who could be doing so much better.
15. Some love for two retiring greats this week. One, Jobe Watson, a Brownlow Medallist, yes, he won, you can put that asterisk there all you like but in reality, amidst the murky, dark waters of that whole drugs saga, he was the best and fairest player in 2012. Ex-captain, three-time club best and fairest, a champion bloke too, a great career. But also to Matty Boyd, a premiership player with the Bulldogs who stuck thick and thin through all the hardship years. A 300-game player, three-time best and fairest, a highly-underrated player who we salute too. Well done to both Jobe and Matthew.
16. Over to Perth, firstly, Harley Bennell watch. Only five kicks two weeks ago and Peel Thunder had a bye last weekend, the progress back for him has been nothing short of unspectacular. His off-field behaviours are better from all reports, but getting to 100% looks a long shot. Ross Lyon seems invested, given their long path back to the premiership window allows the time Bennell may need, but gee, looks long odds.
17. And just lastly, watch the Jesse Hogan space. Been an incredibly tough year off the park for the Dees spearhead, and whilst all above board and in the right spirit, there's a sense at the Dockers he may want to look at returning back to WA for personal reasons. Emphasise 'may'. I would not be shocked at all at the end of the season if this comes to a head and Freo might be in talks to bring Hogan home.
18. Onto this weekend's footy, Friday night is huge. The Dogs need to win, they have a lot to play for. Their form has been better but still not super. Anyone other than the Lions probably gets them last Saturday. They got away with it. The Giants, they're pursuing good form to set up an attack on the Crows, to keep top two and try and get two finals at Spotless before an MCG appearance on the last Saturday in September. The Giants are the better team, they should be winning this, but there's just enough fight in the reigning premier to make it an earnest contest.
19. Saturday afternoon down the Cattery, Geelong host Richmond. We've put a line through the hosts, and we've acknowledged the Tigers as being legitimate so place your bets accordingly. However, the last time we gave the Tigs a wrap the Saints dismantled them like you wouldn't believe, and the Cats have a knack for winning when this column thinks they shouldn't. So all we know for sure is that it will be interesting!
20. And lastly this week, Sunday lunchtime at the MCG, Melbourne host St Kilda. The Demons need to get one back, its been a while now since their good wins against the Bulldogs and West Coast in Perth. Three losses in their last four games, they still have a kind draw to get into that 5th or 6th spot, but gee, a loss here and they are really up against it. For the Saints, this is a team who have enough in their side good enough to warrant maybe that 8th position but every week is an elimination final for them going forward. Will be highly motivated and keen to make amends for Round One too. Could be a belter.