THIS season has become one long game of Hot Potato, where the spud being thrown around represents making the finals, or for those higher up doing well in the finals. As soon as someone grabs that opportunity they're ironically flicking it away almost immediately.
Question marks litter all of the top sides in their aspirations, so much optimism is being wiped away at times, one good week followed by a bad week, one great, season-defining win followed by poor losses thereafter.
But as a result the footy has never been more interesting arguably and at the end of the day that's all that matters.
1. Some key players of this game of Hot Potato, the Giants, just keep throwing it away, whether it's injury or fundamental flaws in their team defence. Geelong weren't even close to the brilliant Adelaide and as for Port Adelaide, they laid an absolute egg. What it means is that we're only around the corner from the GWS, Geelong and Port Adelaide reclaiming the faith with stellar wins, and that we're equally close most likely to the Crows having a stuff up or another fail from a Richmond or Melbourne too. It's ridiculous.
2. Question marks have long lingered in this column on the Tigers and the first week we go to acknowledge their credentials a month ago they served up a dog's breakfast against St Kilda. We then reverted to type in lambasting any thoughts of Richmond being the real deal and moved our affections back to the impressive Saints. Three weeks later, we're almost at the point of revisiting that Richmond love, meanwhile St Kilda won't make the finals. Hold your fire is the message here.
3. Geelong showed nothing last Friday night, surprised it was that close. This column has unwaivered on a few things but the Cats remains a staple. The ladder suggests they are close to the best team in it this year but will only succeed through chance, misfortune or mismanagement by others. Please refrain from being sucked in.
4. And as for the Bulldogs, a lovely win up in Cairns, but the timing may just be too late. A real shame, some argue that the September run last year was more miracle than substantiative but one feels that if they could have made the finals again this year and got their act together they're close to as good as any. Will be an interesting off-season and even more intriguing first month of 2018 for the reigning premier.
5. How bad were the West Coast? Don't get me wrong, yes, Collingwood showed plenty with only half a bench and a serious final term deficit to overcome. But for the Eagles to shut up shop so early into the fourth quarter was eerily bizarre. There were three occasions approaching time on in the last and beyond where even the slightest sign of proactivity in their ball movement would have resulted in easy scores over the top but their first instinct to bottle it up and slow it down to snail's pace was their ultimate downfall. This was far more their loss than the Pies' win.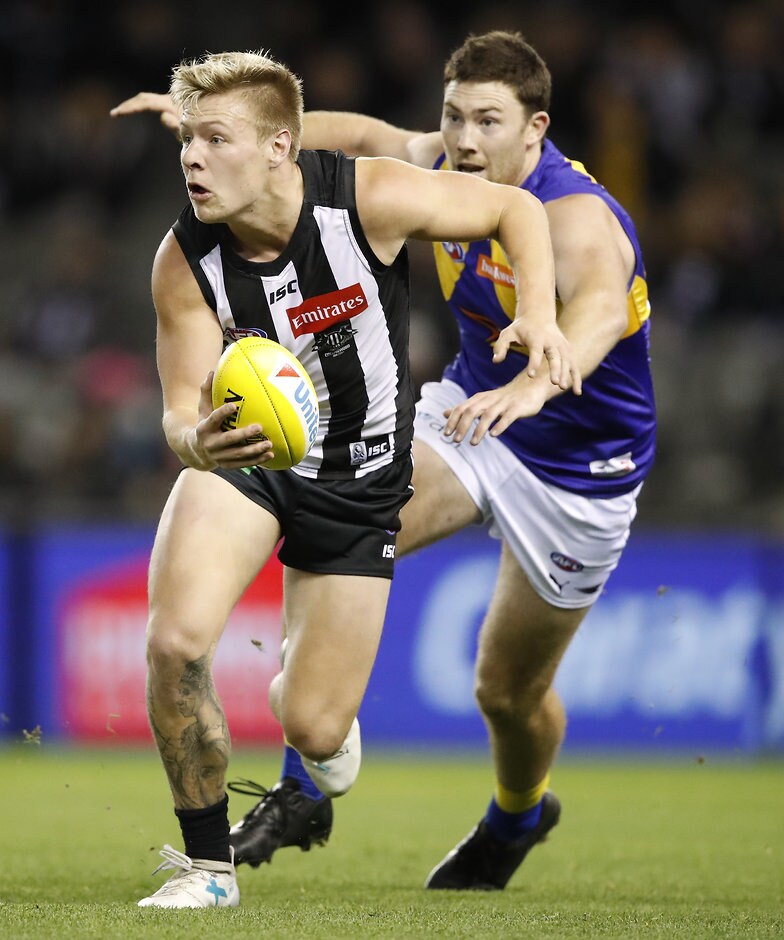 6. So Adam Simpson. Sure, Nic Naitanui is a massive loss and his influence is clearly being missed. But Collingwood, the win over the Suns aside, have been nothing less than poor since the bye and for them to recover from the canvas on Sunday was grossly disappointing for a finals aspirant. They'll miss September now and for a list that, their ruck situation included, should be aiming for top four, this has to be a black mark against their coach's record. Talk about the Dogs' first month next season being a must watch – the Eagles start poorly next year and his tenure should be reviewed.
7. The Gold Coast commence their eighth season next year and a football club being more irrelevant than the Suns won't have happened at any point in this's competition's history ever. Where are they at? They show enough signs, still supported in this by the draft concessions in their construction, to avoid the very bottom yet languish towards the lower part of the ladder as essentially a non-competitive entity. Every chance to finish this year around the same as last year, this team and club is making no progress and it's hard to see where it gets any better. What to do?
8. So Gary Pert read the tea leaves in his morning cupper last week up on holidays in Queensland and moved on before he was, well, moved on. More causalities will fall from Collingwood but gee, it might be everyone bar the President and the coach, it's not insanely out of the question. McGuire is definitely safe, and Buckley should unfortunately, ultimately fall on his sword, but there might be a sense of Geelong 2006 about this review that is ongoing – they should have sacked Mark Thompson but decided he stays whilst everyone, everything else changes. Don't expect three flags in the next five years though Pies fans if that happens, but this review could somehow abscond the coach, which would be mesmerising.
9. Sneaky, sneaky though, the conduct of Eddie McGuire with Graeme Allen. First poached from the GWS to set up 'their women's team' when everyone knew he had already moved stuff into the then Football Manager's office of Neil Balme. Balme then took it on himself to get out of there and joined Richmond before Allen was officially promoted to the bigger role, yet then suspended for his involvement with the Lachie Whitfield saga. He subsequently resigned from the club. But, that will all be a facade, as technically Allen can return to football should he and a club see fit, and the strong word is as soon as he is allowed he'll be back at Collingwood in a senior position again like nothing ever happened. If you're ever going to question McGuire's administrative conduct, this is the time, very sneaky and a little bit smelly.
10. The Josh Kelly/GWS saga is now starting to affect other players and their contracts/movement. So much money is tied up should he chose to stay in Sydney that other out-of-contract Giants are unable to secure their futures, moreover the Giants' plans should they look to attract talent whether he stays or not too is being impacted. If, and it's a big if, Kelly is still genuinely undecided he might get the hurry up real soon, which will further interfere with his form too. The Roos are offering $1.5m a season over many years, hard to see that being passed up.
11. Despite the success the Tigers have had so far this season with potentially some grander performances to come, Dustin Martin has still got a tonne of money elsewhere in front of him, one of which he may have months ago already verbally committed too. Nothing changes on that front even with Richmond sitting pretty in fourth. Still really intrigued by the involvement of Adelaide, GWS, Sydney and to some extent North Melbourne in this. We are talking massive coin. The Tigers still are none the wiser on his decision, and its August next week.
12. Back to Collingwood, Paul Roos' name has come up again. Word is that the Pies, should they move on to a new coach in 2018, will offer him up to $2m a year and provide assurances that Stewart Dew could join him as a senior assistant. At the end of the day, there's a lot of white noise about Roos with the Pies but that noise is getting louder by the week.
13. Brad Scott's the other interesting one, it's almost as though North Melbourne seem to think that Collingwood will inevitably come after him and if that's the case, so be it. Why? Not so sure. Is Scott the best fit to take over from Buckley at the end of the year, it's a marginal call at best. But this appears to be the only blocker between the Roos recommitting to a coach they like and want – it's ever so strange.
14. Quick one on The Footy Show, after all that hey? Word is that if they couldn't arrange the deal with Fox Footy to get McGuire then it was about plotting this show's finish. Now the fact Sam Newman's beef was about being blocked, 'creatively' and that the producers were right to hold back something potentially offensive, McGuire has stated going forward that stuff is all allowed and further encouraged. So the Sydney network executives will be interesting, they might get some numbers back but at what cost to their ideals about what the show should be doing. Will get testy I guarantee.
15. Five weeks to go to the finals, and it's a good time to see which top sides do well amongst one another and who succeeds more broadly against lower sides. The Crows position is well validated, six wins from eight games against the top eight sides, the Swans too are four from six, their two losses were to Port in Round One and then to the Giants who they defeated in the return game only just recently. Critically Geelong and GWS are only 50-50 against top eight sides, Port are one win from eight, so those three teams will be up against it you'd think.
16. The AFL is usually pretty good at most things it does and implement, but has anyone really cared or been impressed by this AFLX idea. This has all the makings of an utter flop, I'm already bored just talking about it, I mean really what were…..
17. Some big games this weekend, firstly Friday night where we expect the all-conquering Bloods to roll on and notch up yet another win. But if there's anything we've learnt about the Hawks in this second half of the year, they are beyond pesky and have a brilliant coach getting a fair bit out of really, not that much to be honest. At home, under lights, could Hawthorn run them close or even snatch it?
18. Port get back home this week after the misery at the MCG last Saturday to host St Kilda, another team itching for four points. The Power are favourites and need to do nothing less than a big, strong home win to get back on track in this up and down season. The Saints lose, an they're out after so much promise, let alone that Richmond win only weeks ago. Should they pinch it, it's an impressive scalp and they're not out of it, so a bit to play for.
19. The Bulldogs play Essendon in a pseudo final this week, the loser is properly up against it to make it from here on in, especially the reigning premier. The Bombers could lose and still sneak into eighth but if the Doggies want to avoid the disappointment of missing the finals the very next year after taking home the chocolates, it all rests on this game. The injury list at the kennel though could ultimately be too deciding a factor we're afraid.
20. How many does Josh Kennedy kick on Sunday afternoon? Seven goals behind the Coleman leader Lance Franklin, still paying $5 to win the medal, if the Eagles spearhead goes bananas this Sunday, and after last weekend who'd blame him, he'll come right into contention. Get the value while you can.