RIGHT, so how about that? Who would have thought that the Will Schofield report would not only not be the most absurd tribunal case of the year but not even the most absurd case of the week?

We're off tonight, back to the Tribunal, after the AFL for the first time appealed a ruling, the severity or lack thereof for Bachar Houli's striking charge.
We've had staging claims, fuzzy medical reports, character references from the highest of profiles and we all feel considerably dumber for it. And there's been some footy in and amongst it too.
Let's get our heads out of the sand then.
1. Firstly, Clayton Oliver and Will Schofield. We are glad Schofield got off, I think this idea that his clenched hand contacted Oliver's jaw is ridiculous. You can then make your own rational conclusion about Oliver's reaction. Sure, teammates may leap to his defence but it's hard, especially with the Tribunal's findings to think anything else.
2. As for Houli, the idea that character references from the PM and a Gold Logie winner, people who have nothing to do with football is very dangerous territory. The act is worth four weeks. I admire the person Houli is, his leadership in the community and the work he does with reconciliation around cultural diversity, absolutely, but good people make mistakes, and good records are one thing, maverick character references are another.
3. Lastly, how we can continue with an MRP who sees and does one thing, and a Tribunal doing another is even worse. Either scrap the MRP or get the Tribunal to be dependant of the MRP, an extension of it, so we can get somewhere near the postcode of consistency, right now it's insane, glaringly preposterously wrong. I expect tonight's appeal to right the wrong.
4. Onto the footy itself, and what a season we are having! Already the most 1-3 point games in one recorded season and we're roughly two thirds of the way through. The results last week were phenomenal and you can attribute equalisation, the rule changes, the evolution of the game, whatever, it's all positive. No-one really knows what to expect anymore, far more teams are competitive than ever before and everyone will watch and continue to watch which keeps bringing in the mega dollars.
5. Let us get the Dees out of the way up front, and deservedely so it's been a great narrative. In a season, an open season, where sure, the GWS and the Crows look like the yardsticks thus far, even those sides at times show the flag is far from a narrow race. And when you look at how the Demons are playing, you look at the talent at their disposal it's hard to discredit their chances, now, for top four, and from there, who knows. Great stuff.
6. Further to that, until last week they were doing all this without their best player, Max Gawn, such an integral part to their game in the ruck. And don't dismiss the impact a tall forward, or two, will have come September. Jesse Hogan will return and offer a substantial target inside 50 and should they look into it Sam Wiedeman is in great nick in the VFL kicking a bag of six last weekend. This is enormously positive.
7. Jack Viney had such a monster game. The sheer contested ball he won in the first quarter and then critically in the final term was inspirational. It's the likes of he and fellow co-captain Nathan Jones that can take this team deep.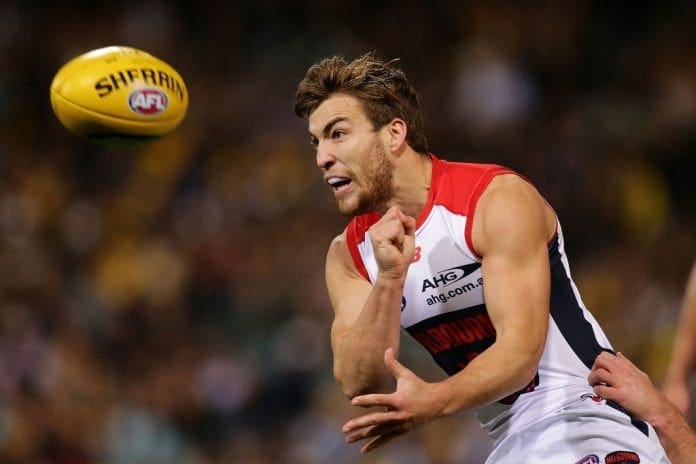 8. We know West Coast can't travel, but if you're going to drop even a few games at home as well, the Eagles don't deserve to make the eight over sides like the Bulldogs, St. Kilda, etc. We looked set to have two WA teams make September, now they'll be lucky to get one. Things are not right for Adam Simpson's men.
9. For Richmond, the skeletons of finals past will linger but as it stands, in sixth, their path to greatness is as lenient as they come. If the first week of finals started this week they'd face the Eagles at the MCG in an Elimination Final, the dream result. Once the monkey is off the back, they'd come up against Geelong in an MCG Semi Final, and who'd begrudge the Tigers' chances in that, followed by a Preliminary Final appearance at Spotless against the Giants. Tough test but the Dogs showed no fear twelve months ago, and the lure of a Grand Final appearance the week after would likely be against the travelling Crows. Look, all hypothetical and by no means predictive, but it shows that this year can/could be the year it finally falls differently for the Yellow and Black.
10. How good are Port Adelaide? If you like the way Nathan Buckley judges footy, as opposed to his coaching abilities, then they're really good. The Pies have not faced Adelaide yet but according to the Pies' coach the Power are the best team in it. Percentage doesn't lie, they have such a nice makeup on paper and who knows in a season like the one we're having. Money on SA teams to go deep is money well invested at the minute.
11. As for Collingwood, super quick on the next three weeks. After the loss on the weekend, one they would have, well, 'liked' to have banked internally, they now face a really critical moment. The Pies have the Hawks this Sunday who will fancy their chances, an emerging Essendon the weekend after too will be tough to beat. Should both games be losses, they'd be mathematically ruled out of the finals should they lose to Gold Coast, up there, the week after. Ask Brett Ratten how losses at Metricon go down. Long story short, from something reasonably optimistic pre-Queen's Birthday, watch this all become mega hot within three weeks.
12. Dogs and North, what a two game series they've had. Three points in the bumper, inaugural Good Friday clash, then a solitary behind on the weekend. Great stuff. The Dogs find themselves in ninth, still hanging around to make the eight, from there who knows, as for the Roos, sadly, second to last. And such is the closeness of the season, had those two results hypothetically reversed, North would be in 12th with a bullet right now, and the reigning premier would be languishing in 14th – staggering.
13. Shout out to the North fans this week, one of the better second to last seasons we've seen. We like their kids, they've had four losses under a goal, it's been tough. Now, who's to say if they can't get Dustin Martin on board with a tonne of cash that they can't win 12 games at least next year – not ludicrous. Remember, this team resoundingly defeated Adelaide by ten goals this season, they aren't too bad the Roos.
14. We also are liking the Swan's resurgence. From 0-6, they are now hammering down on a September appearance. This column subscribes to the gauge that percentage gives us, and now, as we approach the critical period of July-August, Sydney possesses the seventh best percentage – that is key.
15. Still not sure on Geelong. Great win, inspiring win on the weekend, but how much does that say about Fremantle really? Had the Cats on toast, and on the bench in tracksuits, yet stumbled under the heat. Would the Cats have won injury-free anyway, most probably. But when they finish the season something like 16-6 or 17-5 and the bookies want to offer mega short prices for another Geelong flag, just say no. Two wins by two points, one by one point, and the Demons properly stuffed their Round 3 game up completely. This is a 7-6 team, maybe even a 6-7 team to be frank.
16. Scott Thompson, remember him? Not the North defender, the Crows onballer. He has been stuck in the SANFL all year, yet to play a senior game. Got 33 touches and kicked two on the weekend for the Crows reserves, sure, old, not in Don Pyke's plans, but in a premiership year, in a side that went super hard after Bryce Gibbs, could the 307-gamer be that extra piece that solidifies the Crows' chance of a third flag? This column says definitely yes.
17. Quick young player debate – Clayton Oliver or Ryan Burton? Numbers say its the Demons' midfielder, but gee the impact Burton is having goes a long way in making this close. Oliver is doing supremely well, influencing games, in a good midfield for a good team. But playing in the backline for a third-to-last side on the heavy downward spiral after years of dominance, and to be as good as he has been, must be considered. Averaging 21 touches, six marks, four rebound 50s a game, the South-Australian goes close to matching Oliver at the minute..
18. Onto some footy this weekend and we start with Friday night, Melbourne taking on Sydney. Some key outs for the Dees might hurt but this is set up for them big time. The Swans are a force all of a sudden, the hottest team in the league, but at the MCG there are, nor should be few sides that could concern the up and about Demons. Melbourne wins, on the big Friday night stage, it's just more puff in their sails. A loss, they might just be another team in the pack, and last year's runner up is a legitimate threat to do the unthinkable and make amends from last year all of a sudden.
19. Geelong travel north to take on the best side in the comp. Simply put this is a game they should not get close in. But it is a funny season like that. The Giants need to swat them away, do the business and win well, showing that the Cats are not at their level despite their win-loss record. The visitors could use an impressive win on the road to address the sceptics, because we'd need to see it.
20. And lastly the bumper Saturday night game in Adelaide, Richmond taking on Port Adelaide. This column gives the Tigers a chance, weirdly, good form and good momentum will stand for a fair bit on their travels. We aren't a million percent bought-in to the 2017 Power yet and this is the kind of game a stumble could occur. But, and for those who really rate their body of work thus far, this is set up for a repeat of the last time Richmond went to the shores of the River Torrens in Round Six – ambitious going in but ultimately thumped by the home side. Port aren't far off Adelaide at their best, so they'd want to flex their muscles against a fellow top-eight side.