RICHMOND do it again, can't tell if its amnesia, they're taking a mountain of piss or the Tigers are just that good at stuffing it up, consistently.
Still, equal fourth, on percentage, if they can get it right in what's a very weird, open year, there are still plenty of reasons to remain optimistic. Although, the pattern of behaviour is overwhelming.
We now face ten weeks of uninterrupted nine-game rounds, this is well and truly business time for many clubs. The eight is usually set by now, this year it's taking a little longer but it won't be long before we can definitively separate the challengers from the pretenders.
Onto the footy:
1. Let's cross off the Hall of Fame last night first given we saluted the Legend-status recipient in our headline in Malcolm Blight. Things to remember about Blighty that might not immediately come to mind – his playing career is essentially split down the middle between North Melbourne and Woodville-West Torrens. To win a Margery as an Eagle, a Brownlow and a Coleman once moving over and becoming a Roo, is such a terrific achievement. Also, interestingly, a great coach, winning two flags with the Crows, but his winning percentage as Cats' coach was better, 61% to 55%.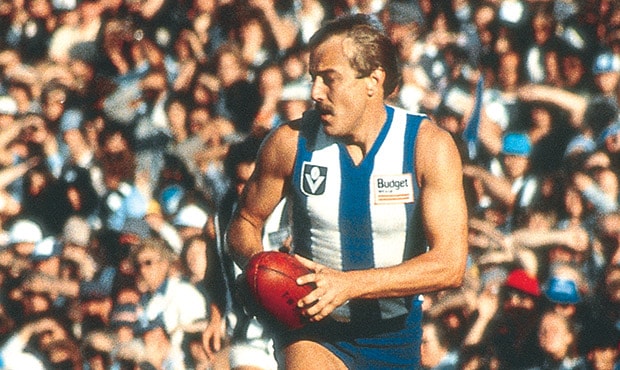 2. One from last week, the speculation on Leigh Montagna and by association somewhat, Nick Riewoldt. 34 and 35 years old respectively come Round One next year, at a glance it's a no brainer to phase at least one of them out, if not both, on their ages alone. However, and where ex-players in the media need to adhere to the Brent Harvey precedent, judge them on their footy. Harvey played well into his mid-30s, and he played well too, and these Saints veterans' form are justifying another year each surely. Montagna is averaging 26 touches and four tackles game (yes Dermott, he isn't just a receiver), whilst Riewoldt is averaging 20 disposals and eight marks playing more or less on a wing. Combined with the Saints looking to win finals this year, if not go very deep next year, it's a no brainer, Dermott.
3. As for those Tigers, sure, Damien Hardwick can paint the picture of how close they have been in so many games, and it's true, had they won all those stuff-ups they'd be top two with a bullet. But at the end of the day we are judged in finals. Thus far, Hardwick's Richmond are 0-3 in September, most preeminent was the rollover to Chris Judd, on his own, when Carlton won a final from ninth. And the relevance here is that come a crunch finals game, which low and behold all finals usually are, what confidence can we have in the yellow and black to find the intestinal fortitude to be clutch? Very little. It's almost at the stage where unless Richmond exorcise their close-game demons by the end of August they'll be redundant participants in the finals series.
4. On the Tigers, quick one on Dustin Martin, here's some categoric updates on his situation. Richmond, whether honestly or by a course of media manipulation, have publicly stated they don't know what Martin intends to do, nor have a strong suspicion as to what's most likely. Further, we understand that Martin's management have met with other clubs as early as the finals last year, and as recently as within the last ten days. He well indeed could somehow remain at Punt Rd. but how, it's very hard to see the wood for the trees on this one.
5. The Bulldogs have hit the airwaves, former Melbourne spear-head and male-cattle lookalike David Schwarz went on the record stating he believes off-field, changeroom issues are influencing their wavering form. Jake Stringer has come out denying said rumours, stating his ex has done nothing wrong and that Jason Johannisen is 'like a brother'. Further, Ms Gilmore, Stringer's ex, has said Johannisen is her best mate, nothing more. That's all very true. Doesn't stop the fact there has been some ill-feeling at the Kennel vis a vis Stringer's actions, domestically, and that Johannisen has sided with Gilmore more so than Stringer most definitely. Schwarz is right, but then again so are technically Stringer and Abby.
6. What Johannisen does at year's end is super interesting. The reigning Norm Smith medallist has big cash to go home and given his engagement at the Whitten Oval wouldn't be as sky high as it could, or has been, it's a very persuasive option. However, Luke Beveridge and he have a great relationship, Johannisen is more likely than not to be loyal to the Dogs and the relationship with Gilmore is one that could play a major factor too. Very hard to get a read on this, I don't think we will until he decides.
7. The other player movement point of interest this week is Sydney. Desperate to move on Kurt Tippett to try and keep everyone else and still lure a 'big fish', the market for the ex-Crow isn't a busy one. However, Tippett was front-loaded somewhat, the new CBA instantly helps the likes of Zak Jones receive the money he'd accept to reject Melbourne's approach, and still land that 'big fish'. Watch the Swans come October for sure.
8. The CBA will do wonders for the list managers who want to go shopping. Expect to see some stupid contracts thrown around though because the money seems more bountiful and the cap more flexible. It doesn't. This is a one-league sport and everything is on a sliding scale. But some clubs will still stuff this up and regret it for years to come.
9. Hawthorn are one team who are a bit desperate to get some list management decisions back in their favour. Essentially, as it stands, the Hawks have given up two 2017 first rounders, one being pick two, and two 2016 second rounders, for Jaeger O'Meara, whose knee is as suspect as Stephen Dank at a footy club. Such a massive commitment for such a high risk. They get him on the park, it's half-justifiable. But getting him on the park, and regularly, will be difficult.
10. Good to see Harley Bennell back in full training, or something resembling a whole session. Fremantle have done very well to control the narrative on the ex-Sun, and suppress the behaviours off-field that could or should blow up in their face. Aside from the calf issues which are somewhat suspicious in their own right, the, shall we say, off-field choices of young Harley should right now be a footy media's dream. And we already have photo evidence of such two years ago too. But all is quiet. Well done Dockers.
11. Speaking of the footy media, Nathan Buckley somewhat teed off on door stopping Monday night. The battle of players becoming more accessible to the media and the relationship to often-uncomfortable, spontaneous microphones being thrust in players' faces will drag on for years. The American sports do it, and do it well, European soccer is the polar opposite. Buckley is probably right, however the ability to talk to players is inconsistent, some clubs are far better than others, and that there is an opportunity for improvement.
12. Our journo we take to task this week is Jon Ralph. He said, "for Buckley to suggest Collingwood's website does a thorough job of covering the club was just ridiculous…(they) never ask the hard questions. As Buckley said, it is "on our terms".'
Buckley also stated that media people often take 10-12-minute press conferences out of context, taking a grab or angle not reflective of the overall content which tarnishes the trust the audience and clubs alike have.
Ironically Ralph has done just that with his view, he has criticised Buckley who merely pointed out the club isn't about asking the hard questions, or increasing reach, it's about connecting with its members. So, by that absence of key detail, Ralph wrote a column about the media taking content out of context, by finishing said column by taking Buckley out of context. C'mon Jon.
13. Are Melbourne the real deal? Yes. They dropped games earlier in the year they should not have. However, the resolve they displayed on Queen's Birthday was impressive, the win over the Bulldogs last weekend even more so. Other than the Crows or Port in Adelaide, or the Giants in Sydney, there's not too many games now these Demons shouldn't be starting favourites in (this week too, maybe) and even then, an in-form Melbourne will be a very tough ask going forward, especially with the key returns of Max Gawn and Jesse Hogan. Get. On.
14. Geelong on the other hand. Eight wins from 12, an impressive record, however they have not won a game outside of Simonds Stadium since April, and whilst they face a very winnable game against Fremantle there this weekend, they face three very tough fixtures, Sydney, Richmond and the GWS at the venue to come. They'll end up still with an attractive win-loss by the end of August but they are looking more and more like the most beatable top-four team since the early 1900s when there was only eight teams in the comp.
15. A quick one on Buddy Franklin's hit last week on Connor Menadue. Got away with it but gee, got form with lining up the crouching player, he was nothing but lucky he got the Tiger's shoulder not the head. Has a very sloppy technique, especially when fired up. One day it could be disastrous, he needs to be very careful.
16. Can't believe how quiet the build-up has been to Gary Ablett's 300th this weekend. I wouldn't be shocked if for many reading this it might be the first they know about it. Often thrown around as the best player of his generation, many putting he and his father on level standing, some even suggesting he is in the greatest of all time discussion. Yet, when the Suns play St Kilda at Etihad on the weekend, in front of a modest Sunday twilight crowd, the two-time Brownlow Medallist notches up one hell of a milestone, one that should be getting serious air time. But it hasn't really.
17. The bye rounds, we had Port and Gold Coast stuff it up with the China junket, but weeks of six games, Thursday games, super quiet weekends in Melbourne, it's not right. Either have a clear weekend off where there are no games, or get it done over two weekends maximum, five games one week, four the other, just so it's a quick and semi painless. It's been an unnecessarily meandering month of footy.
18. Onto some big games to finish – firstly the Dogs and North. Gee the heat has come for the Bullies so we'd expect them to win and really show something. But the Roos are plucky and on the fast Etihad track could cause them some trouble. Nothing but a Bulldogs win should be expected but the fall out if they were to drop it would be very undesirable.
19. Melbourne has a stern test travelling to Perth to take on a West Coast team equally as comfortable at home as they are uncomfortable interstate. The Dees though, not without a chance. They are up and about, playing sublime footy, and whilst the Eagles are usually formidable in the confines of their home deck, they have more than enough examples in 2017 of being flimsy and vulnerable. The Demons are a show, and should they win, they are an even more serious threat of doing deep, September damage.
20. And lastly the big game on Sunday, Richmond taking on Carlton. Make no mistake, the Blues can win this, Brendan Bolton is getting his blueprint to click and stick and their recent form suggests the days of being easybeats are over. The Tigers will battle the scars of close losses gone with the impetus to make amends and flex their muscle. But Carlton won't be a pushover, and I tell you, if they can just get it close, we all know how that fairytale ends…