MID-June, Round 13 is upon us, we are well and truly into the meat of the season.
Teams are out of the race, some teams are now preparing themselves for a full, validated tilt at the flag, others are now positioning themselves to scrap it out for a finals spot.
Player managers are getting busy, football media continue to squabble with one another and with the quick turnaround with the Thursday fixtures, it's pretty full on.
Let's get into it.
1. Alistair Clarkson gets away with a $5k donation to Freeze MND with a further $15k suspended until the end of their season, ie. August. A bit soft really. Does he get a lighter whack because he was indirect in his language, even though the message was a strong as any? Or because the league found contrition in his appearance Sunday, half-time of the Blues-Giants game, an appearance he solicited? Either way, soft.
2. Now how's about Robbo? He has played a bit of the victim here, which I have some empathy for as he has royally copped it, from the media and the social media heroes alike. However, he has brought this upon himself. Aside from the original tweet, and the sincerity of his apology, the audacity to then request an interview and as Nathan Buckley put it "feather his own nest" is a shocking display of self-interest, ignorance and totally undoes the good work of the initial apology. To then blame 'heat from his editor' is too equally disappointing. Patrick Dangerfield said it best when he questioned the accountability for actions by those in the media, those who are now bonafide, rightly or wrongly, personalities of the game. Not good enough Mark. Nowhere near good enough.
3. Cracker game on Monday and you'd like to think the Dees deserved a close one after throwing a few too many wins away earlier in the season. Without their All-Australian ruckman and emerging star key forward, this team has a lovely mix of pace, grunt and skill. Fully fit, sneaking into that 5th-8th bracket, they are quintessentially the team who could scare from the bottom part of the eight ala the Dogs of last year, if they were to find some real form in the lead up to September.
4. As for Collingwood, this is going to be such a fine line you feel come year's end. Finally you are starting to see the kind of side that could win finals break out of Buckley's program, but has he had too much time? Their last five weeks has yielded three wins, a four-point loss and one-point loss, its good form. But whether a 9th, 10th or 11th with a bullet saves Buckley is very hard to judge. Going to be interesting to say the least.
5. Jaeger O'Meara is a story not being told enough right now. The Hawks have mortgaged the mortgage on he and Tom Mitchell, bereft of any draft pick for the best part of two years so they could get both lads into the club. The latter, Mitchell, is a lock for the All-Australian squad, so you tick that box. However, the former Rising Star winner is anything but a success yet, struggling to get on the park. Why? He has a knee with the structural integrity of David Strassman's Chucky doll. His patella tendon was severely ruptured and he'll never fully recover from it. Some clubs medical view, when appraising the worth of chasing the former-Sun last off-season, was he'd be lucky to ever get back to his best, perhaps ever put together a full season again. This is all predication and a prognosis is always just a prognosis, but given the last month or so's lack of progress, it looks very gloomy for the Hawks without any real confidence for optimism.
6. How about Liam Jones on the weekend? One of the genuine good news stories of the year. Sure, Bulldogs fans have every right to shrug the performance off, they know all too well the tease he was and were happy to be rid of him, a subsequent drought-breaking flag definitely helped. But two and a half years into a three-year contract, one seen as a massive failure and a certainty not to be renewed, to take down Jono Patton comprehensively, effecting 12 spoils in a one-point win, enormous. Well done to him.
7. Essendon showed on the weekend what to expect in 2018. Don't be too concerned about finals this year, in fact getting in and losing first week would be fantastic. But this team has such a September blue print about it, another 12 months and they are top four material, and from there of course the world is their oyster. Look out.
8. Sydney on the other hand, not so sure about them, and as a result the Bulldogs. I think we stick with the Swans being done, not rubbish and bottoming-out done but they aren't making the finals and shouldn't be unless the world caves in and this becomes the weirdest season ever. But we are trusting the Dogs because of last year – but we must remind ourselves, they somewhat scraped into 7th last year, they were definitely good enough for finals, but don't remember their September campaign, as utterly brilliant as it was, was not reflective of their home and away year.
9. Some player movement stuff, because it comes in – firstly Nat Fyfe. Looks as though he will stay, but what is clear is he definitely exercised the look to a Melbourne move. St Kilda didn't really stop their interest in Fyfe, that's not right, what has occurred is they now believe Josh Kelly is in their grasp, which we will touch on next. So Fyfe staying at Freo is a fair bit to do with the Saints focusing their pockets of overflowing cash elsewhere. Carlton hasn't ruled Fyfe out though, but that would be doubtful, they really like Lachie Whitfield.
10. So Kelly, he knows GWS' offer and that's two years at decent coin. St Kilda is offering better money and term, the Roos are offering better again. Tough call. Hard to ignore the Victorian money, and security, but I don't think he has decided. He could stay. After thinking Josh Schache was a certainty, the idea of staying might be remerging – success over salary. The smart call might be to pick the Saints and hope you win a flag there, but this one is up in the air for sure.
11. On Schache, the Tigers are stiff. They thought they had him. They had made him a priority and were making decisions around his acquisition. His two-year deal to stay at Brisbane shocked them and now it's about Plan B at Punt Rd.
12. Collingwood are trying to change Jackson Trengove's mind. The Port defender come relief ruckman is out of contract, a free agent, and yet to re-sign at Alberton but the word is he is unlikely to leave. But the Pies see his value and are prepared to offer him a thought-provoking deal to bring him back home to Melbourne. This will test how persuasive the Pies can be, they're making all the right noises to him, so watch this space.
13. Almost as a backup plan it seems, but Sydney's Sam Reid is the Pies fall back if Trengove follows Schache's decision to stay at their club. The Swans would prefer to move Kurt Tippett and keep Reid, but if there's no taker for Tippett, and right now there isn't, then they risk losing Reid who if he was to move on, a return to Melbourne and choosing his brother Ben's club would be a fait acompli. But it appears the Pies are prioritising Trengove, mind you they may be well happy with Reid worst case anyway.
14. Jason Johannisen, I have that at 50-50. But I think he stays if I have to pick right now. There are persuasive reasons to leave Melbourne, good cash, closure from some issues here, but I credit Luke Beveridge for being a great man manager and alongside some related reasons to stay to those that see him leave, I think the Doggies hold onto the Norm Smith medallist.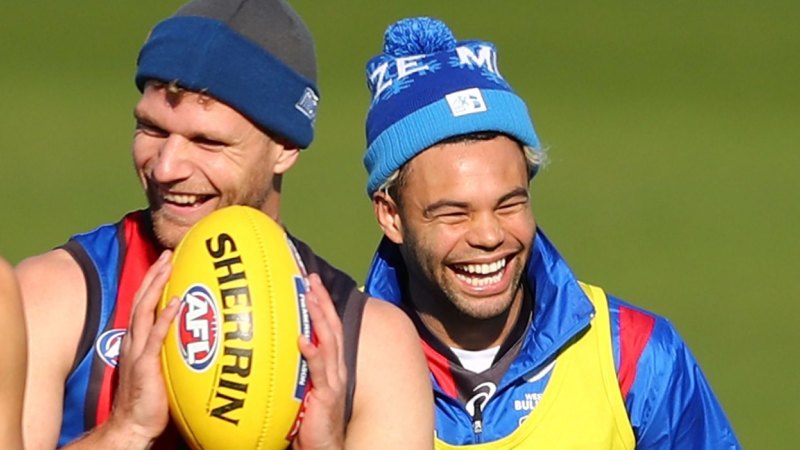 15. Zak Jones is 80-20 to be a Demon next year. Melbourne has followed his progress, would like to add another piece in their build towards top four contention, and given his brother happens to be the co-captain, it's a strong case they can put to the young Swan. I think the Dees get their man.
16. Tom Rockliff will be on the market again this off-season, in different circumstances mind you, but whilst he has performed more than admirably in recommitting to the Lions for 2017, his contract demands are turning Melbourne clubs away. Collingwood was one who was keen, who won't be now/anymore, but others such as Hawthorn and St Kilda who are tempted by the free agent are now thinking against the idea. Rockliff would be a useful piece, and transaction for someone, but right now it's looking long odds.
17. Quick one on Dustin Martin, if Kelly stays in Sydney then I wander if the chequebook rolls out from Moorabbin for the free agent. It would make a lot of sense; they can definitely pay him more than the Tigers.
18. Could Gaz win the Brownlow? Right now, in a Suns side that is looking a bit better than we'd first thought, he would have probably three best-on-grounds to this point, maybe accumulating 10-13 votes, which would be maybe three or four off the lead. Now, not suggesting he should be favourite, but if he is fit, even in a fledgling Gold Coast team, we know he polls and polls well. A watch.
19. The runner issues with Nick Maxwell – please, its like all the fare evaders who catch Melbourne trams every day. So many are doing it but one gets caught and we want to pigeon that person for being the one bad egg. All the runners do something similar, or at least if you scrutinise closely are conducting themselves in a way that wouldn't please City Hall or the fans alike. We just never check or notice.
20. And finally this week, Jeremy Howe is a victim of his own prowess. His mark on Monday was that good yet failed to get the absolute kudos it might deserve because he does it every second week. Mind you, for the best marks of all time, two that still stick in my mind, one I saw live, one from the pages of history – check out Michael 'Disco' Roach's screamer against Hawthorn, and then Chris Tarrant's speccy on Queen's Birthday many years ago, which was usurped for Mark of the Year just four days later, by Gary Moorcroft standing on Brad Johnson's back. Biased or not, Tarrant's mark was just massive.