POOR Tyrone.
Leaves a fledgling Richmond as a free agent to pursue a career with the preeminent powerhouse in Hawthorn.
Six months later, the Hawks managed a goalless half of football whilst the Tigers continue to rack up the wins.
Another six-game round this week with games on Thursday and Monday, these bye rounds starting to look like the menu at a vegetarian restaurant: everything all over the place, nothing really appealing, far too progressive and new age, you know the serving sizes will be totally unsatisfying and the average bloke seems to be the last person considered.
Let's get onto some thoughts.
1. Two South Australian teams to make the top four, if not both to feature in Prelim final week, they both look mighty impressive.
2. As an indication, with half a season as our sample size, Port's percentage is at 148.6, the Crows at 138.1, the next best are Geelong and GWS at 117.
3. At most, one Western Australian team to make the eight, possibly neither, they both have strengths but glaring and problematic weaknesses.
4. If Richmond are premiership contenders then Donald Trump is a doppelganger for William Shakespeare #covfefe
5. Richmond, and Geelong too, are now deserving of credit for their records, wins are wins, but nothing from either team still suggests they can win at least two finals, let alone three or four.
6. A team currently outside the eight, if they can get on a run in July, could easily do a Bulldogs, it's a more open year than last, there's some talent from 9th on.
7. The Giants are 9-2, got away with some close victories they so easily could have lost, but to bank those 50-50 games with all of those stars to come back, it's so clearly their flag to lose, to stuff up.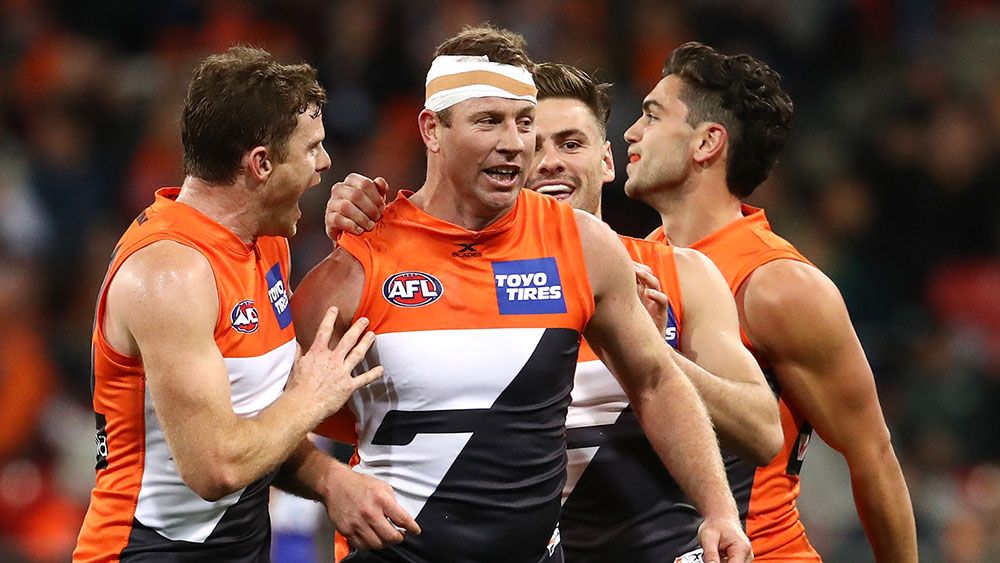 8. For all the positivity around the Swans, maybe still being a finals contender and being seen as a strong side notwithstanding – they are only percentage off second last, put a fork in them.
9. Hawthorn has put all its eggs in the Mitchell and O'Meara basket, literally, yet the latter's knee is about as strong as Ozzy Ostrich's, it's a grave concern at Waverley.
10. Essendon makes finals next year, in a canter, this team needs more games together, that's about it, things look super rosey at Tullamarine.
11. North Melbourne made the right call at the end of last year, super gutsy to send off their veterans but their kids, future, now look alright.
12. Massive stretch for the Dogs coming up, their run should yield seven or eight wins from the next nine, so it might be now when the reigning premier starts to flex its muscle in 2017.
13. Meanwhile expect the Cats to split the next six games and fall outside the top four.
14. Jeremey Cameron is the only forward the top 18 players in the league for average marks per game, the rest largely mid-sized backmen, such is the modern game.
15. The top 10 for contested marks are all forwards however, bar two, Jeremy Howe and Jeremy McGovern are right up there near the top. All-Australian smokeys the both of them.
16. A key reason for the Crows success, Taylor Walker, once the focal point for scoring has become the best set up man in the league, leading the competition in goal assists by plenty.
17. Josh Kelly at $4 to place in the Brownlow Medal should go in every multi you put on between now and September.
18. Essendon should get at least one into the All-Australian, but maybe up to three. Zach Merrett might make the cut for midfielders, Joe Daniher as one of the trio of tall forwards and Orazio Fantasia in a pocket.
19. It will be a new era as far as the backline is concerned, Sam Docherty, Rory Laird and Dylan Roberton all set to become first timers.
20. This year we have a Legend to be upgraded in the Hall of Fame. Will it be another year where Wayne Carey and Gary Ablett Sr both miss out again? Most probably. The money is on Jason Dunstall or Greg Williams first, rightly or wrongly.