THE circus that is the home and away season is already one third through and it's only about to get more interesting. The fact that the clubs currently occupying the 12th through 18th at the end of Round Seven have participated in 20 of the last 24 grand finals shows just how random, yet exciting footy is right now.
We are off to China, the new rule changes have everyone up in arms and now we have to do all this knowing Louie the Lip is no longer with us.
1. Let's start with Lewis Thomas Charles Richards, a Collingwood captain, a Collingwood premiership captain, a member of the Collingwood Team of the Century. But it's the post-footy career, a quintessential trail blazer in bringing the sport of Australian Rules into the fourth estate, it was with his vigour, personality and fame that being saturated with AFL news and interest and media platforms today is the normal we would know no different. This column's favourite Lou memory would be the presentation of the 2010 premiership flag early in the 2011 season. Seeing him wheelchaired onto the field by another former club premiership captain, Murray Weideman, and witnessing the unbridling love the faithful had for him and for having him a part of this club celebration that night, was fantastic. To call him a great man is an understatement in the truest sense.
2. Onto the field, let's tackle the contentious rule changes all a buzz in footy circles at the minute. Firstly, deliberate. In its essence, it's been a tremendous adjustment the last 18 months. Players being encouraged to do more to keep the ball in, not resorting to the subtle option of disguising the ball over the line to initiate a stoppage in play, overall that's a good thing. So, the rule is fine, the only issue we're facing is a slight overaction in the interpretation, be it by the umpires or in how they are instructed. Bad luck should not be penalised. Skill errors should not be penalised. If we can bring the 'harshness' of the umpires whistle back just a smidge – brilliant rule. So let's not scrap it and throw the toys out of the cot, let's just make a small tweak and we'll be just fine.
3. Now, third man up. Another brilliant rule, really not sure what the issue is here. Sure, the demise of the ruckman is at stake, perhaps, but that's a separate issue. Let's not forget why the new rule was brought in – two ruckmen about to embark in a genuine contest ruled powerless as a 5"11 midfielder leaps in from the side and renders both big men useless. How is that a good thing? Now should it have been legislated against completely, not so sure. But to allow ruckmen to ruck without interference is a positive. What needs to go is the nomination rubbish. When did it become a Big Brother eviction? Just penalise any team that has more than one player involved in the ruck contest, simple.
4. Quick off-field player movement news. Josh Schache, the Brisbane Lions former no.2 pick, tall, developing, key forward, he is in demand. It's an obvious one, and something the Lions feared from the get go – a Victorian boy, from Seymour, and you have nine Melbourne clubs keen to add a gun big forward prospect as soon as his first contract is up. How keen any club is to make a deal happen, with a contract offer he can't refuse, we shall see, but Carlton, Richmond and I believe Collingwood too have all had the discussion to pursue him (the Pies threw big money at Tom Lynch so they've shown their cards), even gone as far to put prospective numbers to Josh's management. Watch this space.
5. And also, St Kilda, they are cashed up, but it's the new cap rules that will really help them out. So where in the past each year's cap was mutually exclusive to any other season, we now have a convoluted four-year rolling set up where as long as you are under the cap across any four season cumulatively, then you're okay. What this means, in the Saints' situation particularly, is that if you go at say 95% of the cap for a couple of years, it means in year three and four you can probably go at 105% give or take in those seasons, providing the next couple of years after you come back down. The Saints have deliberately been under the last two years, so, long story short, they are keen on luring a big fish but most importantly have banked the cap room to not be outbid by any other club.
6. How about Round Seven, every game saw the lower-ranked team get up. The Saints on their home deck took advantage of a GWS side who still looks very talented but you can't trust them just yet. The Blues did a number on the Pies, the Kangaroos took advantage of a big first term with the wind, even the Suns toppled a Cats team that we'll touch on later. It's great for footy, you look at the NBA for example (this column is not anti-basketball, it's just an analogy), every favourite is getting up in their playoffs thus far, it could be seen as boring. But to have more than half each round in upsets, that's superb viewing.
7. Those Cats. How about those Cats. This column has consistently been 'iffy' on Geelong and nothing to this point sways me from that view. Very few tricks up their sleeve, look properly beatable every time they go out there and aside from Superman performances from their captain or their Brownlow medallist, its fathomable to see them not winning enough games to make the finals. They however might end up winning enough due to other teams' calamities but make no mistakes, this is not a side that should make, nor win, a final in 2017.
8. Collingwood, ah dear, Collingwood. One point win over Sydney, the last team to win a game this year and a solid win over a Geelong side who has been described as 'properly beatable'. Sure, the numbers (ergh, numbers), will tell a story about poor goalkicking, that many levers suggest this team should be winning more, that they aren't that bad. But then there are so many losses. And there's such inconsistency. I fear if there's a drubbing at some point that would be unequivocally critical for a side that is supported still by confusion and flattering, misleading statistics.
9. Melbourne, now that's a different tale. The Demons are a good footy side that are leaving four points out there again and again. This team is good enough to play finals but they will rue losses, like the one against the Hawks on the weekend. It sounds like a broken record but a team that could easily be 5-2, it's such a disappointment.
10. Props to North Melbourne, who have sneakily been more competitive than we may have realised. Did a number on the best team in the land on the weekend, been close enough in a few more games prior, credit to Brad Scott and his staff for making some really tough calls last season and thus far, fairly justified in what we've seen to date – good signs ahead me thinks.
11. So Sunday we're playing in China. Why? All I know is that Port Adelaide did all the ground work to end up playing a team from a Chinese tourist hotbed wearing the national colours. Another, totally incidental, free kick to the fledgling Suns.
12. Pettiness is very ugly. We know it's a shrinking industry but the ridiculous squabbling on social media between media professionals about whether their exclusive is actually exclusive, why someone didn't attribute their platform with the story because they allegedly had it first, when they didn't have it first at all. We need to ban the use of the word 'exclusive' or 'first' I think, in the modern world of instant news, we just done care.
13. Quick props to 'Pops' this weekend – James Kelly, unassuming at times but a quality footballer and ask any Geelong fan, integral to their premiership successes, plays his 300th game this weekend against his former club. Cast aside from the Cats in some stringent list management decisions he became a pivotal part of the top-up element at Essendon and now has stayed on to provide very good service to his second club. A terrific player.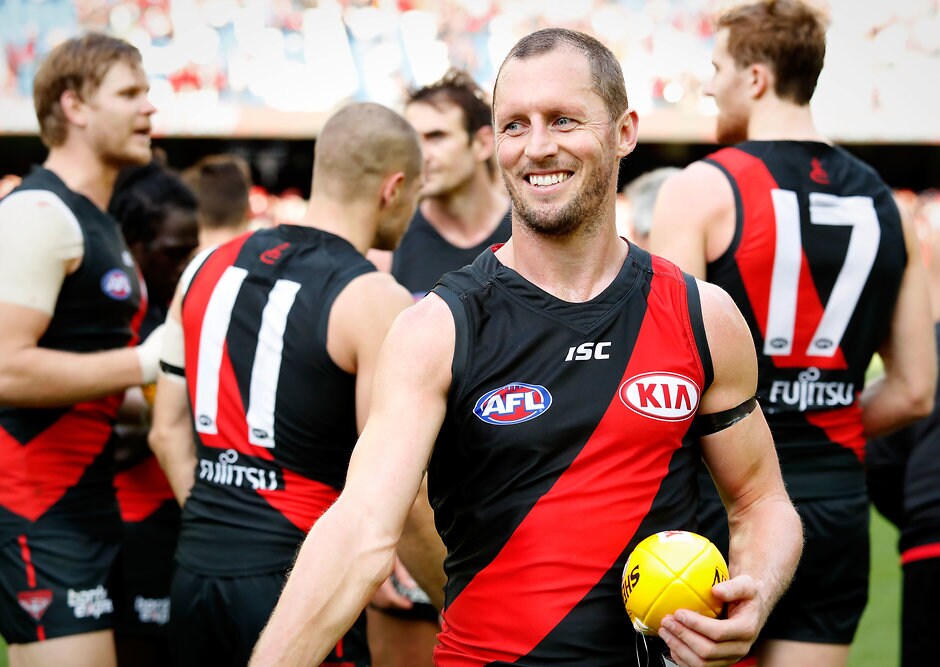 14. Word out of Sydney is that whilst it's still very embryonic, the plans to infiltrate the rugby league market are working. Plenty of schools are now fielding Australian rules teams and the participation rates for Auskick in suburban Sydney are steadily increasing. Very early, but so far well done to the AFL.
15. Is the eight set? Given Melbourne has stuffed up too often, Geelong despite their worth will probably sneak in now, and the Saints look good things, is it set? Probably.
16. What's the point of the VFL? This once proud competition, the true forbearer competition (the VFL teams came out of the VFA in the late 19th century), is now a bastardised reserves set up for the AFL. North Melbourne will now enter a standalone team next year which will further sway the balance of reserves teams to standalone/aligned clubs. Before too long it'll be purely several AFL magoos plus Williamstown and Port Melbourne, which is just a disgrace. We're going to see the VFA die and nothing will stop it, nor will anyone care.
17. Let's head around this week's games, firstly the Dogs and the Eagles, a big game. In theory, it's in Perth, so the West Coast are certainties. But this column is holding faith in the Bulldogs; haven't really impressed yet but have the credits in the bank from a wonderful September last year. But they might need to get a wriggle on. They'll play finals, of course, but the odds of repeating their miracle finals performance are long, they need a scalp or two along the way to show promise.
18. St Kilda take on Carlton and well, this should be a cakewalk for the Saints, they are a much better side despite the Blues' encouraging fortnight. But this column wants to see how legitimate St Kilda is, and that starts with a comprehensive win this weekend. Anything less and an inconsistency tag could plague them all year.
19. Huge game on Saturday night, in the sense it's a huge opportunity for both teams to prove something. For Essendon, it's that they are indeed on track, they are rebounding from a poor trip to Perth last week, that there's something really good trying to break through from the disappointment of years gone by. For Geelong, a loss to Essendon rubber stamps the belief they are non-competitive in 2017, so they have a lot at stake if they think they are capable of something in four months' time.
20. And our game in China, venue aside it's a big game for both teams. The Gold Coast aren't as bad as we all thought and given their talent it wouldn't take too much to see them shoot up the ladder GWS- style at some point, it was the league's intention all along. For Port Adelaide, what is the real Port Adelaide. Is 2017 a flashback of 2014, or no no, they are still not really any better than what we've seen more recently?