WILL anyone catch the Crows? Every chance, they don't hand out flags in Autumn.
Adelaide looks immense and rightfully so, above the GWS and Bulldogs perhaps, they are entitled to premiership favouritism. But this is such a long season, and whilst the manner to which they have won has been nothing short of spectacular, the first four to six rounds of a season are ever more largely shaped by who you've played, not necessarily a true reflection of how good you are or how high you'll finish come the end of August, as many clubs are now discovering.
1. We'll start with Richmond. No surprise they got thumped, that's the distance between the two sides evidently. All this talk of a blockbuster between two heavyweights of the 2017 season was so far off the mark. Adelaide, it's only presumptive, but look assured of top four, if not top two you'd suggest. Richmond, you wouldn't put your house on them making the eight yet; with their start, you'd say they probably can but their start to the season flatters them greatly.
2. The Crows are going great guns though, can they sustain it, or if need be retaining this form later in the year is their only real question mark. Mind you, their midfield looks super as is, but wouldn't Bryce Gibbs have been just the cherry on top had their offer to Carlton last off-season been just a smidgen better.
3. Let's clean up the Selwood/Pendlebury stuff – how much intrigue did that get? Especially the knee-jerk scribes hustling to meet their evening deadline on Sunday, who all assumed the 'stoush' took place at the siren. It would have taken one phone call to realise that there is clear vision showing the two sparring for at least twenty seconds prior to the final siren and it was just an unfortunate coincidence that it spilled over into the post-game, slightly. But it was nothing, especially if you contrast it to the infamous final siren at Skilled Stadium between Geelong and Fremantle, now that was something perhaps. Ridiculous.
4. How are the Cats going, or how are they looking more pertinently? This column has remained unconvinced and nothing on the weekend shakes me from that position. The only win thus far that you could call, well, convincing, was that over the Saints where Joel Selwood run amuck in the second half. The key points from the weekend on Geelong are that if you stop one or both of Selwood or Patrick Dangerfield the Cats will be hard pressed to win, moreover their game style doesn't do enough to hurt the opposition. If you play well you should beat the Cats, if you stuff it up (see Melbourne or North Melbourne) then they'll nobble you. This team is a borderline top eight side to be honest.
5. The Pies were not too bad, it was clear in the pre-game interview with the broadcaster that Nathan Buckley had made a stand, he offered that his side will be daring with no ifs or buts this week, and it showed. Sure, they still kicked inaccurately, but this is a side that if it isn't so conservative has good football in it. Good enough to make the finals if consistent, but that's too large an 'if'. Daniel Wells, when fit, does make a key difference though, a nice addition thus far.
6. Melbourne should be at least 4-2. This is a good football team. Very nice midfield, good key targets, the only downside is the loss of Max Gawn otherwise top four should be in their sights. How the Dees' coaches can mitigate that over the next month or so will be crucial, when Gawn gets back they could threaten.
7. In fact, if a hypothetical round robin was to take place, between Melbourne, St Kilda, Richmond and Geelong, home and away so six matches each, I'd be confident the Dees and Saints would finish top two, especially if the former has a fit Gawn in the ruck.
8. Gee the Dogs were mighty on Friday night. Should have won really, but they've had some good fortune in the close ones, hardly lost a tight game for as long as one can remember, so one the other way is probably fair. But with some good names to come back in, they look to be just cruising. We have a lot of trust in the Dogs; they'll be a force later in the year.
9. Ah the Hawks. Quintessential witch's hats on Saturday afternoon. Stephen Hawking would have applied better pressure. A sloth after two glasses of warm milk could have provided a fiercer contest towards the ball and the man. I've heard of miracles happening from time to time, Clive Palmer fitting into a size 40 waist recently, is one, but hard to see Hawthorn amounting to anything this year. This is like Fremantle of last year, but with a worse smell. They've won four flags in ten years so who cares, I suppose.
10. Off-field, big appointment this week, former Olympian Tracey Gaudry is the new Hawthorn CEO, the first female chief executive at club land so that's a landmark moment in itself. Interestingly, they really wanted an existing CEO, particularly Ahmet Baines from St Kilda, so something went amiss despite Tracey's credentials (currently the General Manager – Commercial and Growth at Athletics Australia).
11. Speaking of amiss, I can hazard a guess the Hawks are just done, but are the Swans too? If you do the maths, cumulatively, they've probably missed a pre-season, or at least half one, over the last few years compared to the rest of the competition by always going deep in September. But is there something internal that's off, we resort to the 'tired' excuse, or 'gone to the well too many times' suggestion, but it wouldn't surprise if there's something not quite right off the field inside the tent so to speak.
12. The two Western Australian teams – good luck. West Coast, look like Brisbane of the early 21st century at home, but look like University of the early 20th century in Melbourne. Maybe if they put out the same side for home and away games, then maybe… no wait, they do that already – who knows what happens above their shoulders when they fly? And Fremantle, was really expecting better. Mind you, they are playing a lot of youth, so some inconsistent excitement and promise might just be the Dockers' ceiling this year, which isn't a terrible plight.
13. Back on the Hawks quickly, word is already, with this start, and to no surprise, they will become very aggressive in list turnover. They are devoid of any talent under the age of 24, with no draft picks last year and their first pick this year going to fall in the late 30s. So, trading big names out, getting crafty with the swapping of draft picks, they will be doing a mountain of work come October/November.
14. Big cross to the umpires on Saturday afternoon at the MCG. Clearly Gary Rohan was knocked out, and this column doesn't care what the specific, nitpicky rules say about letting play continue, where the ball is, etc., but as soon as there's any indication, moreover confirmation, that a player is unconscious, play must halt immediately. The fact that the play went on for almost a minute it seems after Rohan hit the ground was deplorable. Maybe it's the instruction to the umpires to be fair, but either way that was wrong.
15. Rory Sloane is the new Brownlow favourite, and about time too. This column is very pro-Rory and like that whilst he may not get the most disposals every week, its everything he brings to the contest in influencing the result. A long way to go, he has a number of high calibre teammates who might take votes off him, but the Crows look destined to win many games so Sloane will poll very well.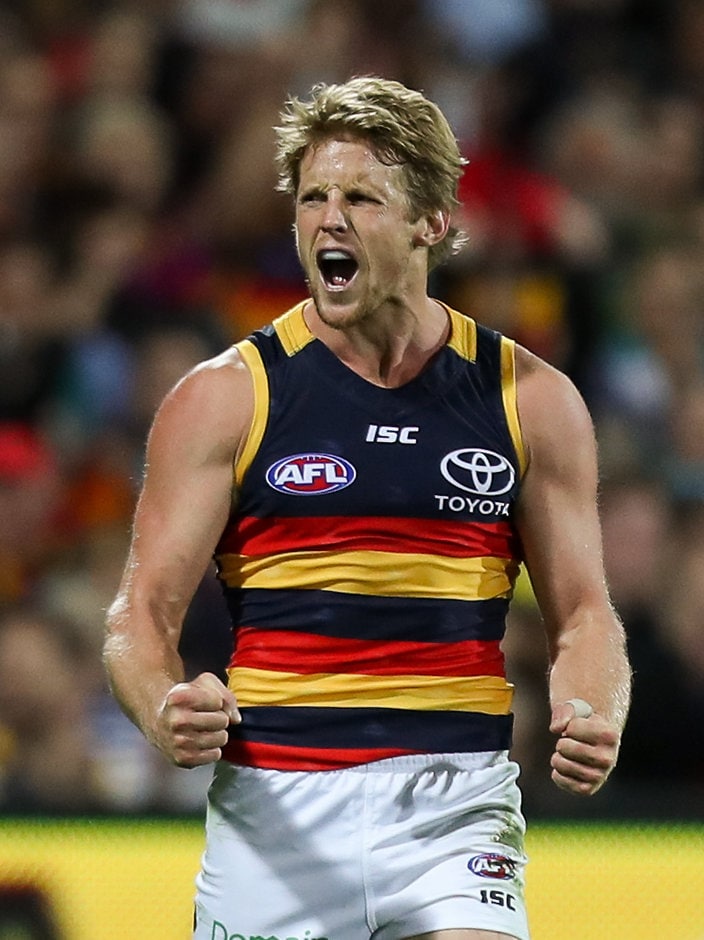 16. So a breakfast morning show in Perth, not even a sports station too, went with the Nat Fyfe to St Kilda being done. Since then, mass denial and character assassination of the particular broadcaster in question. However, what hasn't been said is that yes, St Kilda are keen to spend this year if they can, and too right for doing so, a big fish would be timely. Yes, St Kilda have sounded out Fyfe's management, just as Sydney sounded out Buddy Franklin's ahead of time, Geelong with Dangerfield's, etc. And yes, Fyfe would have made a decision by now, or is at least 90%, to which moving to a Melbourne-based club is a key option for him. So, it would not shock at all if come the season's end, Fyfe ends up in red, white and black. It's not laughable, it's still very plausible, we just can't discuss it you see…
17. Quick jab to Essendon. When the emergence of clash jumpers surfaced, many Victorian clubs were staunch on changing their strip, their famous old strip, some citing club constitution in refusing to adapt. Essendon was indeed that club who referenced constitutional regulation as to why they won't be budged. Now the Anzac Day jumpers aside, the Bombers next weekend against Geelong will run out with a red, wheat silhouette in place of the sash. Now come on, where's the staunch defense of the red sash on black now?
18. Three big games this week we like, firstly Port Adelaide vs. West Coast. What should happen, West Coast hates to travel so the Power will trounce them. What should really happen, the Eagles should have a real go and test how much of a rise Port have made this year. So what will happen? Port will be too good, and we'll still scratch our heads that the team we watch at Subiaco is the same team we see elsewhere around the country.
19. Saturday night we see the Dogs hosting the Tigers. Adelaide's a great team so those still bemused by Richmond's start will think 'hey, big game, could be a close one, if not a Tigers' win, they are having a great year'. Not yet they are. The reality check will continue, the reigning premier is still the reigning premier, the Tigers are not the reigning anything, not since the early 1980s, let's just relax a little.
20. Melbourne take on Hawthorn this week, firstly, let's mention we don't care that Jordan Lewis is playing against his old side, sure, it's interesting but it won't make a difference to the game itself. Not only should Melbourne win, but they need to win well. This season has been good on one hand, three-three, that's encouraging, but they've let a lot of points, and ultimately wins, out on the park this year, time to readdress the balance by doing a number on the Hawks. That's what they 'should' do, but we shall see.