THE two teams to have featured in all of the last five grand finals have both started 0-2.
Interestingly, the Thursday night experts were quick to jump to the statistics on how hard it is for a team starting winless in the first two weeks to go on make the finals.
After Sydney on Friday and then Hawthorn the following day both joined Collingwood with the same record, the conversation changed to one of optimism and that statistics aren't always indicative. Funny that.
Big weekend of pre-Easter footy, let's get stuck in.
1. A lot of heat on Gary Ablett, but one bad game doesn't make a career. He had zero mates on the weekend, so his performance should not be more highly scrutinised because of his esteem, his trade request in between seasons or anything besides. He has also had the most interrupted few years health-wise and to top it off, what he has had to do, who he has had to carry, for so long, no wonder he might be sub-consciously not as determined as he once was.
2. Make no mistake, he will get out of there at year's end. Don't worry about 'new' stories in the daily rags during the week, he is out of there and will be living back down the Surf Coast next year, to start a family, and if he can pinch a flag in a forward pocket for his beloved Cats again beforehand it's a bonus.
3. The shame with the Suns is their list isn't actually half bad. Sure, when they get injuries they look awful but this looks like a team who could do a Western Bulldogs of a couple years ago. They, under Brendan McCartney, were severely underwhelming, nothing was going right. But they got their new man in, Luke Beveridge, and a list not too dissimilar was good enough to play finals very soon thereafter – to win a flag was a massive achievement on top. The Suns have a list that with a 'Beveridge-like injection' could rocket up the ladder soon enough, pun intended.
4. Last one on the Gold Coast, and I'll lump Melbourne in here too, this is one hell of a professional competition the AFL, the fourth most attended football league in the world bringing billions of dollars and just a machine. But to have two of the 18 combatants without a major sponsor is baffling. The fact the Gold Coast will have no sponsor's logo on the front of their jumper for away games, and the Dees will be logo-less on the back of their jumpers all year, is a blight on their organisations. It is 2017.
5. Didn't mention them last week but that's news in itself – The Footy Show continues to submerge into irrelevance. I know many have switched off progressively the last couple of years but it seems everyone is now making that same move. Like him or hate him it's not Hutchy's fault even though it's an easy correlation to make – the show has been on the serious decline for some time now. Back to the regular Thursday timeslot tonight but any money they don't crack 300,000 viewers in Melbourne, even 250,000 perhaps.
6. So the Roos have the chequebook out and now they are reportedly offering GWS' Josh Kelly nine years. The kicker is that they are letting Dustin Martin's agent know he could afford many more nice things that he currently could if he was to move to Arden St., and he is their priority, so the Kelly deal is contingent on what Martin does first. The Roos I don't think are favourites, but they've got the money to interest the Tiger star and money does talk.
7. Nine year contract offers smell danger for the AFL. A precedent from North American sport which the league will need to proactively prepare for here: I am a club who offers my star, who is turning 28, $5m over four years to re-sign. A rival club though says "hey, here's $7m but over eight years, what about that?" They know full well they will retire before playing the eight years out but are prepared to take the salary cap hit once he does in order to lure the player over, who thinks the extra two million in guaranteed money before retirement is attractive. It can and will happen.
8. How about the city of churches this weekend. The Crows have looked a good footy side for a while, were a bit stiff leading up to and in September last year and look really nice things for top four in 2017. Very solid team, no obvious weaknesses and well coached. Across at Alberton they are most buoyant about the Power's start, especially that Round One performance. This was a club who believed all last year and most specifically in the summer that they should be doing a lot better and couldn't see why they weren't – well never mind anymore as for some reason the penny's dropped and they are looking very promising indeed. A classic Showdown ensues.
9. And how about the big Budweiser. The best player in the game still, no question. Very few have ever been able to do what he can, and I think we might have forgotten how good he seriously is when he had the sojourn for mental health reasons a couple years ago. This is a man, who turns 31 next January, playing his 250th game tomorrow night and only one good game away from 800 career goals. He will play 300 games, he gets mightily close to 1000 career goals which only six players have ever done, much rarefied air. He is not only a walk up Hall of Famer, but Legend status in every sense of the word.
10. My tip for the Rising Star has had a cracking start. Sam Powell-Pepper plays the game a bit like your local, suburban superstar, but has the talent to perform on the big stage. Not sure what price he was paying to start with but now very short odds with the bookmakers. Looks an absolute jet, especially in a one-two punch with Ollie Wines, who would be on five Brownlow votes already too mind you.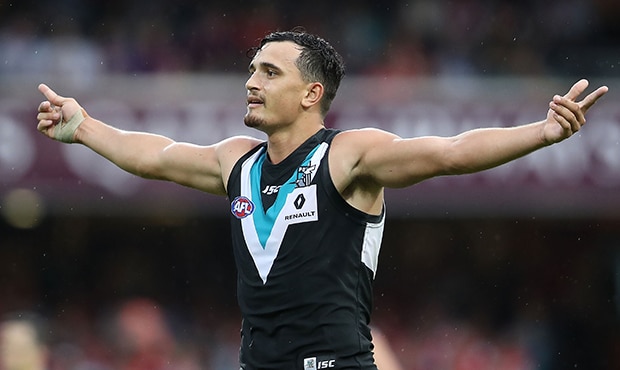 11. Another offer from a rival club for an out of contract superstar that is getting at least a modicum of consideration – Jason Johannisen with Fremantle. I have no insight but surely gut feel says he stays at the Whitten Oval, however the offer must be tempting enough to derail, slightly, the contract negotiations at the Bulldogs, which they have. The Dockers are notoriously poor at getting players to make the move anyway so Doggies fans shouldn't be concerned one iota.
12. Would Nathan Buckley be receiving the same heat if he was not in the last year of his contract? Clubs will sack an underperforming coach whether he has one year left or not. The only protection is for coaches like Ross Lyon who has a long-term deal. If hypothetically Buckley had something in place for 2018 the headlines would still be there – he is under pressure regardless.
13. It worked for Richmond last week because their opponents could not hit a forward to save themselves, nor kick straight when one finally got their hand on the Sherrin, but they are far from a good enough footy side to have the luxury of Dustin Martin spending significant spells as a stay at home full forward. When opponents are controlling the game and pulling away, what use is Martin by himself in the 50 when the ball will spend so much more time at the other end, where he could have a greater influence. This will come back to bite the Tigers if they persist let me promise you.
14. There are three things certain in life: death, taxes and Harley Bennell doing a calf. Just as he might have been getting over his latest calf injury, he has now severely done the other one. So much talent that is wasting away as we speak.
15. All-Australian lock Dayne Beams continues to shine out of the spotlight. Round One he had 28 touches and six tackles, but played a terrific captain's game in the loss to Essendon with 33 and two goals. Tom Rockliff might have amassed big numbers up at Brisbane for a while now, but Beams is on a whole another level.
16. Another midfielder having a great start to the season, in a side two wins from two, is Clayton Oliver. He was a massively late bolter in the draft, seen as a round two selection at best before going top five at the last minute, and now we can all see why. Hunts the ball, wins the ball, extremely clean and another reason why the Dees might actually be ready now to make the eight this year, maybe just maybe.
17. It is a shame though about Oliver's teammates in Jordan Lewis and Jesse Hogan who will miss this weekend's game against Geelong. The Cats had a soft kill against Fremantle week one and then snatched a last minute victory over a 'renovating' North Melbourne. With Lewis and Hogan out that might cost the Dees a massive chance at a remarkable three-nil start.
18. Richmond hosting West Coast this week, the Eagles are rightfully favourites and the Tigers will do well to get close, but the visitors do have a reputation to improve this year – winning in Melbourne. For their sake let's hope that this year is a new year and they show similar form on the road as they do when at home.
19. Hawthorn have a tough run the next little while which looks that fraction bit more challenging given their start to the season. It'll be a walkover Sunday twilight against the Suns but from there it's Easter Monday against Geelong, West Coast at the MCG, St Kilda in Tasmania and then Melbourne at the MCG. All of a sudden that's not a simple stretch and any more slip ups in that those games exacerbates any concerns we're starting to have on them already.
20. And crucially, for that game against Melbourne in Round Seven, guess who will be returning from a three week suspension the previous week raring to take on his former team the week after: Jordan Lewis. That will not help the Hawks' chances there either.