SEASON 2016 is shaping to be as open as a 7-11 on Christmas trading hours. The current occupants of the top eight look set to be the same who will contend finals football come the spring and most remarkably all eight look to be genuine contenders for a Grand Final appearance.
There is no clear breakaway group of three or four clearly better than the other top eight sides. Usually there's the up and coming side who will be just happy to play in September, or the team on the decline only a year or two away from a potential rebuild.
But for the current top eight, everything is to play for, there is no remotely obvious premiership favourite, and we the fans are all the better for it.
Let's go through this sensational situation by outlining why each of the eight clubs can win the flag this year, but also crucially why they might fall short.
NORTH MELBOURNE
Why they can: They have turned 10 and 1 at the halfway mark and winning form is good form. This is a side largely unchanged from the team who last year snuck into the finals with only three more wins than the side has already this year and that team made the Preliminary Final.
Their backline looks robust and awfully cohesive, the midfield is blue-collar and made for September and on any dry track, and September often is, the aerial threat of Waite, Petrie and Brown could not just be a match-winner but a flag-winner.
Why they can't:
They have only defeated the Bulldogs and Crows of the current top eight, so their form is based on beating the teams they should, not so much the teams they'll need to come September. The Roos are a great contested side and are fluent in transition but when the going gets tough in a final and it opens right up you fancy some of the other contenders to hurt them the other way and on the scoreboard.
SYDNEY SWANS
Why they can: The current favourite with the bookies, the Bloods have defeated three current top eight sides in GWS, Hawthorn and most recently North Melbourne, only slipping up to Adelaide marginally interstate. Buddy Franklin looks to be very close to career best form and their midfield is arguably no worse than the premiership side of 2012. Further, the coach has done a wonderful job injecting youth whilst registering only two losses to the halfway mark, another sign of a very driven and successful unit.
Why they can't: Their backline looks vulnerable. Richmond showed, perhaps on an off night, that you can score against the Swans if you get it down there quick, and the fellow finalists have the cattle and class in the midfield to potentially exploit that. Franklin has looked unstoppable so far kicking 41 goals but should a side be able to stop his scoreboard influence you're already on average four goals closer to Sydney than you otherwise would have been, such has been his prowess. Their small forwards are very, very young, it's a tough ask to contribute to a winning finals' score for such inexperience too.
GEELONG
Why they can: When they have played their best this year it's looked better than anyone else. Comprehensive winners over Hawthorn, they too have defeated the most current top eight sides to this point of the season, also toppling GWS, West Coast and Adelaide. Unlike Sydney whose backline looks ageing and in need of impending rejuvenation, the Cats have avoided that issue with the form of Taylor and Enright looking stellar and Henderson and Ruggles looking fine new additions. The forward line has all the personnel a coaching group could ever ask for and did we mention Patrick Dangerfield yet? The combination of Dangerfield and Selwood in the guts, beautifully supported by the improving Duncan, Guthrie and Caddy is capable of winning multiple finals. Plus Zac Smith was a genuine steal in the off-season.
Why they can't: Why did they lose to Collingwood and Geelong? Were they found out? Are there kinks in the armour? Will the gelling of this new side take time and endure great highs and sometimes unfortunate lows? Are they too reliant on Dangerfield? Can you exploit Mackie and Bartel as defenders if you move the ball quickly? Are they too injury prone to show their full potential in 2016? Short answer is that you could answer maybe to all of these questions, and its because of those question marks that you can't be 100% about their finish.
HAWTHORN
Why they can: Its Hawthorn. Won the last three premierships. Played in the last four Grand Finals. It would have been the last five Grand Finals had Luke Ball not snapped a beauty from the pocket to sneak the Pies into the 2011 big dance. They just know what to do when the grass gets greener, the days get longer and the sunshine comes back after a winter hibernation. They have too many premiership players on that list and other than Sydney and Geelong no-one else can come close to that sort of pedigree.
Why they can't: It's got to end soon and there's enough signs to suggest it's imminent. James Sicily is young but can he be as impactful to the Hawthorn structure without Hale and now Roughead, probably not. The older blokes are still playing well but these Hawks have almost played an extra season of football with finals appearances the last four years compared to say the Giants or the Dogs and that extra work in the legs for such experienced players will take its toll at some point. And the form thus far hasn't been great, arguably three or four games they should have or could have very easily lost and the preposition would change from a premiership defence to a battle to make the finals.
GWS GIANTS
Why they can: They look the best on paper. Paper doesn't win anything but the balance and make up of this side is the one you'd want to be on. A backline with a mix of burgeoning talent and quality experience particularly Shaw and Davis who would be in the All-Australian mix. The forward line boasts a Coleman medal runner up, one of the best up and coming contested marks in the country and a Norm Smith medallist who is as hungry as anything. But it's their midfield, led by Shane Mumford who's as dominant as any big man, full of hard-running elite talent who, to the detriment of the league, are starting to fulfil their lofty potential.
Why they can't: This club hasn't even played a final yet let alone won any silverware. In the clutch moments of September there are two things you don't to be caught out with: inexperience and inconsistency, and the Giants are proponents of both. Until they can prove otherwise they are a shaky proposition at best.
ADELAIDE
Why they can: The loss of Dangerfield hasn't been felt in the slightest. The continual emergence of Rory Sloane as a proper jet of the competition with Matt Crouch stepping up massively and the Crows are good things. The forward line could lay claim to being the best in the competition, Josh Jenkins is a far cry from the undervalued prospect Essendon let go for Greek money years ago, the captain is just starting to find some ominous form and the small brigade led by Eddie Betts is unstoppable. Well coached by first-year head honcho Don Pyke, they will win many at Adelaide Oval and they travel more than ok too.
Why they can't: They need a lot to go right. Their first choice backline is fantastic, Talia, Laird, Hartigan, Smith, but the depth to replace any of them exposes an Achilles heel. And sure, Sloane, Crouch, Thompson, Atkins have all found plenty of the ball this year yet they don't run as far in the midfield as some of the other contenders and contributions on the big stage need to be wide and varied, not let to too few.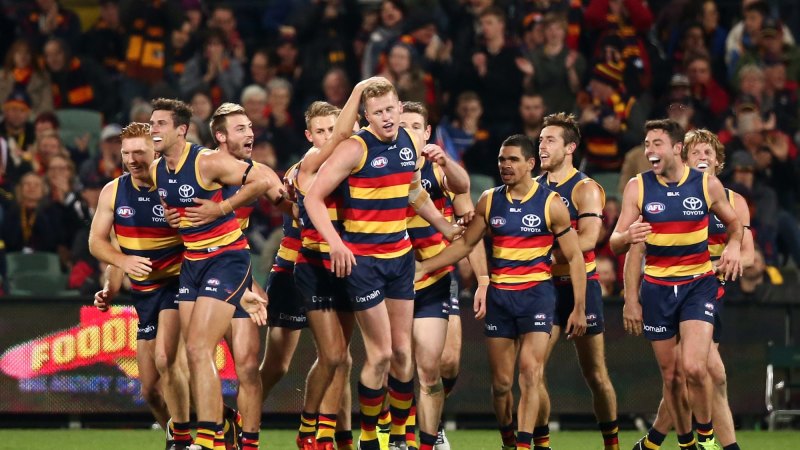 WESTERN BULLDOGS
Why they can: A more exciting football side you will not see this year. When all the ingredients suggest they shouldn't, both their premier half backs out in Johannisen and Murphy, over a million dollars a year being paid to a still-green Tom Boyd, a sometimes makeshift forward line and a lot of no-names through the guts, yet it works so well. Lachie Hunter is a Brownlow smokey and a soon-to-be household name, they possess the deepest engine room in the competition by a long way and if Luke Beveridge isn't the best coach in the land yet he will be soon, he is extracting supreme performances out of his chargers.
Why they can't: They've got a massive task. Wins over Adelaide and West Coast have been super and a narrow loss to Hawthorn aside, they have trounced a lot of non-finalists and their draw is soft on the way home. That will help secure a great finish but what this team needs is to be tested, it needs to prove that the key injuries and unorthodox lineup won't find them unstuck come September when a fired up Hawthorn, Sydney or even Geelong awaits.
WEST COAST EAGLES
Why they can: If Hawthorn didn't win it last year the Eagles were riding shotgun, and that's not a bad place to start. Forward line is imposing, a delightful mix of talls, mediums and smalls, and with a midfield as deep as the Bulldogs at worst feeding the ball down so often they are ominous again in 2016 make no mistake. Last year they did it off the back of some massive injuries and so fair their health is miles better so their potential for greatness is only more attainable. They have significant finals experience under their belt too and should they sneak in some home finals they are unbackable to go deep.
Why they can't: The monkey on their back is the ability to win east of the Nullarbor. This year already they have been trounced by Sydney, Hawthorn, Geelong and the Bulldogs on the road, a poor record to say the least. Moreover they haven't defeated anyone else of note yet so to halfway they have the poorest form against fellow top eight sides by a long way. They only play top eight sides again on the road twice more this season, the Giants in Sydney and the Crows in Adelaide so any hope to redeem themselves in Melbourne particularly won't happen, and you feel that would be crucial.