YOU ask a young boy to name you his favourite West Indies fast man and he'll look at you strange, he thought you were talking about cricket, before coming back with "um, Usain Bolt?"
We are seemingly amidst the crisis to end all crises with West Indian cricket, calls for probes, summits, international intervention; you name it, they are on the nose and front of mind.
Too quickly we can forget, or in the position of such a young cricket fan too many just don't realise how great the West Indies were.
And yes, the greatest batsman of all time is arguably from Antigua (Sir Vivian Richards) and the greatest cricketer of all time when taking into account all round ability is arguably from Barbados (Sir Garfield Sobers) yet it was their pace bowlers, their never ending battery of quicks that really stamped the West Indian cricket story
So as we turn a New Year, and hopefully West Indies cricket can turn a new leaf and return to somewhere near former glory, let's take a trip down memory lane and name the Top Ten West Indies fast bowlers of all time. And we start with a man from Trinidad and Tobago.
10. IAN BISHOP 1989-1998
Ian Bishop was an absolute star but was hampered by injury. He had a wonderful action that allowed lots of natural swing and really exemplified that West Indian tradition of becoming borderline unplayable when on song.
Bishop in his first 20 or so tests had an average around 20 before having to adjust his action in order to navigate back injuries and was never quite the same, yet he still managed to take 161 wickets at a very respectable career average of 24
A towering 6"5, he took almost 550 first class wickets, his back may have been his Achilles heel but notwithstanding Bishop had a wonderful test career.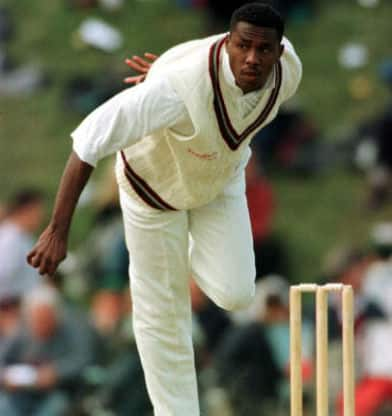 9. CHARLIE GRIFFITH 1960-1969
One of the original and the best, Charlie Griffith, a towering specimen from Barbados was one of the preeminent quicks to take the cricket world by storm in the 60s. Originally a spin bowler in junior cricket, he turned to bowling fast and in his first attempt took the figures of 7/1.
He bowled with intimidation, lots of short stuff around the batsmen's' head, and was extraordinarily successful especially in his bowling partnership with Wesley Hall
But it was his yorker that delivered time and time again, ferociously accurate and for the batsmen ferociously fatal.
8. COLIN CROFT 1977-1982
A short career but one of the greatest swing bowlers the game has ever seen. He was quick through the air but it was his movement, swinging the ball proficiently in and away from the batsmen that saw him become such a prodigious wicket-taker.
Another who was 6"5, Croft, from Guyana, took a seven-year sabbatical from the game and joined the South African rebel tour, heavily restricting the amount of test cricket he should have played
In his short 27-match career he was enormously successful though, slightly awkward action but ever so hostile. Such was his talent he still holds the record for the greatest bowling figures in an innings by any West Indian, his 8 for 29 against Pakistan in 1977, his second ever test.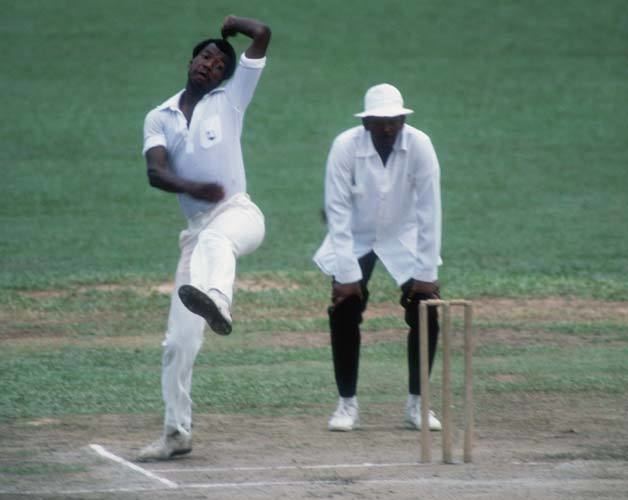 7. WES HALL 1958-1969
The true pioneer of West Indian fast bowling, from Barbados Wes Hall was a powerful presence on the cricket field. Not as tall as some of the others but a strong build and a menacing style.
Such was the time, someone of the elk of Hall had not been seen before and batsmen all over the world struggled with the mix of pace, intimidation and deadly accuracy. The international scene just wasn't yet ready to what the West Indies could produce with their quicks.
Hall terrorised top orders for a decade, he was a menace. He also holds the title of being the first Caribbean bowler to take a test hat-trick in 1959.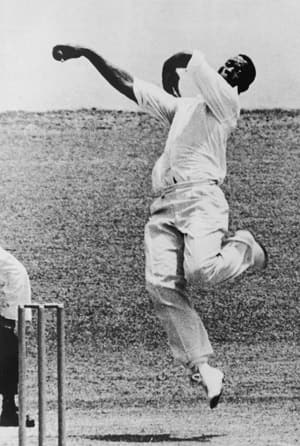 6. ANDY ROBERTS 1974-1983
Such is the immense talent of this list somehow the genius that is Sir Anderson Roberts doesn't even crack the top five.
The quick from Antigua had a wonderful test career who was the first to really show variety in his bowling in order to take down the opposition with his combination of bouncers and change of pace.
One of the first West Indians to take 200 test wickets, he was a fearsome quick, good pace, exemplary line and length and if you ask those who played with him, they would have him higher, very reliable and a captain's dream.
5. MICHAEL HOLDING 1975-1987
One of the greatest fast bowlers of all time, the Jamaican they called "Whispering Death", Michael Holding was a star.
Smooth in his delivery but immense trouble for the batsmen, Holding had a glittering career. On thirteen occasions he took 'five-for' and destroyed many batting line-ups almost singlehandedly even though he was in partnership with so many other great West Indian quicks from the other end
But he was super quick, one of the very quickest to come out of the Caribbean, and in combination with his ability to put the ball consistently anywhere at will, often at the batter's extreme discomfort, he was a champion.
4. COURTNEY WALSH 1984-2001
The Jamaican wasn't the quickest, or the flashiest nor the most intimidating with his length, but Courtney Walsh will go down with one of the greatest records in world cricket.
Noted for his tenure, reliability and consistency, Walsh was for a period of time the holder of the most career wickets in test history before being overtaken by Muttiah Muralitharan, and sits only second to Glenn McGrath for overall test wickets by a fast bowler
The beauty with Walsh was his enduring ability to take wickets, he was able to stay in the game so long, 132 tests all up, but managed to still take his wickets at an average of 24, a staggering performance.
3. JOEL GARNER 1977-1987
Standing 6"8, "Big Bird" from Barbados is one of the very greatest of all time. Garner played 58 tests but to have an average just a tick over 20 and a strike rate of a wicket every eight overs or so is just phenomenal.
Many a sleepless night was had by test batsmen knowing they had to face Garner the next day, he was a intimidating prospect who, without surprise, extracted great bounce from his deliveries all the while bowling with real heat
He tore through top orders with ease as batsmen aimed just to survive the torment, let alone progress the game, when facing him.
2. CURTLY AMBROSE 1988-2000
Sir Curtly Ambrose, of Antigua, was a machine. He was so good the actual art of a bowler delivering the ball to a facing batsman was the sideshow to just the menace that he performed.
Standing at 6"7 he was quick, proper quick, and produced properly dangerous bounce with natural variation. At his very best top orders would literally crumble, he had an ability to almost take wickets at will, most notably when he took 7/1 off five overs in dismantling Australia in 1992
Over 400 test wickets at an average of 20, he was as unplayable as the world's ever seen.
1. MALCOM MARSHALL 1978-1991
And finally, the shortest man on this list, but this man from Barbados is the best.
Malcolm Marshall doesn't have the overall wickets of a McGrath, nor possibly the regard of a Dennis Lillee, but a career of 376 test wickets from only 81 tests, to average under 21 and a strike rate under 47 is just insanely good.
Despite his size he was able to generate great pace, he really rushed the ball onto batsmen which was half their struggle. But he also bowled immaculate lines, he had variety, he could swing the ball and he could produce bouncers that terrified
The others were almost unplayable such was their skill. Marshall was as unplayable as anyone the game has seen because he had everything, he was that good. The rest were great, but he was the greatest.