VERY rare to have a golfer break down before making a winning put. Very rare we are blessed to have such a competitor like Jason Day.
The 27-year-old from Beaudesert in south-east Queensland is Australia's latest Major Champion, claiming the US PGA on Monday registering a record score in doing so.
Sure, Adam Scott won the 2013 Masters, a tournament so elusive for this country, and the response to breaking that glass ceiling was immense, and justifiably so.
But where Day has come from, the journey of his childhood and the resilience of his psyche probably puts this win in a higher bracket than Scott's.
Day was born to a strict-as-all-buggery Irishman, Alvin, and migrant Filipino, Dening. Two more different individuals you wouldn't meet, one the harsh disciplinarian father the other the soft-as-butter mother.
The Day household was run by their father's rules, often wielding a belt and would punish them beyond belief. Growing up was difficult to say the least yet he must credit his father for getting him into the sport he now champions.
When he was six, his father stumbled across a rickety old three-wood at the local tip and brought it home for his son. Obviously making the necessary adjustments, Alvin cut the club down to size and it was from there, practising with his new toy in the family backyard, that Jason commenced his love for golf.
Aged eight Day was already winning tournaments. The misery and harrow of home-life juxtaposed by the new found glory of a sport he was excelling.
Four years later and life was turned upside down for the Days, Alvin passed away from stomach cancer leaving not just a golf dream but a family in tatters.
Cue the wonder of Dening Day.
Always the loving and caring mother, she realised her boy had promise as a golfer and didn't want to let the inevitable struggle the family would endure get in the way of that potential.
After her husband's she worked two jobs (and still does) and she sold the family home, all in an effort to send her son to Kooralbyn School, notorious for fostering emerging sporting talent. It was to be there that he could go a long way to realising his extraordinary talent.
Whilst the move was to be instrumental in him becoming a future Major winner, it also was the catalyst for Day to get back on track personally.
Before moving to Kooralbyn, Day went off the rails. Without the strict order of his father he would drink to the point of harm. The poverty of his family after his father's passing, the fact his sister ran away for three years, it was all too much and as a teenager Day's drinking was a serious problem.
Kooralbyn didn't just save his golf career, it just may have saved his life.
Post-Kooralbyn Day then started to make waves in the States, turning professional as a 19 year-old, capping all the struggle and hard work off by winning his first title on American soil in 2007 with the Legend Financial Group Classic, the youngest ever to do so.
In 2010, now aged 22, he won his first PGA title, HP Byron Nelson Championship, not only solidifying his place as a successful career golfer but now earmarking his prospects as a future Major winner.
The 2011 Masters, Day tied for second, agonisingly close to becoming one of the youngest ever to win a Major.
That same year he again was the bridesmaid, coming second at the US Open. His class and sportsmanship in defeat was ever so impressive mind you.
Fast forward to 2013, and it was again another heartbreaking year for Day. Not only did he finish second again in the US Open, he came third at the Masters and tied for eighth at the US PGA.
But worse still, Typhoon Haiyan devastated the Phillipines, his mother's homeland. Day lost his grandmother along with seven other relatives. Without his father for support this rocked the Day family to the core.
In 2014 he bounced back, he soldiered on past the personal tragedy of the previous year and became a bonafide top ten player. He won his second PGA title but he insufferably just missed out on a Major once more, finishing fourth at the US Open.
This was starting to become a trend that could wear down even the steeliest of golfers. It's broken many before and it will continue to do so. Not Day though.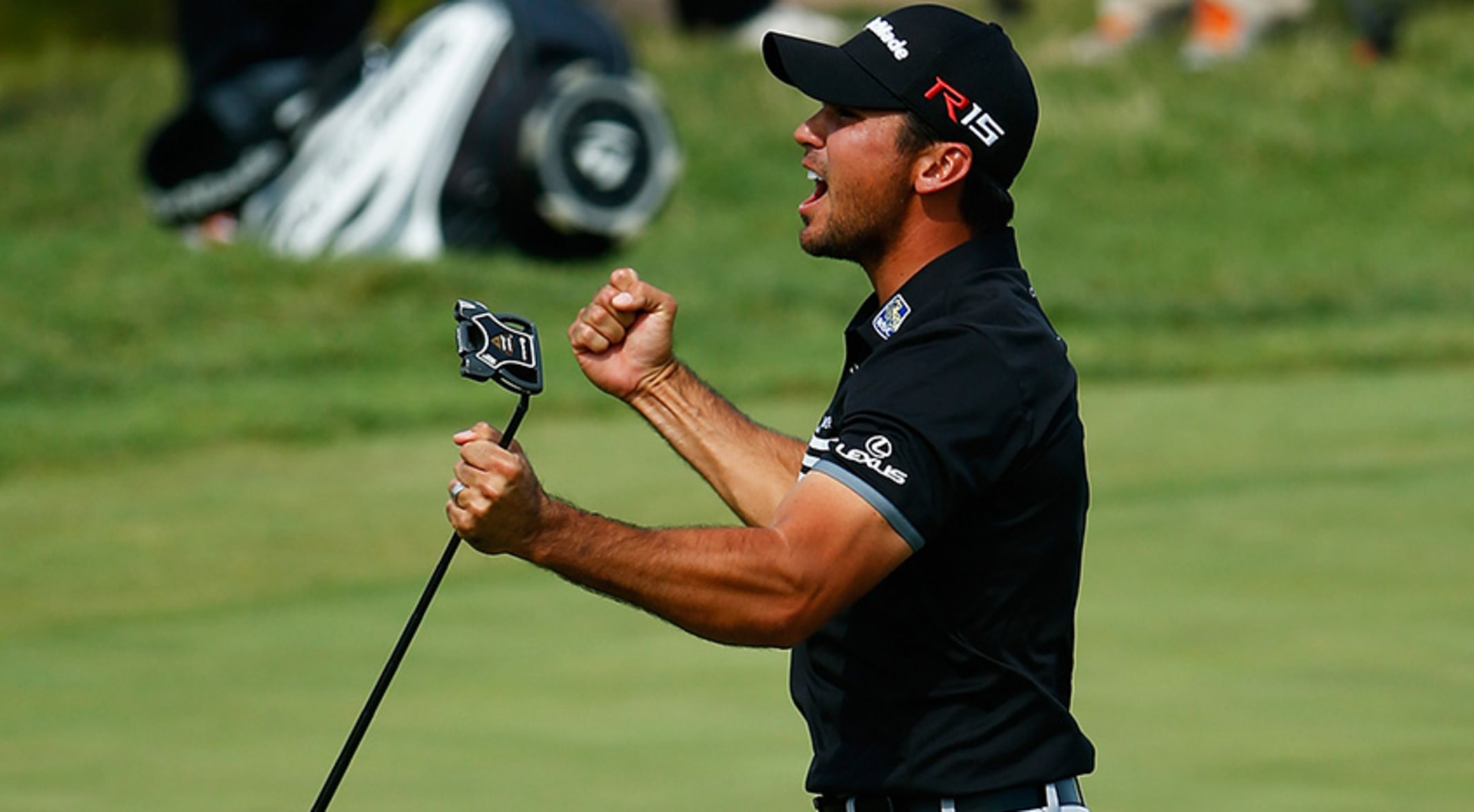 This year, the 2015 US Open, the tournament that has avoided him so painfully, he was in top form and a top chance.
However, after being three shots off the lead after the first round, Day suffered vertigo attacks. Often not being able to even stand, Day somehow managed to finish his round and made the weekend still only three shots back.
Remarkably Day fronted for day three and even more staggeringly despite the vertigo still being prevalent managed to go into day four as the outright leader. In the end it was all too much and he finished the tournament, once again, without victory coming ninth.
The British Open, he was so close yet finished tied for fourth, this was becoming a joke.
But the last Major of the year, a year in when he and wife Ellie are expecting their second child, the US PGA at Whistling Straits and he was not to be denied.
Despite being hunted down in the final round by new world number one Jordan Speith, a man who has already won two Majors this year alone, Day finished on 20 under, the best score to ever win a Major.
And to cap it off, the man who was first to congratulate him was his caddy, Col Swatton, his coach, mentor and pseudo-father since his father passed away 15 years ago.
This was beyond emotional for such a humble yet determined human being. Jason Day has being scarred by his father's discipline and passing alike but influenced massively by the heavenly ways of his mother.
To be knocked down time and time again, be it by family tragedies, wretched narrow-losses or worst still physically, by vertigo, his never-say die attitude has him a most deserving Major winner.
A more poignant sporting triumph – good luck in finding one.
Bloody good on you Jason.