NICK Kyrgios has upset Stan Wawrinka, his countryman Roger Federer and the world it seems. All because of a sledge that had it been on the cricket field it would not have even flickered a response.
Cricket was once also a gentleman's game until seemingly drunken Aussies turning up to the Old Dart for a spot of an Ashes series decided gallant and noble sportsmanship could be superseded by witty and provocative remarks towards the batsman from the slip cordon.
Now good old fashioned aggressive fast bowling and antagonistic yet humorous byplay is seen as par for the course by competitive elite athletes and the game seems to survive just fine.
Meanwhile, at the Lawn Tennis club, the sport is stuck in the 19th century where a spot of strawberries and cream is still par for the course as far as catering is concerned.
Sure, Kyrgios, his mates Thanasi Kokkinakis and Bernard Tomic are far from the sort of young men you'd want your daughter to bring home if you were slightly twitchy about letting her out of the house in the first place.
But even when the world's greatest of all time in Federer (potentially, that Rod Laver went pretty good) goes with "We're not used to that kind of talk in tennis" and "I know in other sports it's quite common, maybe normal (but) not in our sport", one must have to ask if his nibs to take his hand off it.
Ok, ok, so any young ears shouldn't probably be exposed to the content of Nick's sledge. Sure, if any of the six people within earshot at the prestigious and well attended Montreal Masters first round were underage then that's a real shame.
Then please, 'true' fans of tennis, do not ever let your teenage child ever grant your consent to attend any other sporting fixture of note because the sort of material heard over the fence or worst still from the fellow patrons will damn right shock and offend beyond comprehension.
Further still, Kokkinakis got lumped in with his buddy's behaviour because of his own 'ugly' net confrontation at a qualifying match against some no name American we're not really fussed about.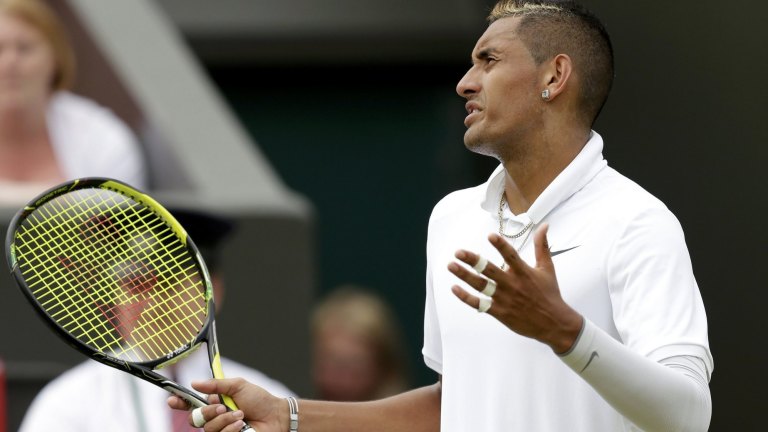 Please.
The previously referred to nobody Yank was all charged up over who knows what, something so out of character for someone from the USA.
"You have got to get these kids under control" was the remark from the useless redneck, who ironically couldn't then control himself at the end of the match, funny that.
Where do people get off?
So Kyrgios was a bit petulant at Wimbledon. He does it at Flushing Meadow or indeed in any other sport and not even a bat would bat an eyelid.
Kokkinakis sticks up for himself when challenged by a halfwit American, I challenge any patriotic Australian to not strongly commend that, let alone condemn it.
And all the while Tomic is the patron saint of buffoonery because he is what, a highly paid tennis player who made a mess over a dispute with Miami police over his music being a fraction too rowdy.
Very soon, one if not all of them will be winning grand slams, the very summit of what is one of the world's most popular sports.
Are we, as the nanny state formally known as the Commonwealth of Australia going to be so hypocritical to then jump on their coattails, lauding the sort of rock and roll, modern age, generation Y superstars that will us as a nation so proud?
Or are we going to just relax, throw away our cardigans of old-fashionedness and relax our judgemental tall poppiness because these three are really not that bad?
Pat Rafter is long retired, Roger Federer isn't far away, the world moves on. No longer do tennis players wear white unless when summonsed to the 18th century, known elsewhere in tennis circles as Wimbledon.
Your modern, generation Y sports star sweats a mix of competitiveness, aggression and Gatorade, not smelling of the cigar he shared with his opponent after a spot of 'Go Fish' the night before.
Kyrgios probably offends the Championships dress code just with his hair, and good on him, deciding to be his own person and not all fall into line with antiquated notions.
Kokkinakis, to take that further, is possibly lucky to even be allowed to play because his surname just sounds too racy, or ethnic, or both.
Tennis is at its best when it's tight, it's hard fought and it's a show. Channel Seven pays squillions every year to show the big names doing outrageous things with a furry yellow globe on primetime to adoring and highly engaged big crowds.
Meanwhile, the old set prefer to put on their blouses and high-waisted slacks and waddle down to a noble match where only light Sheffield-Shield level clapping will be accepted.
Tennis needs to move on with the times. Look at the AFL, Twenty20, the NFL, or worst still the Olympic 100 metres. Glitz, glamour, so much bloody fun.
Back at the Melbourne games, eight jolly old chaps would have a dash and then once they all crossed the line would exchange pleasantries, enquire into the health of one another's wives and then reconvene later for a spot of tobacco and sherry.
Now, seven Jamaicans and an American all bring show business to the start line with outfits and poses befitting Broadway, followed by a highly masculine and pulsating race before Broadway turns into a Jay-Z video with choreography and overwhelming self-confidence in the victory lap.
Everyone loved Betty Cuthbert yet the world now adores Usain Bolt.
We will always love Roger Federer. But why is tennis so stuffy that we can't get on board with young, vibrant, envelope-pushing excitement?
Can someone please go wake up tennis from their afternoon nap, they'll miss Heartbeat..